103 Strong Quotes
Be encouraged by these strong quotes. We all know that life is filled with hills, valleys and every imaginable bump and pothole along the way. But, we also know that being strong in character will carry us right through and along each and every challenge.
This spirit of being strong is what makes or breaks us. Most often, however, it is these circumstances traversed with the resilience that makes us what we are. It is our hope that the following strong quotes and sayings will give you a little more horsepower as you move through life's issues. You may also be encouraged by these
poems about strength
.
Quotes
   /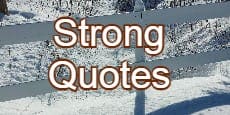 More Strong Quotes Page 2
Short Poems & Quotes
    |    
About Us
    |  
Contact Us