A New Day Poem
Find a new day poem to inspire you this day. Today when you awake do you think, it's a new day! Each and every day is one which should be thankful for as when we lay down to go to sleep how do we know we will have tomorrow. Today - in many cases we just take for granted. But each and every day we should be filled with excitement and enthusiasm that we have the day, a new day to do with what we want - a day that we can make the most of or a day that we can not appreciate. The choice is always yours.
Be encouraged and inspired by the thoughts in this collection of poems, and quotes. Words that will remind you that today is a new day and that it is the only day that you are guaranteed of having, so make the most of it, do not waste it!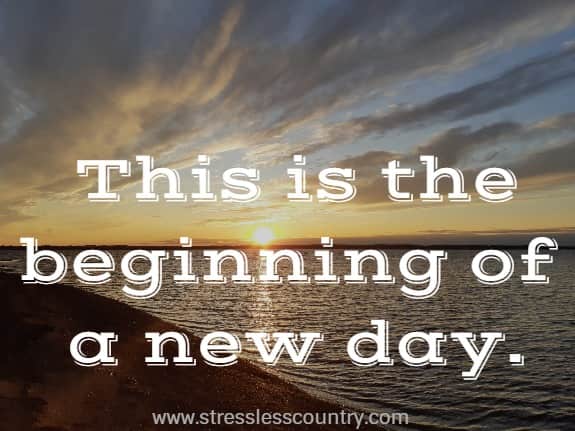 A New Day
Poet Dr. Heartsill Wilson

This is the beginning of a new day.
God has given me this day to use as I will.

I can waste it or use it for good,
but what I do today is important
because I am exchanging a day of my life for it.

When tomorrow comes, this day will be gone forever,
leaving in its place something that I have traded for it.

I want it to be gain and not loss; good and not evil;
success and not failure; in order that I shall not
regret the price I have paid for it.



When I Awake
Poet: Catherine Pulsifer

Each day I awake I can lie in bed
Or I can get up and get ahead
A new day to achieve my dreams and goals
Or a day to relax and just take a stroll.

My attitude determines what each new day will bring
I can be thankful for all the little things
Or I can be full of dread and fear
And miss opportunities that are so dear.

Life is too short to waste our days
Get out of bed, be happy and say
A new day has been given to me
I bring to it the best I can be.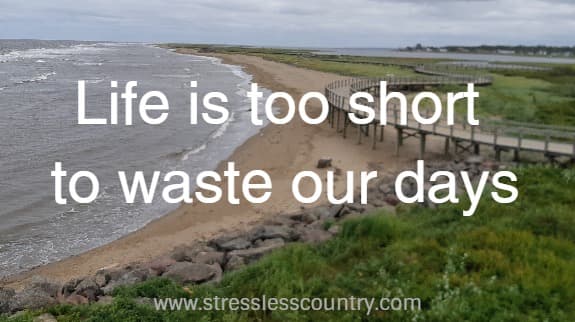 Sunrise on the Mountains
Poet: Drusilla Mary Child

The mountain peaks cast off their cloaks of dewy mist,
And stand revealed in the pure cold light of morn;
The shadows creep down the mountain to keep tryst
With night, to watch another day new-born.

The sun arising from his bed of rolling clouds
Imprints a burning kiss upon the virgin snows.
A roseate blush the mountain tops enshrouds,
While slowly with the pearly tint it glows.

Soon the mountain crags are bathed in golden showers,
And glorious soar and stand before God's face.
The bird's song rings about the radiant flowers,
The sun is in the heavens, in his place.



Keep Step
Poet: Annie Weir Young

Keep step in the march of life.
One halt will queer the line,
On with the struggle and strife.
No laurels are won by repine.

This life is a battlefield wild,
We must be to our standard true.
'Tis no work for a weary child,
We must fight — both me and you.

'Tis onward each soul in step,
O'er morass of woe and despair,
Without the faintest regret
For the land that seemed so fair.

Keep step in the march to-day,
For this day is a golden time,
And time is a flashing ray
With eternity in chime.



Begin Greatly
By Thomas A Kempis

A life without purpose is a languid, drifting thing.
Every day we ought to renew our purpose, saying to ourselves:


This day let us make a sound beginning,
for what we have hitherto done is naught;
Our improvement is in proportion to our purpose;
We hardly ever manage to get completely rid of one fault,
and do not set our hearts on daily improvement;
Always place a definite purpose before thee.



Today
Poet: Mary Frances Butts

Build a little fence of trust
Around to-day ;
Fill the space with loving deeds
And therein stay.

Look not through the sheltering bars
Upon to-morrow,
God will help thee bear what comes,
Of joy or sorrow.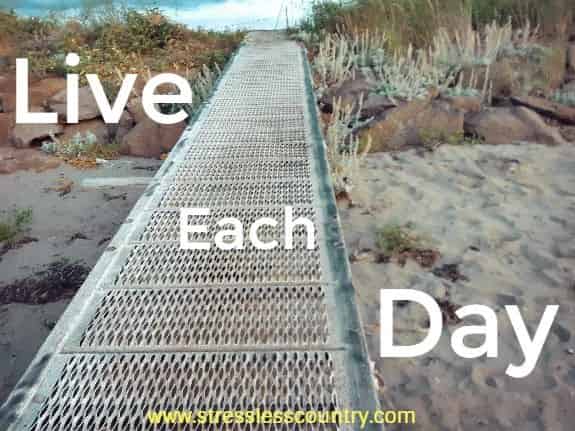 Live This Day
Poet: Samatha Anne Marie Lynch

What will tomorrow bring I think to myself
I can't see the future, I am no elf
But what I do have is this day
And it will be up to me what I do and say.

I can bring happiness to those around me
Or I can be a complainer or just a bully
I can help others in some very small way
Or I can bring misery to everyones day.

No sense worrying about what tomorrow will bring
There is no gaurantee that I will even be living.
But what I do have is this day, yes today,
And I will not waste it or fret it away.

What I do with this brand new day
Is up to me in every way.
We have choices to make
I will live this day, it is no mistake.



Today Is The Day
Author Unknown

Today is the day I have been looking for.
All my life has been spent in preparation for it.
Yesterday and tomorrow are faraway nothings-
The one a faint memory, the other a vague promise.

But this is my day.
It offers all that God has to give,
And I'm a laggard or a coward if I fail
To make the most of it.

More Inspirational Poems to Encourage and Inspire
You May Also Like
Good Morning Poems
Just For Today
Just For Today Quotes
Prayer For Today
Thinking of You Poems
Positive Quotes
Short Poems
|
Poems
|
Quotes
|
About Us
|
Contact Us
|