Birthday Poems
Birthday poems to celebrate that special day! Find a collection of poems that you can use in birthday cards for the person who is having a birthday.
Birthdays are a time of reflection, looking back over the past years. Memories, both positive and negative are remembered. Lessons learned and not learned are thought about. But, a birthday is a day to be celebrated and look ahead to the future. A time to set goals, and achieve dreams. Encourage the birthday person to be all that they can be by celebrating this special day with them.

Birthday Greetings To You
by Catherine Pulsifer, © 2015
This is the anniversary of the day you were born
There is no reason for you to scorn
A day for a party, presents and gifts
We hope this day gives you a lift
Always remember age is only a date
And you determine your own fate
I wish you happiness and joy in life
And many more birthdays to bring you delight
Another Year Older

I must start this off by saying Happy Birthday,
To someone who's always so fun.
It's hard to believe you're getting older,
But don't worry you've still got a long run.

Find poems and quotes about being Another Year Older
Birthday Stress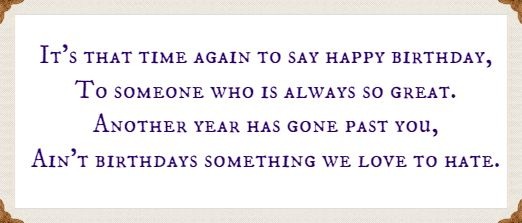 Read the entire poem on Birthday Stress
Growing Old

Sweet sixteen is shy and cold,
Calls me "sir," and thinks me old;
Hears in an embarrassed way
All the compliments I pay;

Explore the poem, Growing Old
Turning 30

Today is the day we sing Happy Birthday,
As today thirty years ago you were born.
Hard to believe your now thirty,
Your youth is now gone, you should mourn.

Share this poem about, Turning 30
Birthday Celebration Poems

It's time to party and celebrate,
A wonderful day this is going to be.
We figured you'd want to forget it,
But no way we'd allow that, would we?

Explore our Birthday Celebration Poems
Birthday Poem For Friend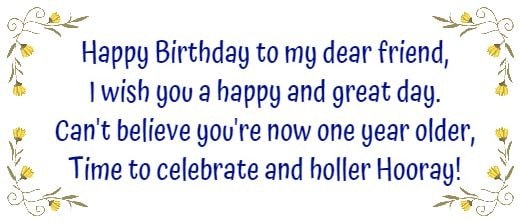 Browse our Birthday Poem For Friend
Happy Birthday To My Brother

I can't believe the age you are
You are older than my first car!
What happened to the years gone by
I say that with a great big sigh.

Share these Happy Birthday To My Brother
Birthday Poems For Mom

Words can never express
How I feel about you
Mother you bring such happiness
To everyone and all you do.

Share these Birthday Poems For Mom
Happy Birthday Baby Girl or Boy

Happy Birthday Baby Girl
You are so special, you'll never know
The joy that you bring to us
You in our life is sure a plus.

Share poems for Happy Birthday Baby Girl or Boy
What Is Your Age

When you're old and grey,
And life seems to be getting away,
Hold on to your life preserver,
And grab on to that sleigh.

Check out our poem, What Is Your Age
Poem On Aging

One day you'll wake up,
And feel an awful ache.
It's then you'll realize you're candles,
Won't fit upon your cake.

An inspiring Poem On Aging
Years May Go By

Think of all the special people
Who love you and care
The people in your life
Who touched you by being there.

A reminder of how the Years May Go By
You May Also Like:
Birthday Quotes
Funny Birthday Poems
to bring a smile : )
Life Journey
We hope you have found a birthday poem that you can share with others. We all joke about the age of a person, especially as the years tick by. But all joking aside our wish is for good health, happiness and success for the birthday boy or girl. Birthdays are a great time for joy and laughter, And, birthdays are a day to be recognized and celebrated, no matter what the age.
More Poems To Encourage and Inspire
Short Poems
|
Quotes
|
About Us
|
Contact Us
|