12 Birthday Poems For Her
Birthday poems for her expressing love and affection to celebrate the day of her birth. We hope the verses express your thoughts for that special woman in your life.

Birthday Poems    /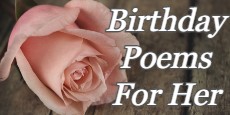 I Want You To Know
Poet: B. R. Pulsifer

On this your birthday
I want you to know,
How much I love you,
Oh, may my love show.

In words and gifts
I give to you.
I want you to be
Happy, never blue.

So as you celebrate
Another year,
Always remember,
I love you, dear.




Birthday Love Poems



The Years Tick By
Poet: B. R. Pulsifer

The years tick by
One by one
We have had our challenges
And our fun.

But my love for you
Will never fade
You my love,
I would never trade.

Each day, each year
Spent with you
Is truly a dream
Come true.

May this birthday
Be a happy one
And may next year
Be full of fun.




Age Is Just A Number
Poet: B. R. Pulsifer

Age is just a number
That grows each year
But you don't have to worry,
Don't you fear.

You live your life and
Enjoy your days
The number doesn't matter
They always say.

I'll love you no matter
What your age
I'll love you through
Every life stage.

Wishing you a
Happy Birthday, Sweetheart.
May our love
Never depart.




Poems on Aging



God Bless You
Poet: B. R. Pulsifer

May God bless you
On this your birthday.
May He send angels
To watch over you in every way.

May He go before and
Protect and guide;
And may He always
Be at your side.




Birthday Blessings



Love You More
Poet: B. R. Pulsifer

Another year for me
To love you more
Life with you has
Never been a bore.

And with each passing year
My love for you grows deeper.
The years have made
Our love grows sweeter.

I didn't think it was possible
To love you more
But my love keeps growing
Without keeping score.

As I watch you blow out the candles
And make a wish
I realize our with you
That life is rich.




Love Poems For Her



A Wish
Poet: B. R. Pulsifer

This birthday card is
Sent with a wish
A wish filled with
hugs and a kiss.

May your day be
happy and bright
May the candles on your cake
Shine ever so bright.

I celebrate you,
On this day of your birth.
I love you more than
Anyone on earth!




Birthday Quotes



Love of My Life
Poet: B. R. Pulsifer

Happy Birthday to
the love of my life.
I am so blessed
To have you as my wife.

I thank God
Iin heaven above
For you and
For our love.




Birthday Poems for Wife



In Love
Poet: B. R. Pulsifer

Oh, how in love we were
When we were young.
We celebrated the years,
Oh, how we sung.

Then the years saw
Us reach middle age.
But our love continued
To grow at this stage.

And now our senior years
Are here
And I love you more than ever,
My dear.




My Dear
Poet: Catherine Pulsifer

Oh my dear,
never fear -
As no matter what your age
Or, no matter what life stage
I will always love you.
Don't let your age get you blue.

Gray hair appearing,
It looks aspiring.
New wrinkles you say
Forget them, go play.

The years may be passing by
But you are still the apple of my eye.
I will sing you Happy Birthday
I will sing it anyway
I want you to be happy
And enjoy your day!




Funny Birthday Poems



Years We Share
Poet: C. Pulsifer

Many memories and years we share
My love for you I will never spare.
No gift can ever compare to you
Your shining radiance always shines through.

On this special day, your birthday
Cherishing our moments together in every way.
Your life is a testament of pure strength and grace
Forever, together, no matter where the place.

Happy birthday my sweetheart today
Wishing you joy, and a happy birthday!




Wife Poem



Roses Are Red
Poet: C. A. Pulsifer

Roses are red
Violets are blue
Another birthday to say
I love you!




Roses Are Red Birthday Poems



No Matter
Poet: B. R. Pulsifer

No matter how old you are
I will never tire of your smiling face.
I will never tire of our love
Which is full of grace.

Kindness you show
To those in need
You are always doing
A good deed.

On this birthday
I hope and pray
That you have
A wonderful day.
More Birthday Poems To Share
Related Poems & Quotes: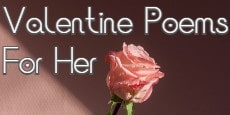 Valentine Poems For Her
Birthday Poems For Mom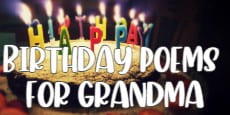 Birthday Poems For Grandma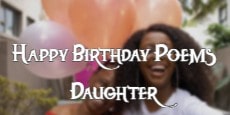 Happy Birthday Poems Daughter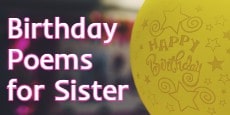 Birthday Poems for Sister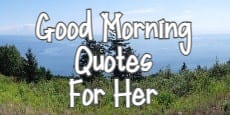 Good Morning Quotes for Her
Featured Famous Poets:


Catherine Pulsifer

More Famous Poems

We hope you have found a birthday poem for that special woman in your life. Poems are treasures that are tucked away but in later years she will read them and remember the love you had for her on her birthday.



Short Poems & Quotes    |   About Us    |   Contact Us