12 Valentine Poems For Her
Show that special woman in your life how much you care with a heartfelt Valentine poem for her. Valentine's Day is a special day to express your love and appreciation to the important people in your life. Whether you are married, engaged, or still dating, this is a meaningful way to make her feel extra special and show her just how much you love her. From romantic and sweet verses to funny limericks - there is something for every type of relationship!


Valentines Day Poems  /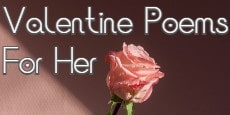 My Love, My Friend
Poet: Byron Pulsifer

Fondly I view with love and care,
For it is you that I hold so dear,
My feelings grow stronger each moment spent,
Your beauty so deep yet crystal clear.

Your laughter is like harmony to me,
Through sadness and joy, we are here,
Our bond is something without measure,
You mean everything to me - in my heart so sincere.

I cherish the love we share together,
It enriches the moments we spend,
Happy Valentine's day, my dear,
Cherish you always, my love, my friend.




Love Poems for Her



My Love Will Last Forever
Poet: Byron Pulsifer

My love for you will last forever,
Your hold on my heart is too strong to sever.
So through the years let us keep true
To the bond between me and you.

Never wavering and never tiring,  
Our love shall be undying
Filled with happiness and joy divine,
Through it all your love shines.  

This I pledge until we part,  
For everlasting is my love for thee in my heart.
Many more Valentines we will share
Because I love you and do care.




Soulmate Poems



Our Love Is A Journey
Poet: Catherine Pulsifer

Ever since the day we met,
I knew that you were meant for me,
Our love is a journey we share together,
Every day is a chance to be better.

You make me so content and happy,
When you're around my heart is sappy.
Falling more in love with you every day,
Happy Valentines Day to you I say!




Every Day
Poet: Byron Pulsifer

Valentine's Day comes once a year,
But I have the chance to tell you
That every day I love you dear,  
Through all our paths that we may go through.    

In times of challenge, we will stand firm and true
As long as we're together, our dreams can come true.
You are my love, my partner so true,  
Always in my heart no matter what I face or do.




I Love You Poems



Sweet Valentine
Poet: Byron Pulsifer

Valentine, sweet Valentine
My heart flutters when I see you
Cupid has struck me with an arrow
Finding me with a love that's true.

You make me smile with your laugh
And when you whisper in my ear
My love for you can't help but appear
You are my one and only valentine this year!




Funny Love Poems



It Was Destiny
Poet: Byron Pulsifer

When we met, it was destiny,
I thought I'd never be complete,
Until your love embraced me so sweetly,
Nothing else could compete.

Our love for each other continues to grow,
Stronger each and every day.
My heart is truly yours to know,
For I love you more than words can say.

So on this day of love, Valentine's Day,
We pause a while to mark the way,
Of tenderness that shows no gray;
Expressing my love for you this Valentine's Day.




A Love Story
Poet: Byron Pulsifer

A love story come true, what a delight
Like a fairytale ending made just right
To have no other valentine but you,
Is a feeling I can't put into words, so true.

Filled with loving compassion, and caring too
Let me say I treasure and cherish you.
For your love is like no other I know,
May my love for you show!




Short Love Quotes



Forever My Valentine
Poet: Byron Pulsifer

My love for you ever increases
Every day, I'm reminded of your sweetness.
Our laughter and joy are stronger each year
An unbreakable bond that I hold so dear.

A special love over all these years
My wish is to always have you near.
Forever my valentine on this special day
I treasure every moment together, come what they may.




A Valentine
Poet: Eugene Field

Oh, Princess, what shall I bring
To offer before thy throne?
For I know of no joyous thing
That is not already thine own.

Youth and beauty and love,
Desirest thou more than these?
Lo, from the skies above
And from far-away mystical seas,

All things radiant and rare.
All things tender and sweet,
Hasten, O Princess fair.
To fall in delight at thy feet.

So, Princess, what shall I bring.
When low I bend at thy throne?
"My heart for an offering,"
Even that has been long thine own.




Short Love Poems



Sweet Just Like You
Poet: Frederick Sam Lutes

A Valentine sweet just like you,
Brought me joy and love anew.
My days are full of sunshine within,
Your love gives me a great big grin.

My heart is so full it's overflowing,
That with you I'm still glowing.
Not sure what else I'd, do or say
Except for a Happy Valentine's Day.




Your Heart
Poet: Frances Sargent Osgood

Your heart is a music-box, dearest!
With exquisite tunes at command,
Of melody sweetest and clearest,
If tried by a delicate hand;
But its workmanship, love, is so fine,
At a single rude touch it would break;
Then, oh! be the magic key mine.

Its fairy-like whispers to wake.
And there's one little tune it can play,
That I fancy all others above,
You learned it of Cupid one day -
It begins with and ends with "I love!" "I love!"
My heart echoes to it "I love!"




A Queen of Hearts
Poet: Felix Carmen

How many hearts with rapture beat
And long to have and hold you, Sweet!
It is disquieting to know
That, of the many beating so,
When love and fate their web have spun,
There shall be joy for only one!

It must be difficult to tell
Just wisely how to choose and well,
There are so many in the game,
Their tender stories all the same:
Bewildering the task must be,
So many locks, and but one key!

O, maiden of my dream and song,
Round whom these hopeful lovers throng,
When you select one, have a care,
For my heart is among them there:
Choose then to-day, dear Valentine,
And may the happy heart be mine!
More Valentines Day Poems to Share
Related Poems & Quotes: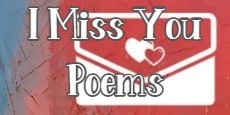 I Miss You Poems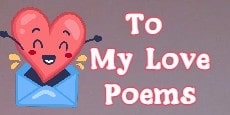 To My Love Poems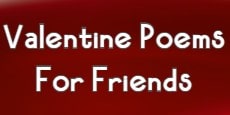 Valentines Poems for Friends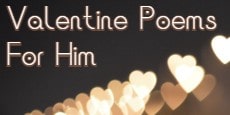 Valentine Poems For Him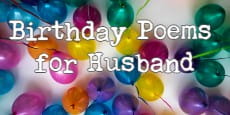 Birthday Poems For Husband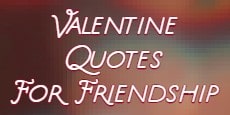 Valentines Quotes for Friendship
Featured Famous Poets:

Catherine Pulsifer


Eugene Field

More Famous Poems

Valentine's Day is an excellent opportunity to show your love and appreciation for the special woman in your life. Whether you decide to write a heartfelt poem yourself or use one of our poems, you are making sure she knows how much you care and it will make her feel extra special. You don't need to wait until February 14th either – why not surprise her with a love poem anytime?


Short Poems & Quotes    |   About Us    |   Contact Us