8 Birthday Poems for Sister
Find birthday poems to share with your sister to recognize and celebrate her special day. Birthdays with sisters are filled with memories and happy times. Let your sister know how much you appreciate her on her birthday!
Birthday Poems
   /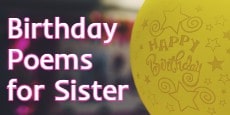 Years Gone By
Poet: Catherine Pulsifer

Remembering the years gone by
The times we laugh, the times we cry.
Growing up with you, sister dear
Was a blessing, I see that clear.

And today as you celebrate
Don't forget to eat a piece of cake.
Be glad of the years gone by
Don't let this age make you sigh.

Happy Birthday to you Sis
A day that I wouldn't miss.
I hope the coming year
Brings all to you that is dear!




A Blessing
Poet: Catherine Pulsifer

Sister, it seems like only yesterday
We had no worries, we just played.
And now the years have quickly passed
Our childhood years no longer last.

May this birthday be a blessed one
Filled with love and lots of fun.
May the coming year be also blessed
You're a great sister, you're the best.




Birthday Blessings



Best Sister
Poet: Catherine Pulsifer

Birthdays are a time for gifts
A time to settle any rifts.
But sister I want you to know
Your age truly doesn't show.

But where did all the years go?
Was it yesterday we played in the snow?
Now the years have gone by fast,
But our memories will always last.

I just want to say to you
Happy Birthday, and who knew
What a great friend you are to me
You're the best sister that could ever be.




Sister Poems



Not An Ordinary Day
Poet: Catherine Pulsifer

This is not an ordinary day,
It's a day that I get to say,
"Sister, Happy Birthday to You
May all your wishes come true."




more sister quotes



Happy Birthday Sister
Poet: Catherine Pulsifer

We have shared memories, happy and sad
But I have to say, having you as a sister, has made me glad.
Glad because of a sister like you
Who is loving and thoughtful too.

So on this birthday, I wish only the best
Don't let your age make you feel stressed.
Celebrate and be happy for
Another year, for you in store.

May your dreams come true
You deserve it, you do.
Thanks for being a sister, a friend,
Happy Birthday, wishes I do send.




Sister Poems from Brother



Sister
Poet: Catherine Pulsifer

Sister - love you....
love the memories we have,
the celebrations that we share
the family things we do.
Love all the ways
you show your love...
Just by being you.
Wishing you a very Happy Birthday
And know that you are loved in every way.




more Birthday Quotes



Special Sister
Poet: Catherine Pulsifer

Not just on your birthday,
but every day of the year
You're a Sister who is special,
wonderful, amazing, and dear.

But on this day we celebrate
the year that you were born
You deserve a celebration with
cake, gifts, and a horn.




funny birthday poems



Happy Happy Birthday
Poet: Catherine Pulsifer

When I look at you, I see
A Sister who is always been
Happy and carefree.

May this birthday be a special one
That fills you with love
Celebrating all you have become.

Sister, I am so proud of you
In all you are
And all you do.

No one deserves it more
A birthday celebration
For sure.

Happy, Happy Birthday
We will sing out and cheer
For a sister, we love in every way!
More Birthday Poems To Inspire
Related Poems & Quotes: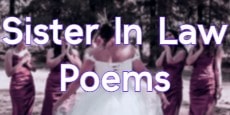 Sister In Law Poems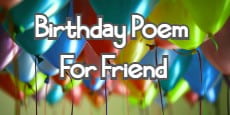 Birthday Poem for Friend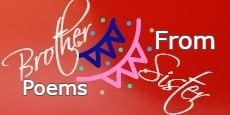 Brother Poems from Sister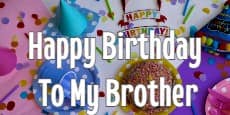 Happy Birthday to My Brother
Birthday Poems for Mom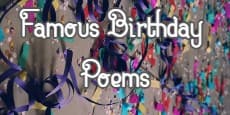 Famous Birthday Poems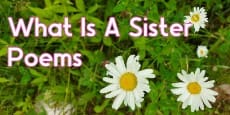 What Is A Sister Poems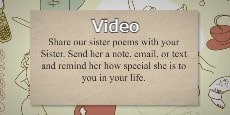 Video
Poems for Sister
Featured Famous Poets:

Catherine Pulsifer
More Famous Poems
Short Poems & Quotes
    |  
About Us
    |  
Contact Us