Birthday Poems For Mom
Share these birthday poems for Mom with your Mother. Poems and verses to express appreciation and love for Mom. Mothers are special people and we rarely see all they have done until we are adults and realize the sacrifices and love that a mother has for her children. If there was ever a word to describe unconditional love it would be "Mother". No poems can ever express our appreciation for our Moms but we have attempted to do so in these poems.

Also, feel free to share the Happy Birthday Mom quotes with your Mother.
Happy Birthday Mother
Poet: Catherine Pulsifer

Words can never express
How I feel about you
Mother you bring such happiness
To everyone and all you do.

Now on this birthday
Our wish for you is this
May you treat it like a holiday
And not do any dishes

We appreciate your love
You have given us so much
We feel you are sent from heaven above
You always have that caring touch.

So happy, happy birthday to you
We can ask for no better Mother
We hope you know you are valued
Mom, you're the best, there's no another.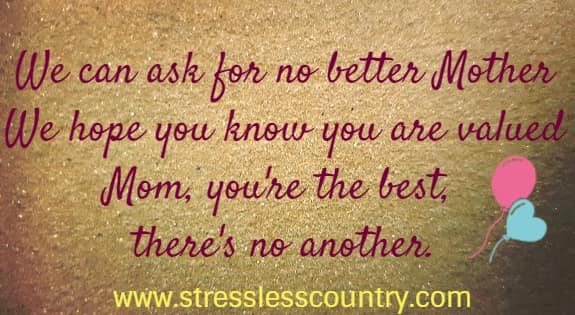 Count My Blessings
Poet: Catherine Pulsifer

I count my blessings you are our Mom
and I thank God each day
As you are special, like no other
A very Happy Birthday I do say!

You deserve so much more
You are encouraging and our biggest fan
You Mom, we all adore
You keep us together as one big clan.

In our books, you are number one
We love you more each and every day
We love your laughter and your fun
We love your thoughtful caring ways.

So on this day that you were born
We hope you sit back and kick up your feet
Let others wait on you - adorn
You're the best, you're so sweet.



Happy Birthday Mom Quotes
There are people in our lives who are shining examples of how we should live. You, my Mom, are one of them. Happy Birthday may you continue to shine brightly in the coming year.
Mothers Day Messages


You love, you encourage and you inspire. What would we do without you. Happy Birthday you are our inspiration.
Inspirational Quotes


Many happy returns are sent to you this day
Mom, we love you and wish you a Happy Birthday!
Birthday Poems


We don't tell you enough how much we appreciate you
Mom on this special day we say thank you for all you do.
Thank You Poems


No matter what life throws at us we always know we can come home to your open arms. Happy Birthday, Mother.
Poems About Life


Many happy returns of the day
Are sent to you Mom on this your birthday.
Birthday Quotes


Life is better because you are my Mom. May your day be filled with happiness.
Happiness Quotes


You taught us well
We think you are swell
Happy Birthday Mom
Love you and some!
Mothers Day Poems


You May Also Like

Funny Birthday Poems

Special Occasions

Short Family Quotes

Grandma Poems


More Poems to Encourage and Inspire


Short Poems and Quotes | Quotes | About Us | Contact Us |