Prayer for Mother
Do you say a prayer for your Mother? You can be sure every Mother prays for her children. And in appreciation of the blessing of a Mother, our prayers should be many for our Moms.

Your prayers do not have to be long and lengthy, they can be as simple as a Thank You God for my mother. God blessed us with our Mothers we should bless them by offering prayers to God for them.

Short Poems   /   Short Prayers    /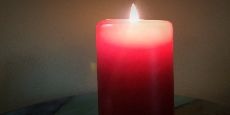 - related: Prayer Quotes




A Prayer for My Mother
Poet: Kate Summers

Father God watch over my Mom each day
Bless her each day I pray
Give her your comfort and love
In a way she knows it's from above.

She has given so much to me
I thank you for this mother you see
For without her encouragement and support
I would have never known you my Lord.




I Said a Mother's Prayer for You
Poet: Unknown

I said a Mother's Day prayer for you
To thank the Lord above
For blessing me with a lifetime
Of your tenderhearted love.

I thanked God for the caring
You've shown me through the years,
For the closeness we've enjoyed
In time of laughter and of tears.

And so, I thank you from the heart
For all you've done for me
And I bless the Lord for giving me
The best mother there could be!




Mothers And Others
Poet: Amos R. Wells

Others weary of the noise,
Mothers play with boys and girls.

Others scold because we fell,
Mothers "kiss and make it well."

Others work with patient will,
Mothers labor later still.

Others' love is more or less
Mothers love with steadiness.

Others pardon, hating yet;
Mothers pardon and forget.

Others keep the ancient score,
Mothers never shut the door.

Others grow incredulous,
Mothers still believe in us.

Others throw their faith away
Mothers pray, and pray, and pray.




Thank You
Poet: Catherine Pulsifer

God, I thank you for my Mother dear
She, like you, is always near.
Her counsel and her guidance
Has been a blessing in my life.

Please watch over her
Keep her from any danger
Bless my Mom, Father I do pray
Be with her each and every day.




Protect Her
Poet: Catherine Pulsifer

Father in heaven up above
I thank you for my Mothers love.
All the years she gave me care
All the things she willingly shared.

Watch over her each day
Protect her in every way.
Bless her life with good things
May happiness her life bring.
More Short Prayers to Encourage and Inspire
Related Short Poems & Quotes You May Also Like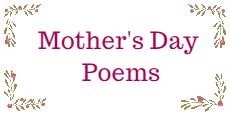 Mothers Day Poems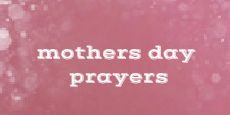 Mothers Day Prayers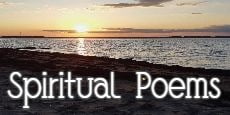 Spiritual Poems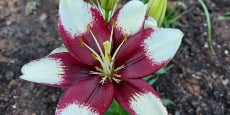 A Prayer For A Mother's Birthday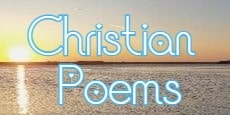 Christian Poems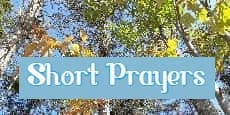 Short Prayers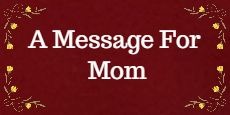 Mothers Day Messages


We hope the prayers for mothers are ones that remind you of the blessing of Mothers. And like us they also need prayer and blessings!


Short Poems    |     All Poems    |     Quotes     |     About Us    |     Contact Us    |