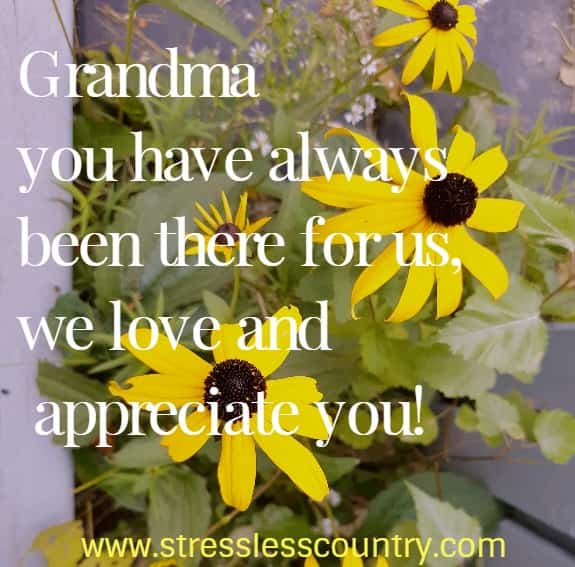 A poem written to express the appreciation of a Granddaughter to her Grandmother.
To My Grandmother
Poet: Julie Hebert, © 2011

You've always been,
The one to go to,
When in need.

You're kind and thoughtful,
In many ways.
You'd always think of me,
In my younger days.

But now our relationship,
Is more than special, you see.
We talk and laugh,
As two adults with glee.

Today you're more than,
Just a grandmother to me.
You're my friend,
And someone I aspire to be.


A Grandmothers thoughts!
The Joys of Being A Grandma
Poet: Catherine Pulsifer, © 2018

The joys of being a Grandma are many
Life has not brought a memory of any
That can compare with being a Grandmother
It is an experience like no other

Holding that baby, seeing them grow
Playing with them and running to and thro
The excitement on their face when they see
Me walk through the door fills me with glee

A love that is so strong, and the absolute bond
Never would I have imagined or even dawned
That being a grandma could be such joys
I thank God above for these special girls and boys!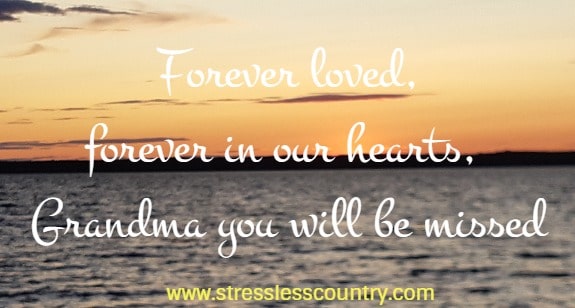 A poem in memory of Grandmother.
Missing Grandma
Poet: Catherine Pulsifer, © 2019

My Grandma, she was very special to me
Whenever she saw me she smiled with glee
No matter what she was doing
When I walked through the doors she was cooing

My memories of her are cherished
My time with her more precious
Her love and encouragement will stay with me
She encouraged me to happy and just be

When troubling times came my way
She always had a listening ear no matter the time of day
She celebrated my success too
Like all Grandmothers do

My life will not be the same anymore
My Grandma, I did adore.
But sad I will not be
As she is in heaven with God you see!



Quotes and Verses About Grandma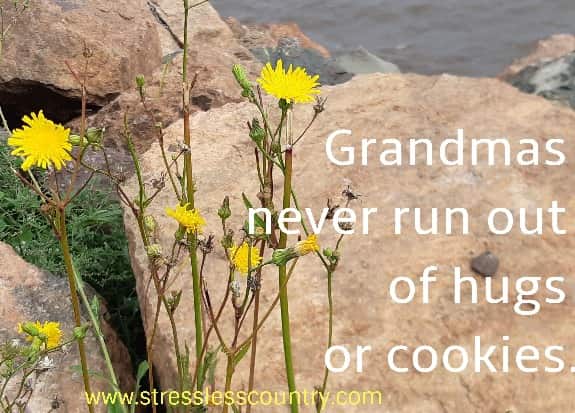 Grandmas never run out of hugs or cookies.
Saying
Short Quotes


Going from mother or mother-in-law to grandmother status definitely alters the dynamics of your relationship with your children.
Deborah Williams, Linda A. Johnson
Children


There are grandmothers out there who would move heaven and earth for their grandchildren.
Janice Elliott-Howard
Baby Poems


A grandma is warm hugs and sweet memories. She remembers all of your accomplishments and forgets all of your mistakes.
Barbara Cage
Poems of Encouragement


No matter what she is doing, a grandmother always loves to see their grandchildren.
Kate Summers
Positive Poems


If children are sugar and spice
Grandma's are what make life nice.

Catherine Pulsifer
Poems About Life


Memories of my grandmother reminded me of the type of grandmother I want to be!
S. Lynch
Memories Quotes


If you are having a bad day, call 1 - 800 - grandmother.
Difficult Time


No one can ever explain the joys of being a grandmother until you are a grandma!
Enjoyment


Nana, grandma, grandmother, buba, doesn't matter what they call you - as a grandmother when you hear that name your heart melts!
Short Family Quotes