9 Christmas Poems for Mom
Share these Christmas Poems for Mom with your mother to wish her many blessings and a very Merry Christmas. These poems are a tribute to our Moms who go above and beyond to make Christmas a blessed and joyous occasion for their families.

Use one of our poems as a way to express your deepest gratitude and appreciation for all that your Mom has done and continues to do; let them know just how much their efforts and love are appreciated and cherished.

So, this Christmas, let's celebrate our moms and wish them a Merry Christmas with a beautiful poem that captures the love and appreciation we feel in our hearts.


Christmas Poems    /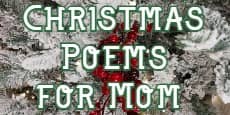 Merry Christmas Mom
Poet: Catherine Pulsifer

Dear Mom, this Christmas season, we gather near,
To express our gratitude, sincere and clear,
For teaching us what faith truly means,
Through your actions, in all the scenes.

You've shown us how to trust and believe,
In God's love, even when we grieve,
Your strength and guidance have been a light,
Guiding us through each day and night.

Your prayers have lifted us when we were low,
Your words of wisdom helped us grow,
In this season of joy and cheer,
May God bless you, Mom, throughout the year.

As we celebrate the birth of our Savior above,
We thank you, Mom, for your endless love,
You've been an example, a beacon of grace,
May this Christmas bring a smile to your face.

So, Merry Christmas, Mom, with love we send,
Wishing you blessings that never end,
May the joy of this season fill your heart,
As we celebrate the greatest love, right from the start.




Christian Christmas Poems



A Reflection of God's Love
Poet: Catherine Pulsifer

Mom, this Christmas, we celebrate your love so true,
A reflection of God's love, shining brightly through.
Like the star that guided the Wise Men on their way,
You've guided us, each and every day.

With open arms, you embrace us tight,
Filling our lives with warmth and light.
Just as God sent Jesus to show His love,
You show us how to care and rise above.

Your love, like a gift, unwrapped with care,
A reminder that God's love is always there.
Through your selfless acts and gentle embrace,
You reflect God's love, filling every space.

This Christmas, Mom, we're grateful for your care,
A reminder of God's love we'll always share.
As we gather 'round, our hearts full of cheer,
May God's love bless you, throughout the year.

So, Merry Christmas, Mom, with love so deep,
May this season bring you joy to keep.
In your love, we find comfort and peace,
A reflection of God's love that will never cease.




Christmas Poems About Love



A Gift
Poet: Catherine Pulsifer

Truly you were a gift from God above
A mother who showered us with love.
You brought us so much joy
Christmas was always full of toys.

You gave to others in need
We now follow your lead.
You made us laugh and smile a lot
Memories like these cannot be bought.

Mom, wishing you the merriest  of days
May you be happy in every way.
May this Christmas be the best
And may you be blest.




Christmas Blessings



We Didn't Realize
Poet: Catherine Pulsifer

We when were young we didn't realize,
The things you did, so Christmas would materialize.
You and Dad went without
You now say, "That's what Christmas is about."

In addition, you did so much
And all without a fuss.
You made sure presents were wrapped
Even when cash was strapped.

You taught us the meaning of giving
And the meaning of being happy and living.
You gave us love and values too
We love you, Mom, that is so true.

So on this Christmas day,
May it be a happy one in every way
May your Christmas be merry and bright
And may the snowfall so it is white.




Christmas Messages for Family



Mom, It's Christmas
Poet: Catherine Pulsifer

Mom, it's Christmas time
And you have been
So busy making sure
The house is clean.

You shop, you decorate,
And bake good things
A happy Christmas to us
You do bring.

We just want to stop and say,
Mom you are the best!
Have a happy holiday,
As your cooking we do test.




Funny Christmas Card Messages



Christmas Memories
Poet: Catherine Pulsifer

My Christmas memories I do treasure
Mom, you made Christmas such a pleasure
You taught us how to be kind
And always keep others in mind.

May this Christmas bring to you
Happiness and joy you are due.
Merry Christmas Mom
You're the best, like no other.




Christmas Quotes



Thank You, Mom
Poet: Catherine Pulsifer

You always encouraged and inspired me
To be the best that I could be.
You always gave me love
For that, I thank God above.

May your Christmas be bright
With the tree and the lights
May God bless you
And all you do.

Thank you, Mom, for Christmas past
You gave us memories that will always last.
May this Christmas give you
Happiness, peace, and joy too!




My Christmas Wish For You



Love You, Mom
Poet: Catherine Pulsifer

Your love shows in the caring things you do,
Mom, how I will always love you.
Our hope is that this Christmas brings
All that you wish for in everything.

The example that you set for me
Has shown me how the best to be.
The faith in God up above
Is another way you showed your love.

Now this Christmas I do wish
The love that surrounds you makes you feel rich
May the miracle of Christmas give you peace
And be assured, my love for you will never cease.




Christmas Wishes



Always There
Poet: Catherine Pulsifer

In happy times Mom, you celebrated with me
In difficult times Mom, you listened as always
Mom you have always been there for us all
You picked us up when we fall.
If we could do all you've done for us
We would do it without a fuss.
Wishing you a Merry Christmas
And a blessed happy New Year!
More Christmas Poems to Inspire
Related Poems & Quotes: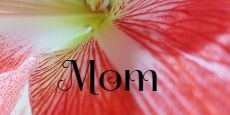 Mom Poems
Birthday Poems for Mom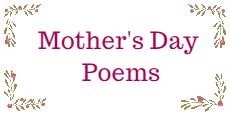 Mothers Day Poems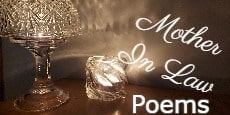 Mother In Law Poems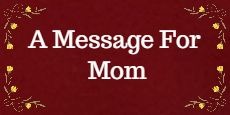 Mothers Day Messages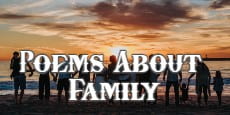 Poems about Family
Featured Famous Poets:


Catherine Pulsifer

More Famous Poems


We hope you have found a poem that expresses your wishes for your Mother this Christmas season.



Short Poems & Quotes    |     About Us    |     Contact Us