30 Christmas Messages for Family
Looking for Christmas messages to include in your cards or emails for your family? Here find words for family members with messages of a Merry Christmas and to remind them of how special they are! Even though they are family and you may see them often, they will be touched that you took the time to send messages of love, appreciation, and messages for their happiness during this Christmas season. You may also want to include one of our
Christmas poems
with your message.
Christmas Messages
   /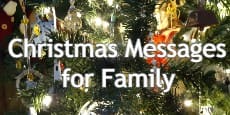 Parents like you make Christmas happy
Couldn't imagine anyone who could be
As loving and thoughtful as you both are
Blessings to you, my mother and father!




Hear the sound of laughter, see the demonstration of love, and feel the peace during this Christmas season. A Joyful Noel To You!




Words can't express what a special place you fill
You mean so much to us all, and always will.
Merry Christmas! How blessed I am to be part of this inspiring family. Love you lots!




It just wouldn't be Christmas without spending time with our family. Can't wait to see you!





Your love shows in the caring things that you do -
I hope this Christmas brings much love back to you.




Some families are big, some are small
Some people are short, some are tall
I'm so glad you and me
Are part of this family.
Merry Christmas, love you bunches!




Christmas Card Messages



There would be a lot less joy without you by my side, my dear, during this Christmas time.




I'm so proud to be related to you,
You make our Christmas complete, you do
Wishing you the merriest one
Can't wait to celebrate and have some fun.




Even though I don't say it enough, I want to say this Christmas time I love you more.





You may be family, but you're also a good friend to
Merry Christmas, and remember I cherish you.




Blessings come from God above
And within our family, I feel His love
May this Christmas see your wishes come true
And may the New Year be good to you too.




We send this Christmas wish full of cheer
Because we think you're dear.
Enjoy the season, with happiness spread
And, on Christmas eve, go to bed.
We hope Santa finds you and brings
What you wished for and many great things.




Christmas Card Poem



Our Christmas would not be complete without the gathering of our family. Look forward to seeing you and celebrating this joyous season.




The many Christmas we have shared in the past
Have left us with memories that will last.
Now this Christmas new memories we will make
I might even try and bake a cake!




Our family is blessed to have each other, not just at Christmas but the whole year through. And I consider you the biggest blessing of all. Love you bunches, hope your Christmas is merry and bright.





Memories of Christmas past bring a smile to my face. Can't wait to make more memories this year.




Wishing you the old familiar things that Christmas does bring.
Memories of Christmas past
Of happy times, gifts and things
May this Christmas, for you, be a blast.




We both know the value of family. And it shows up many times over the year.
But at Christmas, it shows in full force as we appreciate each other more and celebrate it together. Merry Christmas!




It is so true that gifts around the tree are swell.
But what makes Christmas even sweeter is the
cherished times of us as a family enjoying each other's time spent together.
Wishing you the very best and many blessings for the coming year.




Christmas Tree Poems



Santa may think he knows if you been good,
But as a member of this family, I should
Point out that I know more than he
Because everyday I see
Your good and your bad
Your happy and your sad
But, not to worry I won't tellv Cause no matter what I think your swell.
Merry Christmas!




The bonds of family over time
Is something that shows at Christmas time
Love and laughter fill the house
Our kids and even our spouse
Look forward to our time together
Can't wait until we are all together.





Even though we live miles apart
Know that you are always in my heart.
This Christmas season I want you to know
That even though we're apart, I love you so.




Our family has had its ups and downs.
Difficult times and times we act like clowns.
But nothing is more true than this
We love being together on Christmas.




Funny Christmas Card Messages



To a dear Sister-in-law, I wish, this Christmas day you feel so rich; surrounded by family and friends Merry Christmas wishes I do send.




I thank God every day for the blessing of such a great family. May this Christmas be one where more memories will be made. Love you!





Kisses from heaven the snowflakes do bring
Happiness found in the little things.
May this Christmas be one full of joy
And may you get your favorite toy!




Embrace what is beautiful; embrace what is meaningful; and,
celebrate the joy of what Christmas really means.
May each blessing be upon you and yours.
This message wishes joy and peace for you
and for our entire family!




Our family has seen its share
Of loving ways and those who care
So during the Christmas season I want to say
Merry Christmas, love you every day.




Christmas Blessings



Blessings I have many. And the blessing of our family tops my list.
May your Christmas be filled with love and happiness.




We may have had our
Ups and downs.
We may have acted
Like fools and clowns.
But I wouldn't trade this family for another
Love you Mom, Dad, and brother.
More Quotes to Encourage, Motivate, and Share
Related Poems & Quotes: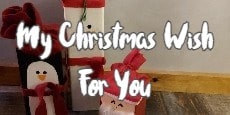 My Christmas Wish for You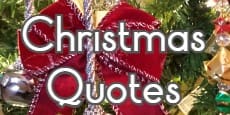 Christmas Quotes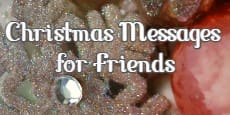 Christmas Messages for Friends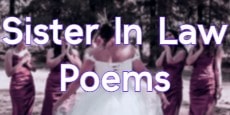 Sister In Law Poems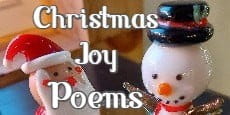 Christmas Joy Poems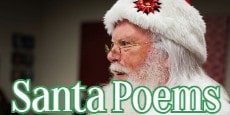 Santa Poems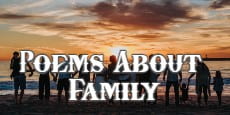 Poems about Family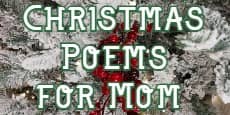 Christmas Poems for Mom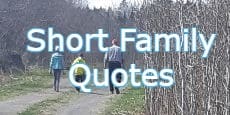 Short Family Quotes
Short Poems & Quotes
    |  
About Us
    |  
Contact Us