27 Christmas Blessings
May these Christmas Blessings be ones that you share with others. May you find them inspiring and filled with your blessing for others.


Christmas Poems    /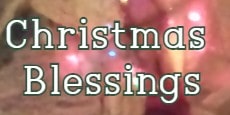 Christmas Blessing
by Patience Strong

God bless our little home
today and all our family,
the ones that gather round
the hearth, and those across the sea.

And some of us have gone away,
and drifted far apart,
but Christmas ties the cord of friendship
close around the heart.

May all our fancied grievances be
banished from the mind,
and may we greet each other with a wish
that's good and kind.

May nothing false creep in
to spoil the perfect harmony,
and may we speak sweet words of love
and peace and harmony.




The Spirit of Christmas
by Catherine Pulsifer

May the spirit of Christmas fill you with peace,
May the love of Christmas around you never cease.
May the joy of Christmas fill you with cheer,
And may you be surrounded by those who are dear.
May God bless you on this Christmas day,
Happiness and health for you I pray.




What Is Christmas Poems



May These Be Yours
by Unknown Author

May these be your gifts at Christmas . . .
Warm hearts and shining faces,
Surrounding you to make your home
The happiest of places.

May these be your gifts at Christmas . . .
Deep peace and lasting love,
That you will share together
With the ones, you're fondest of.

May these be your gifts at Christmas . . .
The promise of a year
Where everything goes well with you
And those you hold most dear.




Christmas Verses



An Irish Christmas Blessing

The light of the Christmas star to you,
the warmth of home and hearth to you,
the cheer and goodwill of friends to you,
the hope of a childlike heart to you,
the joy of a thousand angels to you,
the love of the Son,
and God's peace to you.
May you be as contented as Christmas finds you
all the year round.




Christmas Quotes



A Blessing For You
by Alice L. Mason

May the food upon your table,
Be enough, with some to share,
And may it treat you warm and sweet
As your mother's blessing prayer.

May you have ears this Christmas time
To hear the joyous bells,
And choirs repeat the music sweet
That such a story tells.

But, most of all, I wish for you
A season bright and gay,
May you recall above it all
That other Christmas Day




May You Be Blessed
by Author Unknown

May you be blessed . . .
with the spirit of the season, which is peace,
the gladness of the season, which is hope,
and the heart of the season, which is love.




Christmas Poems About Hope



May This Christmas
by C. B. Baird

May this Christmas season bring you deep joy
and many pleasant experiences.

May the New Year bring you that peace that "passeth the understanding of men"
and may it bring nothing into your life to cause anxiety or worry.

May all your days be full of sunshine and
your nights filled with pleasant dreams.

May no dark clouds appear to shut out any of the beauties of life,
or of nature, all about you.

May you be able to see stars shining through any clouds
that may appear on your horizon.

May you have wisdom for all your problems,
and help in every time of need,
and may you have true friends all along the way,
to the very end of life's journey.




Christmas Messages



Joyous
by J. S. Ogilvie

Oh, joyous be your Christmas-tide,
And bright your New Year, too;
To you may love ne'er be denied;
May all your friends be true.




A Christmas Blessing
by Betty W. Stoffel

May your Christmas time be happy
With a glory warm and strange,
And the day be filled with blessings
That will never, never change.

May the blessedness of Christmas
And the joy of all things dear
form a large and lovely archway
For the happy coming year.





Short Irish Christmas Blessings

May peace and plenty be the first
To lift the latch at your door
And happiness be guided to your home
By the candle of Christmas.
God's blessings and peace be yours throughout this New Year.




Irish Blessings



May your home be blessed with warmth,
Where friends bring cheer and goodwill;
Let the joy of a thousand angels come,
As the peace of God, we feel.




May this Christmas bring you warmth,
And comfort of dear old friends arm in arm.
The love of the Son, may you feel  
As you share a Christmas meal.




May the joy and peace of the Christmas season
As you remember Jesus is the reason.
On God's grace may you hope and believe,
And gifts of love may you receive.




Irish Blessing Quotes



May laughter shared through the season shine,
Sharing thoughts and cherished dreams,
May you pray for those who are so dear,
Giving thanks to Jesus who redeems.





Short Christmas Blessings

We send blessings of the season
Of hope, joy, and peace.




May the miracle of Jesus' birth
Bless you and your family this Christmas.
May the miracle of this season
Stay with you the year round.




Christmas Poems About Jesus



As the world stops and rejoices
May you feel God's presence
May He fill your home with peace
And may love shine from within.




May your Christmas
See holly and mistletoe
And the presence of God
May you know.




May the singing of the carols
Fill your heart with joy
May happiness and love
Be felt from God above.




With a touch of winter in the air
May the feeling of love and share
Be with you this Christmas time
Celebrating Christ's birthtime.




May the love of Christ
Be felt this Christmas
And in the coming New Year.




New Years Blessings



May God bless you and your family
At this wonderful time of year.




He sent His only Son
On Christmas long ago
We still feel the miracle
As the world is aglow.
May you feel blessed and grateful too
For the presence of God in all you do.




A blessing of happiness
A blessing of cheer
Is sent to you this Christmas
And for the coming New Year!




May Christmas lights on the tree
Shine brightly this Christmas day
And may the love of God
Be felt in every way.




Christmas Wishes To A Friend



May God grant you the peace
That only He can give,
And, may His light shine in your life
And how you live.




God, I pray a blessing on those I know
Let your love be felt and let it show
Your love for each and every one
Let us all reflect on the birth of Your Son.
More Christmas Poems to inspire and celebrate the season
Related Poems & Quotes: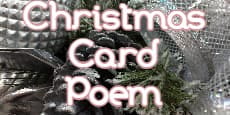 Christmas Card Poem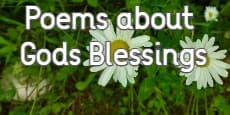 Poems about Gods Blessings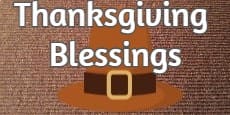 Thanksgiving Blessings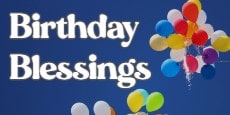 Birthday Blessings
Bible Verses about Blessings from God
Friends Are Blessings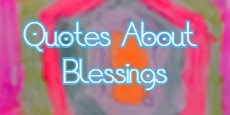 Quotes about Blessings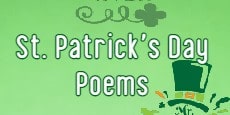 St. Patrick's Day Poems
Featured Famous Poets:

Patience Strong


Catherine Pulsifer


More Famous Poems


Short Poems & Quotes    |     About Us    |     Contact Us