30 Christmas Wishes To A Friend
Send one of our Christmas wishes to your friends to let them know how much you appreciate them. Christmas is a time of year that friends are held more dear. You will also find a collection of
friendship poems
that may express your feelings for your friend this Christmas season.
Quotes
   /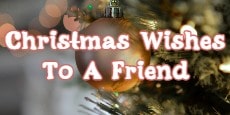 Friends like you are the best Christmas gift one could have. Merry Christmas!
Christmas Messages




Not just at Christmas time, but the whole year through
I know that I can always count on you.
We will always be good friends
I am there for you and you're there for me.
Wishing you a Christmas that is merry and bright
And a Happy New Year's night!
Christmas Poems




What is Christmas without friends and family to share
My friend, this wish is to express how much I care.
Wishing you the peace and joy only Christmas brings
And hope you get all your wishes and wonderful things.
What Is Christmas Poems




The stars do twinkle this time of year
The angels are singing loud and clear
And at this time of year, I just want to say
Merry Christmas my Friend, have a great Christmas day.
Christmas Card Poem




If wishes were stars I would give you the whole universe. Merry Christmas My Friend!
Christmas Wishes





Merry Christmas my friend. On you, I always can depend. Happy Christmas Wishes to you I send.




Our friendship is ageless I so appreciate you. Have a Merry Christmas Thanks for all you do.
meaningful friendship quotes




At Christmas God sent the angels to tell of the good news.
I also believe He sent to me friends like you!
Christmas Verses




Christmas and friends have one thing in common - love. I am thankful for the love of our friendship. Wishing you a loving Merry Christmas.
Christmas Poems About Love




You are simply a person of joy to be around. Merry Christmas!




Joy to the world and joy to you this Christmas.




Christmas comes but once a year,
But you, my friend, are always dear!
Catherine Pulsifer





A wish of Claus for celebration to a friend who is full of Santa!
Santa Poems




In the happiest of seasons
You have many reasons
To spread your love and friendship
To those who need a lift.




Friends like you fill me with hope
When I'm down you help me cope.
When I'm happy and feeling glad
Your presence just adds
Joy and sunshine to each day
Merry Christmas to you I must say!
Christmas Poems about Hope




Celebrating Christmas with you my friend, makes Christmas cheery and bright.




I wish for you that the magic of Christmas remains with you not only at Christmas but in the coming New Year.
New Year Poems




I'll always fondly think of you this Christmas season.




Thinking of You Poems



Merry Christmas to a dear sweet Friend.
Also a Happy New Year, I do send!




May this holiday season be filled with family and friends.
May smiles and love surround you each day.
Friends like you make Christmas gay!
Holiday Poems




If I could have one wish for you
My friend I would say,
"I appreciate you that's true,
Enjoy the happiness of this coming Christmas Day!"




Merry Christmas old buddy!




Friendship Poems



Sending candy canes and lollipops
To a friend who I think is tops
Christmas may come once a year
But a friend like you is always near!




Merry Christmas my friend.
Christmas wishes I do send.
Your friendship I am grateful for
You are a great friend and more.




Be of cheer and good joy, my friend. Merry Christmas!




I count my blessings for friends like you
May your Christmas be happy through and through.
My Christmas Wish for You





Merry Christmas to a special friend. And Happy New Year full of bright tomorrows!




Friends like you make Christmas special.




You are an extra special person, who I am glad to have as a friend
A very blessed Christmas and a peaceful New Year is the wish I send
Poems




As the snow falls this Christmas, may you feel the kiss of friendship on your face.


More Quotes to Inspire, Encourage and Motivate
Short Poems & Quotes
    |    
About Us
    |    
Contact Us