7 Christmas Poems About Love
What is Christmas, if it is not love? Let these poems about Christmas about love inspire and encourage you to spread love wherever you go.


Christmas Poems    /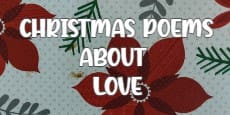 Christmas Love
Poet: Catherine Pulsifer

There is something about Christmas,
That's different than all the rest,
It's a time when people act
Truly at their best.

The difference I think is
The love that is in the air.
People share with others,
And truly do care.

Love can change the world,
If we practiced Christmas love.
If we kept it all year long,
It would please God above.

So don't lose that feeling,
That love can create.
Love does make such a difference,
Oh, love is so great!




What Is Christmas Poems



Christmas
Poet: Mark Edwards, S.M.

Now comes the time when love holds sway,
And grown-ups share in children's play.
And houses glow with varied light
And make a fairy-time of night,
And life is rich and warm and full,
And heartstrings feel the tender pull.




Wishing Love
Poet: Gertrude Rosenkild

Wishing the joy,
The faith and the love
That God in his mercy
Sends down from above.

Wishing the love
Of the Christ Child dear -
The love that God sent
To His children here.




Poems about God's Love



Because
Poet: Mary Stoner Wine

I saw the candlelight's soft glow,
A gleaming path across the snow,

And through the window's filmy lace
There came a radiant, subtle grace;

For Christmas trees with burning light,
Adorned to greet the holy night,

From every window, each hearthstone,
With hopes expectant gladness shone.

Oh, homes so beautiful, so bright,
Reflecting joy and peace and light,

Oh, homes that send through winter's chill
Your silent hymn of peace, goodwill,

Why do your cozy hearth fires burn,
And those you sheltered now return?

Because, to you, from heaven above
There came God's gift, God's gift of love.




Christmas Quotes



The Christmas Miracle
Poet: Zelma S. Dennis

The miracle of Christmas
Is the gift of Love,
That shines like radiant star-rays
From the heavens above.

It comes and blesses every need
Of the human heart,
And her the Christ-like spirit
Inspires every part.

The miracle of Christ-love
Now I give to you,
To illuminate your Christmas
And all the whole year through.




The Christmas Star Poem



You Can't Buy
Poet: Catherine Pulsifer

If I could wrap a present of something
That you can't buy,
I would wrap you up some love,
With a bow that I have tied.

The love we find at Christmas
Is not a material thing.
It is love that the world needs,
And change it would bring.

If our focus was on keeping love
All the year round,
More people would be happy,
There would be fewer frowns.

Think of the love that God showed us
When He sent his only Son.
He was telling the world that,
He loved each and every one.




Christmas Blessings



It's Christmas
Poet: LaVerne P. Larson

It's Christmas, oh, it's Christmas,
'Tis that holy time once more,
When the whole world knows a joy
It has been longing for.

Once again that same warm feeling
Fills our hearts with peace and love.
We rejoice in song and prayer
For God's gift from heaven above.

It's Christmas, oh, it's Christmas,
In the mansions large and tall,
And in the humble little homes
God's grace dwells over all.

May the spirit that is Christmas
Remain in every heart all year,
So we may love our fellow man
In peace and lasting cheer.
More Christmas Poems for The Season
Related Poems & Quotes: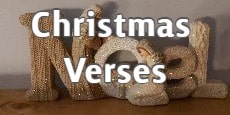 Christmas Verses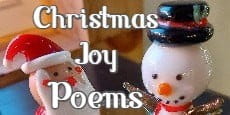 Christmas Joy Poems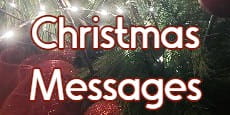 Christmas Messages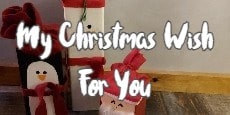 My Christmas Wish For You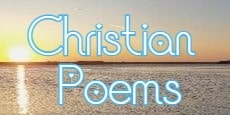 Christian Poems
Featured Famous Poets:


Catherine Pulsifer


More Famous Poems


We hope your Christmas is full of love and that you share your love with others. The gifts that we buy, the helping hand, the smile, and the kindness we share, are just some of the examples of the love that is seen during this season. We hope these poems are ones that you will share to remind others to love more!



Short Poems & Quotes    |   About Us    |   Contact Us