37 Christmas Messages
Looking for Christmas messages to send, then please share our collection of these timely seasonal messages to wish others a Merry Xmas. These messages are meant to provide inspiration and encouragement. Inspirational messages to remind others of the meaning of this special day.

This festive season is the time of year when we take that moment to send a card or an email to let others know we are thinking of them to express the joy that is shared among family and friends. It doesn't have to be a long message either.

These Christmas greetings can be just a quick note expressing your thoughts, thoughts that can mean a lot to another person. Sending inspirational messages in a Xmas card has been a long-standing tradition for centuries. We hope you find these messages to be ones that you can use in your cards. And, you may also use a poem from our collection of Christmas poems


Quotes    /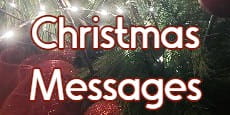 May the Christmas season fill your household with the joy of laughter, and the warmth of good family and friends. We wish you a very happy and cheerful Noel.



This Christmas season we wish it to be filled only with happiness, love and joy to you and all of your beautiful family. This message is to let you know we miss you all and look forward to seeing all of you in the New Year.





Believing in Santa is just another one of those magical Xmas messages of giving and loving thy neighbor.




An inspiring person you are you always help, you are never far
Merry Xmas, we appreciate you and all the things you always do!





May God bless you for your spirit of giving and compassion shown throughout the year. Merry Christmas




Many people do not realize that Christmas time is a message from God, to be thankful for all we have, and to be generous to those around us.




If I could send one message to the world this season it would be one of love and of peace to all mankind.




The spirit of Christmas spreads love and kindness throughout the world. May your Christmas be filled with kindness and love.




As I walk through the forests of life, I've found you to be the tallest, the broadest, and the most beautiful place under which to seek shelter. May God grant you His blessings this Christmas.




A message of peace and love during this Christmas time should spread wild throughout this world.




Always grateful for people like you and a Christmas season like this.





May the holiday season finish this year on the opportunities of a fresh and vibrant New Year.




Hoping the message of Christmas finds you and your family during this magical day!



Sending all of our love from our family to yours this Christmas!



Let the great times and fond recollections of this Christmas season become the cherished memories of tomorrow for your entire family. Cherish each moment together. Wishing you joy, and happiness.



Wishing you and your family the true message of Christmas, and may this holiday time be filled with love and laughter.



As all of us have been so bountifully blessed, so we should also bless those in need around us during this Christmas season.




May you be a miracle in someone's life this Christmas season. There is no greater gift than helping someone else.




Christmas is not about doing something for yourself but is all about doing something extra for someone else.




Let the birth of Jesus Christ be at the very heart of your Christmas festivities. Blessings to you!




Christmas is not a time of unnecessary gifts but a time to show love.




May piety with wishes placed above
And steady loyalty and. faithful love,
Be thy blessings this Christmas tide.




Christmas is an opportunity to realize that we are put upon this earth, not for ourselves but to serve others. Merry Christmas





With hopes that the real and true meaning of Christmas fills your life with wonder and love.




Love came into a lowly stable on that very special night to bring us from darkness to heavenly light. May you have a blessed Christmas.




Truly a miracle each Christmas brings when we reflect on the birth of Jesus and how His birth changed the world. May you feel the miracles that this season brings.




May the spirit of Christmas guide your mind and heart just the same as the wise men were guided by the radiant star.




The message of Christmas is the hope of eternal life. May you find hope and joy as companions. Merry Christmas.





May the birth of Jesus be inspirational to you
May His ways fill your life and all you do
Be blessed this coming Christmas day
Have a happy and joyous Holiday!




My path through life may not have been the straightest, but along the way, I have found strength and encouragement through your kindness and love.




May your Christmas day be adorned with abundance, happiness, and blessings. Merry Christmas!




Hope your holidays are decorated with jingles of laughter. Happy Holidays!




Joyous is the reunion this Christmas. Our blessings and sincerest wishes for maximum happiness in the years to come.




Enjoy the beauty, warmth, and merriment of the season.




May the kindness and love felt at Christmas stay with you the during the coming year.




The snow may be falling, the icicles forming but warmth and feelings of peace is in the air. A joyful, cheerful, and loving Christmas is wished for You!




All through the world, the birth of Jesus rang out from a lowly stable. The hope and blessings during this special Christmas event be with you all.
Related Poems & Quotes: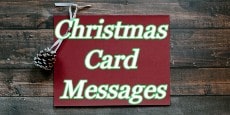 Christmas Card Messages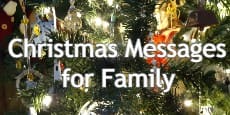 Christmas Messages for Family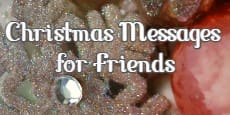 Christmas Messages for Friends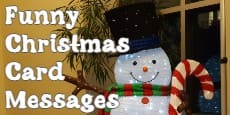 Funny Christmas Card Messages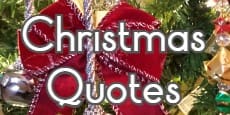 Christmas Quotes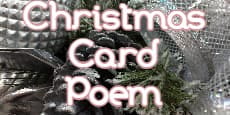 Christmas Card Poem


        More Quotes to Encourage, Motivate, and Share

People enjoy getting an unexpected message, especially one wishing them joy and happiness. A Christmas message says I am thinking of you! We hope you have enjoyed our collection and have found messages that express your thoughts. Personalized Xmas messages can add that special touch to your cards! Our message to you: Have Yourself A Merry Christmas!

Short Poems & Quotes    |   About Us    |   Contact Us