Friends Are Blessings
Those three words, friends are blessings, hold so much truth. Enjoy the poem and quotes which express how friends are truly a blessing in our lives.

Share these verses or thoughts with your friend, let them know how you feel and how much you appreciate them.


I Have A Friend
Poet: Frances Angermayer

I have a friend! A friend who is true!
A friend I can tell every sorrow to.
I have a friend who stands by my side.
A friend to whom all things I confide.

I have a friend - one beyond compare!
Oh, World, a loyal friend is rare.
I have a friend who passed the test.
I have a friend! - I am truly blessed.


Roses Are Red
Roses are red
Violets are blue,
How blessed I am
To have a friend like you!


A Treasure
Poet: Unknown

Friendship like yours
Is something dear
Something to treasure
Year after year


Blessed We Are
Poet: Julie Hebert, ©2012

What really can I say,
About the two of us.
One day were strangers,
The next we were blessed.

We've only been friends,
For a very short time.
But it's like we'd been friends,
In some other lifetime.

Right away we clicked,
And best friends we quickly became.
We had the same interests,
Our husbands were also the same.

How blessed could we be,
To have found each other?
I can tell you one thing,
I wouldn't want any other.


Friendship
Poet: Lucy Barns

What pleasures can friendship impart.
What balm in its virtues we find,
What transport it yields to the heart.
fVhat joy and content to the mind.

The trav'ler fatigu'd and forlorn,
Thro' deserts and wilds forc'd to stray,
For friendship's endearments does mourn,
To comfort his desolate way.

When sickness and trouble appears.
And grief like a shower descends,
How soothing the pitying tears
That flow from a loving kind friend.

No mis'ry so sharp and severe,
Bat friendship's sweet soothing can calm;
Nor pleasure so great nor so rare,
But friendship can heighten its charms.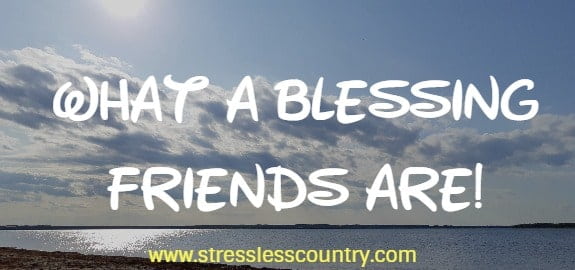 More Friendship Poems
Quotes on Friends and the Blessings They Bring:
A friend is what the heart needs all the time.
Henry van Dyke
Meaningful Friendship Quotes


A blessed thing it is for any man or woman to have a friend, one human soul whom we can trust utterly, who knows the best and worst of us, and who loves us in spite of all our faults.
Charles Kingsley
Best Friend Poems


Friends are flowers in the garden of life.
Saying
Garden Poems


Just thinking about a friend makes you want to do a happy dance, because a friend is someone who loves you in spite of your faults.
Charles M. Schultz
Poems of Encouragement


A friend is one who strengthens you with prayers, blesses you with love and encourages you with hope.
Author Unknown
Poems About Hope


Friends are God's way of taking care of us.
Author Unknown
Poems About God


Friends bless us by encouraging and inspiring us to be the best we can be.
Catherine Pulsifer
Best Friend Captions


Friends may drift apart but the memories of joys you've shared
Will always live within your heart.
Author Unknown
High School Graduation


A true friend is the greatest of all blessings.
Francois de La Rochefoucauld
True Friendship Poems


You May Also Like:

Appreciation Quotes

Thank You Poems

Positive Poems

Poems About Life


More Friendship Poems


Short Poems | Poems | Quotes | About Us | Contact Us |