Message For Best Friend
Use all lines or a few lines of this message for a best friend. Short poems that have words that say thank you, that say I appreciate you and I value our friendship.

We must never take friendship for granted and with our best friends, we must ensure that they know how we feel about them. Jerry Jenkins, in his book, Twelve Things I Want my Kids to Remember, says, "Best friendships are between people who can' be honest with each other, laugh at each other's faults, and don't try and change one another." We all need people like that in our lives.

Use these messages, to let your best friend know how you feel! You may also find more poems to share in our collection of friendship poems.


Best Friend Poems    /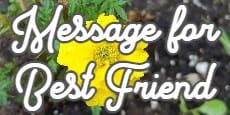 My Message
Poet: Julie Hebert, ©2012

When we met, I'd never thought,
You'd end up being a friend, I'd like a lot.

But as it seems, you and me,
Have a lot in common, that was the key.

Our interest pushed us in the same direction,
Then we realized, we had a connection.

Good thing this happened as we may not have known,
How close we'd become, and how friendship is shown.



more quotes for a friend



You My Friend
You, my friend, demonstrate the Art of Friendship in all you do. What is the Art of Friendship? Read the thought written by Wilferd Peterson:

The first step in the art of friendship is to be a friend; then making friends takes care of itself.

To be a friend a man should start by being a friend to himself, by being true to his highest and best and by aligning himself with the enduring values of human life that make for growth and progress.

To be a friend a man should strive to be "like the shadow of a great rock in a weary land," to be a source of refuge and strength to those who walk in the darkness.

To be a friend a man should believe in the inherent goodness of men and in their potential greatness; he should treat men in a big spirit, expectant of a noble response.

To be a friend a man should strive to lift people up, not cast them down, to encourage, not discourage; to set an example that will be an inspiration to others.

To be a friend a man should be sensitively responsive to the dreams and aims of others and should show sincere appreciation for the contributions others make to the enrichment of his life.

To be a friend a man should practice the companionship of silence and the magic words that his speech may build and not destroy, help and not hinder.

To be a friend a man should close his eyes to the faults of others and open them to his own.

To be a friend a man should not attempt to reform or reprimand, but should strive only to make others happy if he can.

To be a friend a man should be himself, he should be done with hypocrisy, artificiality and pretense; he should meet and mingle with people in quiet simplicity and humility.

To be a friend a man should be tolerant, he should have an understanding heart and forgiving nature, knowing that all men stumble now and then, and that he who never made a mistake never accomplished anything.

To be a friend a man should join hands with all people who are working for great principles, great purpose and great cause; he should put his shoulder to the wheel to help achieve common goals.

To be a friend a man should go more than halfway in his contacts with his fellow men; he should greet others first and not wait to be greeted; he should radiate a spirit of overflowing good will.

To be a friend a man should remember that we are human magnets; that like attracts like, and that what we give we get.

To be a friend a man should recognize that the art of friendship is a lifetime study, that no man knows all the answers, and that he should add each day to his knowledge of how to live the friendly way.




more meaningful friendship quotes



Message For You
Poet: Catherine Pulsifer, ©2020

This message is written for you
A friend like you, a thank you is due
Can't imagine how life would be
Without you in it, I would be so unhappy.

My life you have impacted positively
When I think of you I think affectionately
I appreciate all you do
A friend you are that is true.




Special Friend Poem



May Your Life
Poet: Unknown

May your life be like the day -
More beautiful in the evening;
Like the summer -
Aglow with promise; and,
Like the autumn,
Rich with the golden sheaves,
Where good works and deeds
Have ripened on the field.




For Thee My Friend
Poet: J. S. Ogilvie

For thee, my fair and gentle friend,
I ask not wealth or fame,
I only ask thy path may be
Free from lifes toil and care.



  
Poems About Life



Divine Friendship
Poet: Unknown

Not merely for this world below
Does friendship's cord entwine,
But in the future we shall know
Its value more divine.

The friendship which we cherish here,
With plighted heart and hand,
God's angels give it honor there —
There is its native land.
More Best Friend Poems to Share
Related Poems & Quotes: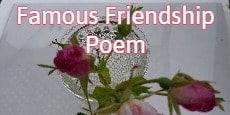 Famous Friendship Poems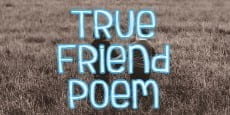 True Friend Poem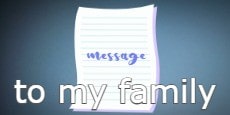 Message To My Family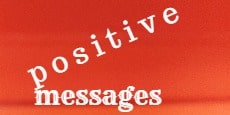 Positive Messages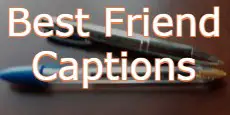 Best Friend Captions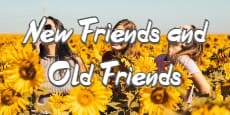 New Friends and Old Friends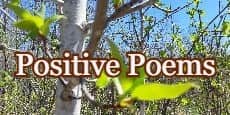 Positive Poems
Featured Famous Poets:


Catherine Pulsifer

More Famous Poems


We hope these messages are ones that reflect your feelings for a friend.




Short Poems & Quotes    |     About Us    |     Contact Us