5 Gratitude Poems
Be inspired by this collection of gratitude poems. Let them remind you that being grateful for what you have and having an attitude of gratitude makes life much more content.

Poems can be great to share and express a message of appreciation and thankfulness!

Short Poems / Inspirational Poems / Gratitude Poems


Be Grateful
Poet: Edgar A. Guest

Be grateful for
the kindly friends that walk along your way;
Be grateful for
the skies of blue that smile from day to day;
Be grateful for
the health you own, the work you find to do,
For round about you
there are men less fortunate than you.

Be grateful for
the growing trees, the roses soon to bloom,
The tenderness of kindly hearts
that shared your days of gloom;

Be grateful for
the morning dew,
the grass beneath your feet,
The soft caresses of your babes and all their laughter sweet.

Acquire the grateful habit, learn to see how blest you are,
How much there is to gladden life, how little life to mar!
And what if rain shall fall today and you with grief are sad;
Be grateful that you can recall the joys that you have had.





Tell Him So
Poet: Unknown

If you hear a kind word spoken
Of some worthy soul you know,
It may fill his heart with sunshine
If you only tell him so.

If a deed, however humble,
Helps you on your way to go,
Seek the one whose hand has helped you,
Seek him out and tell him so!

If your heart is touched and tender
Toward a person, lost and low,
It might help him to do better
If you'd only tell him so!




Remember
Poet: Patience Strong

Remember the blind -
The sightless ones, whose eyes can never see -
The beauty of the lovely earth -
The glory of a tree.

Remember the lame, on crutches bent,
For they can never know -
The thrill of movement - running, free -
With strong swift limbs aglow.

Remember the deaf, the lonely deaf,
For they have never heard -
The wonder of a human voice -
The rapture of a bird.

Remember the dumb -
With speechless lips -
In silence set apart -
Who never can express in words the longings of the heart.

And so if we grow bored and dull
As down life's path we drift...
Remember - and be thankful for
Each good and perfect gift.




A Life Full of Gratitude
Poet: Catherine Pulsifer, ©2020

May my life be full of gratitude
May it be shown in my attitude
By the way that I act
And with any and all contacts.

Let my appreciation show
Expressing it quickly not to slow
For those who have helped me along
Even when I was stubborn and wrong.

May the kindness that was shown to me
Be kindness that I return so easy
May I always lend a hand
To a child, woman, or man.

You see a life of gratitude is one
That makes you appreciate all that is done.
You count your blessings every day
From the time you are young until you are gray.




Hymn Of Gratitude
Poet: Daniel C. Colesworthy

God of the hills and verdant plains,
I bless thy ruling hand:
The drifting snows and gentle rains
Are sent by thy command.

The opening spring is decked by thee
With each delightful flower;
And every leaf and bud I see
Bears impress of thy power.

The ripening summer's burning sun;
The winter's piercing cold;
The changing seasons as they run -
Thy wisdom, Lord, unfold.

The joy that centres in my cot,
No less thy wisdom owns:
With rural happiness my lot,
I cannot envy thrones.

Love dwells within my peaceful breast
At every morning's dawn;
And when the sun sinks in the west,
My cares are all withdrawn.

Although secluded from the mart
Where crowd the thoughtless gay;
Where, in the scenes that vex the heart,
Men waste their lives away -

Beside the hill, the purling brook,
Glad Nature's fond retreat,
With gratitude to Thee I look,
And songs of joy repeat.

For lot so blest, my voice I raise,
Almighty God, to thee!
Thou needest not an angel's praise;
Much less such praise from me.

But I will bless thy bounteous hand
For all the gifts bestowed:
Before my heart could understand,
Ten thousand thanks I owed.
More Inspirational Poems to Encourage & Motivate
Related Short Poems & Quotes You May Also Like: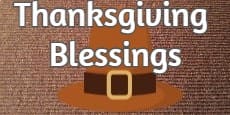 Thanksgiving Blessings
Gratitude, Grateful and Thankful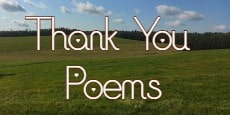 Thank You Poems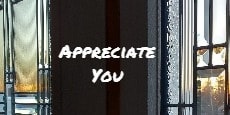 Appreciation Quotes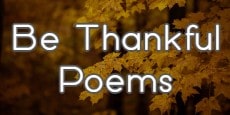 Be Thankful Poem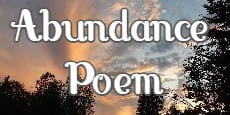 Abundance Poem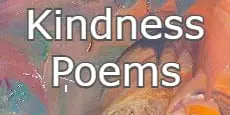 Kindness Poem


Short Poems | Poems | Quotes | About Us | Contact Us |