Thanksgiving Prayers
Use these Thanksgiving prayers to give thanks and acknowledge the many blessings of God. These Thanksgiving prayers are good to use not only at Thanksgiving but for any day of the year to give thanks for your family and friends, or before a meal, and to give praise to God.
Father We Thank You
by Catherine Pulsifer


Father,
Thanksgiving Day we gather here
Full with thanks and full of cheer.
Lord, we thank you for all our blessings
Our family, friends and all good things.

We know the good comes from you
You are with us in whatever we do
We praise you, we worship you
We are thankful that is so true.

Thank you for the food we eat
Thank you for our family and friends
Thank you for being with us
Words just cannot express
The love and thanks from all of us!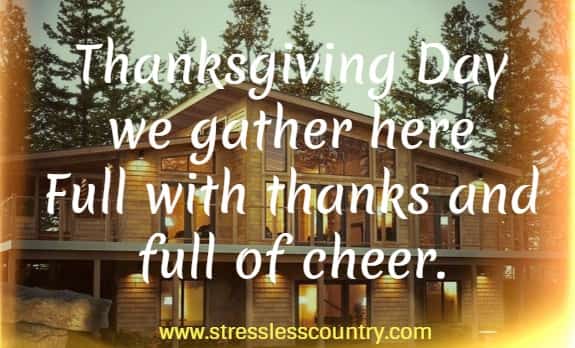 I Give Thee Thanks!
by May Carlexon Lord


For fun and friends and daily food;
For children — my beatitude;

For strength to meet life's sudden shocks;
For apple-boughs and hollyhocks;

For snow in winter, fairy lanes;
For peacefulness and growing pains;

For books by poet, seer and sage;
For easy chairs and middle-age;

For embers on the hearth, for songs;
For faith that triumphs over wrongs;

For laughter and remembered pranks;
For prayers at night — I give Thee thanks!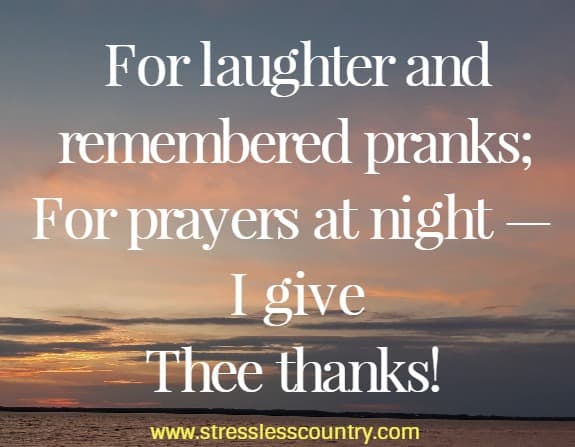 Thanksgiving
by Patrick E. Loukes


Lord
This day
At this table
In this company
Touch us in this place.
Fill our hearts with Your love,
Keep our sympathy and compassion
Always fresh and
Our faces turned towards heaven
Lest we become hard and forget,
As we love You, we shall gift
Each other wih patience
And Love.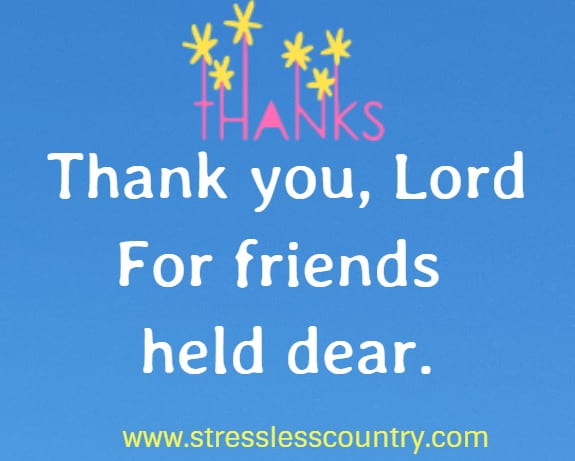 Thank You
by Sara F. Hills


Thank you, stars
That shine so bright.
Thank you, moon
For your silvery light.
Thank you, sun
For your warmth and cheer.

Thank you, Lord
For friends held dear.
Thank you, Father
In Heaven above —
For health, contentment,
Peace and Love.

And when ill fortune
Turns her face
To greet me
In the Market Place —
May the Thanks I give
Help me to live
And still say — Thank you!



At Eighty-Three
by Thomas Durley Landels


Thank God for life, with all its endless store
Of great experiences, of hill and dale,
Of cloud and sunshine, tempest, snow and hail.

Thank God for straining sinews, panting breast,
No less for weary slumber, peaceful rest;

Thank God for home and parents, children, friends,
For sweet companionship that never ends:

Thank God for all the splendor of the earth,
For nature teeming with prolific birth:

Thank God for sea and sky, for changing hours,
For trees and singing birds and fragrant flowers.

And so in looking back at eighty-three
My final word to you, my friends, shall be:

Thank God for life; and when the gift's withdrawn,
Thank God for twilight bell, and coming dawn.
You May Also Like
A Prayer For Today
Five Finger Prayer
Prayer For Mother
Thanksgiving Blessings
Thanksgiving Poems
Happy Thanksgiving Quotes
Wishes - Happy Thanksgiving Everyone
More Poems for Inspiration and Encouragement
Short Poems
|
Quotes
|
About Us
|
Contact Us
|