Wishes - Happy Thanksgiving
Find wishes for a Happy Thanksgiving for everyone. Our wish and hope for our family and friends is that they have a happy Thanksgiving. Often on Thanksgiving the saying, "When I count my blessings, I count you twice!" is realized. The people in our lives that care about us are truly a blessing.

Thanksgiving is a time for families and friends to gather and share a wonderful Thanksgiving dinner. A time to let these people know how much we love and appreciate them.

Thanksgiving is the time of year to count our blessings and be grateful, that includes the people in our lives who love, encourage and support us.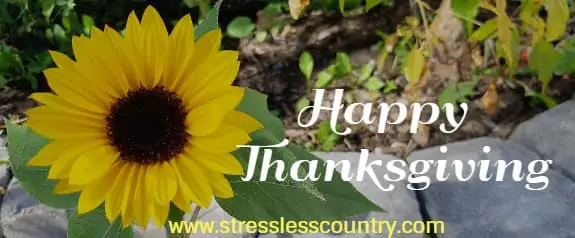 Wishing You A Happy Thanksgiving

May you have a Happy Thanksgiving surround by family and friends.



May you take a moment on this day to count your blessings. Happy Thanksgiving.



Happy Thanksgiving to a real turkey!




Best wishes for a Happy Thanksgiving and an abundant year



Blessings to you and yours this Thanksgiving Day.



Enjoy the blessings that surround you on this Thanksgiving Day.



Appreciate the small things this Thanksgiving as the small things grow into big things!



Thanksgiving a time to be thankful for the harvest, and those surrounding us. May the harvest be plentiful and the love and family surround you this day.



Appreciation and gratitude, thankfulness and praise,
Makes Thanksgiving day to let our glasses raise!




Share your many blessings. Happy Thanksgiving.



I have a thankful heart for people like you. You are special, thank you for all you do. Happy Thanksgiving.



From our family to your family wishes for a Happy Thanksgiving.



Included in our prayers is a blessing to you and yours for a Happy Thanksgiving and a safe and happy year ahead.



May you never want, may your needs be filled, may happiness and health be with you this Thanksgiving and in the coming year.


Related: Thanksgiving Poems | Happy Thanksgiving Quotes | Thanksgiving Blessings | Thanksgiving Prayers



Happy Thanksgiving Wishes for Family



I count my blessings over and over for family like you.



I appreciate my family
May you all happily
Enjoy this special day
I love you all in every way!



You're a special person in my life
Always there, always right
Wishing you a happy day
Happy Thanksgiving I do say.



Mom, you cook the turkey and make everything seem so easy.
I just want to say I love you and appreciate all you do!



Dad, on this Thanksgiving I just want to say,
You are the best in every way!




On Thanksgiving and always I love you!



Sister, we have shared so much,
From clothes to even blush
I am thankful for a sister like you
You make me happy, never blue.



Happy Thanksgiving to you my brother
You are like no other.
A bit of a tease, but always fun
I wouldn't trade you for anyone!
Happy Thanksgiving



I am grateful for you all year long, but on this Thanksgiving Day, I want to tell you how much you mean to me and how much I appreciate you.



What am I thankful for? So many things it would take me forever to write, but for sure you are at the top of my list! Happy Thanksgiving.



I am grateful for parents like you.
You encourage and support all I do.
When I am feeling down and blue
I hear you saying, we love you!


Related: Short Family Quotes | Poems About Family | Thank You Poems | Appreciation Quotes | Special Occasion




Happy Thanksgiving Wishes for Friends



Thanksgiving is a day for giving thanks and appreciation. You my friend are at the top of the list.



The leaves are turning so
We know what comes next - snow
But today we are thankful for insight
That friends like you who make our world bright.



I thank God for blessing me with a friend like you.



Happy Thanksgiving, remember over the coming year that no matter what is going on, or what the situation is there is always something to be thankful for.



Friendship is precious and I treasure ours. Happy Thanksgiving



From one turkey to another - Happy, happy Thanksgiving.


Related: Friendship Poems | Meaningful Friendship Quotes | Verses About Friendship | Best Friend Poems




Happy Thanksgiving Greetings & Wishes



This Thanksgiving greeting brings
Warm wishes for happy things.
A day of sunshine
and a year that is fine.



This greeting is sent with love in hopes that your Thanksgiving is a great one!



Memories of Thanksgiving past
remind us we never know our last.
So on this day make I want to say
I love you, have a happy Thanksgiving day.



Thanksgiving can be seen by those who give without remembering and receive without forgetting. You are an example of this.


Related: Irish Blessing Quotes | Christmas Wishes | Birthday Poems




Thanksgiving Verses & Wishes



Thanksgiving is a day to reflect on
With those we hold dear
And to give thanks and pray
For all the best in the coming year.



Turkey dinners, love, and cheer
Always happen this time of year.
Appreciate you
And all you do!



A time of year for brilliant colors that shine,
That see many families dine
With thankfulness and feelings of love
We give thanks to God above.



May the color of the trees
The coolness of the breeze
Shine upon you this Thanksgiving Day.



Thanksgiving Wishes
Poet: Arthur Guiterman

I wish you all that pen and ink
Could write, and then some more!
I hope you cannot even think
Of half you're thankful for.

I hope your table holds a wealth
Of prime Thanksgiving fare,
And Love and Peace and Joy and Health
Will all be seated there.

I trust your guests will all be bright,
But none of them too wise.
And each will bring an appetite
For mince or pumpkin pies.

I hope the fowls will all be fate.
The cider sweet to quaff.
And when yuo snap a wishbone, that
You'll win the larger half!


Related: Short Inspirational Quotes | Christian Poems | Treasured Memories


Celebrated at different times of the year, for example in Canada it is celebrated in October and in the US and the UK it is celebrated in November. But regardless of when Thanksgiving is celebrated, it is a time to stop and appreciate all your blessings and to express thanks for them.

We hope these Thanksgiving wishes are ones that provide you with wishes for everyone and that you will share with your family and friends.

More Quotes for Encouragement and Motivation


Short Poems | Poems | About Us | Contact Us |