Thanksgiving Friendship Poem
During Thanksgiving, we think of all the things we are thankful for. And for many of us, the friendships we have are at the top of our list. Let a poem remind you of the blessing of a friend.
Expressing thanks for friendship can be done in my ways. Verbally expressing it lets our friends know how much we love and appreciate them. Sending a note, in which you can include a poem is another way. (you can find a further collection of
Thanksgiving poems
.) Just let your friends know you are grateful that they are in your life.
Sometimes, especially at Thanksgiving, we can look at material things and be thankful. But our relationships are something that money can never buy, and a true friend must never be taken for granted. Not just at Thanksgiving but all year through make sure your friends know how much you value them!
Friendship Poems
   /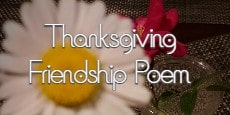 Thanksgiving For My Friends
by Emerson

I awoke this morning with
Devout thanksgiving for my friends,
The old and the new.

Shall I not call God, the Beautiful,
Who daily showeth himself
So to me in his gifts?

I chide society, I embrace solitude, and yet
I am not so ungrateful as not to see the wise, the lovely,
And the noble-minded, as from time to time they pass my gate.

Who hears me, who understands me,
Becomes mine a possession for all time.




What A Blessing
Poet: Catherine Pulsifer

Friends of mine are true and kind
They are always there when I'm in a bind.
And when the happy times find me
We celebrate together with glee.

When I think of thanksgiving
I'm thankful for my life and living
But most importantly, I am thankful for
The friends that come through my door.

Life would not be the same
Without my friends in the game
We share the ups and downs
We cry and we laugh like clowns.

So this Thanksgiving day
To my friends, I want to say,
What a blessing you are to me
I pray, a good friend to you, I'll always be.



Find more poems that discuss how friends are blessings.



more meaningful friendship quotes



Friendship
Poet: D. W. Holt

How sweet the tones of Friendship,
When borne from heart to heart
Upon life's varying breezes,
Which joy and grief impart!

They calm dark waves of sorrow
Which o'er the bosom roll;
They speak of joy to-morrow.
And flowing tears control.

Still purer those emotions,
When heart with heart can join
In paying their devotions
To Heaven's hallowed shrine;

When faith our vision brightens,
And hope, with anchor sure.
Earth's purest pleasure heightens,
And heavenly joys secure.

When soul with soul aspiring
Above these gloomy shades.
And eyes with joy admiring
That crown which never fades.

What, then, though death should threaten
To make us soon his prey.
With prospects bright for heaven
We'd gladly soar away




Thank You Friend Poems



Thank You
Poet: Catherine Pulsifer

This Thanksgiving let me say
I am thankful for the day
And for friends like you
You make a difference, yes you do.

Friends can be a blessing from above
Friends like you I do love.
Thank you for all you do
My friend, I am thankful for you!
More Friendship Poems
Related Poems & Quotes: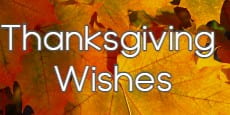 Thanksgiving Wishes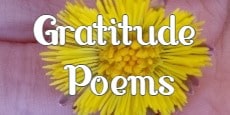 Gratitude Poems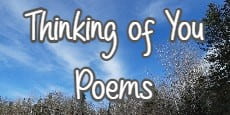 Thinking of You Poems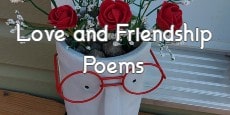 Love and Friendship Poems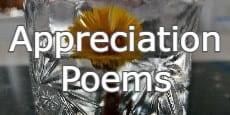 Appreciation Poems
Featured Famous Poets:

Catherine Pulsifer
More Famous Poems
Short Poems & Quotes
    |    
About Us
    |    
Contact Us