Thanksgiving Poems
A collection of Thanksgiving Poems to share with others to remind everyone, including ourselves, to count our blessings.

These Thanksgiving Poems are great to share around the Thanksgiving table with family and friends. We have many blessings to be thankful for each and every day not only on Thanksgiving Day!

May you and your family have a blessed Thanksgiving!

Fill Your Heart With Thanksgiving
Poet: Helen Steiner Rice

Take nothing for granted, for whenever you do
The "joy of enjoying" is lessened for you -
For we rob our own lives much more than we know
When we fail to respond or in any way show
Our thanks for the blessings that daily are ours . . .
The warmth of the sun, the fragrance of flowers,
The beauty of twilight, the freshness of dawn,
The coolness of dew on a green velvet lawn,
The kind little deeds so thoughtfully done,
The favors of friends and the love that someone
Unselfishly gives us in a myriad of ways,
Expecting no payment and no words of praise -
Oh, great is our loss when we no longer find
A thankful response to things of this kind,
For the joy of enjoying and the fullness of living
Are found in the heart that is filled with thanksgiving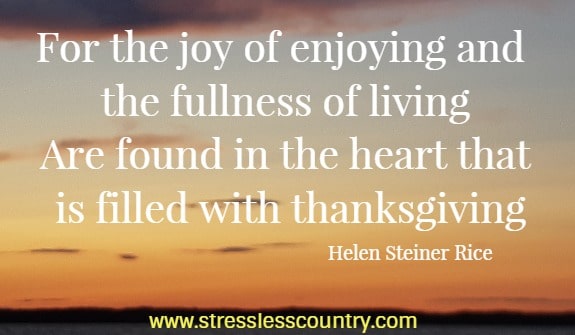 Blessings
Poet: Patience Strong

We're very quick to voice complaints, and grumble with a frown,
If things go wrong and all our castles crash and tumble down.
We air our little grievances, when we come home at night -
And in that frame of mind you find that nothing turns out right...
If only we would make a list - a new one every day-
Of all the blessings we receive as we go on our way -
We'd never reach the end of it - you'd be surprised to find,
How many lovely little things would crowd into your mind....
God pours His blessings from about - but we're to blind to see -
And so we are the victims of our own stupidity...
We fret our little lives away - we week and doubt and grieve -
If only we would lift our hands and gratefully receive -
The blessings He bestows on us if we but watch and pray -
And look beyond the clouds to see the glory of each day.


Thanksgiving
Poet: Edgar A. Guest

Gettin' together to smile an' rejoice,
An' eatin' an' laughin' with folks of your choice;
An' kissin' the girls an' declarin' that they
Are growin more beautiful day after day;
Chattin' an' braggin' a bit with the men,
Buildin' the old family circle again;
Livin' the wholesome an' old-fashioned cheer,
Just for awhile at the end of the year.

Greetings fly fast as we crowd through the door
And under the old roof we gather once more
Just as we did when the youngsters were small;
Mother's a little bit grayer, that's all.
Father's a little bit older, but still
Ready to romp an' to laugh with a will.
Here we are back at the table again
Tellin' our stories as women an men.

Bowed are our heads for a moment in prayer;
Oh, but we're grateful an' glad to be there.
Home from the east land an' home from the west,
Home with the folks that are dearest an' best.
Out of the sham of the cities afar
We've come for a time to be just what we are.
Here we can talk of ourselves an' be frank,
Forgettin' position an' station an' rank.

Give me the end of the year an' its fun
When most of the plannin' an' toilin' is done;
Bring all the wanderers home to the nest,
Let me sit down with the ones I love best,
Hear the old voices still ringin' with song,
See the old faces unblemished by wrong,
See the old table with all of its chairs
An I'll put soul in my Thanksgivin' prayers.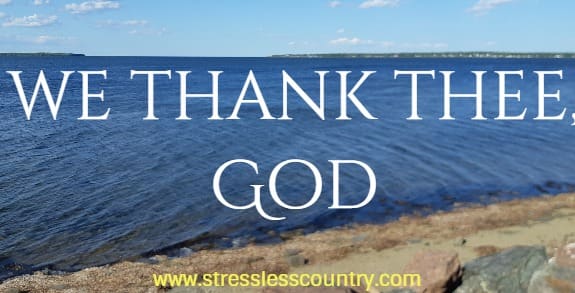 A Thanksgiving Prayer
Poet: Blanche Lea Walden

For those who bravely dared to face
The wolf-fangs of the sea,
To find a land where they might dwell
In faith and liberty.
For pioneers who blazed the trails
And broke the virgin sod
With strength and spirit, firm, and sure,
Today, we thank thee, God!

For ancestors with a vision
As wide and deep and high
And as filled with stars of promise
As the eternal sky,
For health and homes and country
And laughter, sweet and gay
For all of these - and love and faith
We thank thee, God, today!


The Old-Fashioned Thanksgiving
Poet: Edgar A. Guest

It may be I am getting old and like too much to dwell
Upon the days of bygone years, the days I loved so well;
But thinking of them now I wish somehow that I could know
A simple old Thanksgiving Day, like those of long ago,
When all the family gathered round a table richly spread,
With little Jamie at the foot and grandpa at the head,
The youngest of us all to greet the oldest with a smile,
With mother running in and out and laughing all the while.

It may be I'm old-fashioned, but it seems to me to-day
We're too much bent on having fun to take the time to pray;
Each little family grows up with fashions of its own;
It lives within a world itself and wants to be alone.
It has its special pleasures, its circle, too, of friends;
There are no get-together days; each one his journey wends,
Pursuing what he likes the best in his particular way,
Letting the others do the same upon Thanksgiving Day.

I like the olden way the best, when relatives were glad
To meet the way they used to do when I was but a lad;
The old home was a rendezvous for all our kith and kin,
And whether living far or near they all came trooping in
With shouts of "Hello, daddy!" as they fairly stormed the place
And made a rush for mother, who would stop to wipe her face
Upon her gingham apron before she kissed them all,
Hugging them proudly to her breast, the grownups and the small.

Then laughter rang throughout the home, and, Oh, the jokes they told;
From Boston, Frank brought new ones, but father sprang the old;
All afternoon we chatted, telling what we hoped to do,
The struggles we were making and the hardships we'd gone through;
We gathered round the fireside. How fast the hours would fly--
It seemed before we'd settled down 'twas time to say good-bye.
Those were the glad Thanksgivings, the old-time families knew
When relatives could still be friends and every heart was true.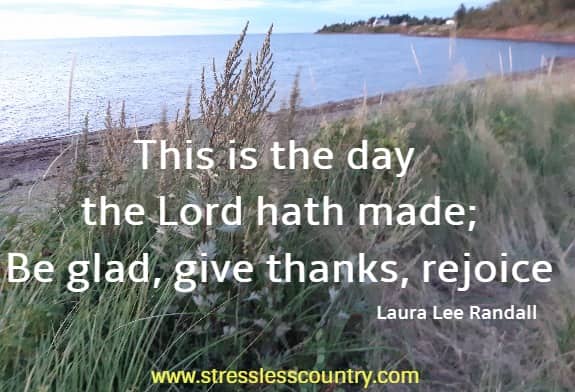 Thanksgiving Song
Poet: Laura Lee Randall

This is the day the Lord hath made;
Be glad, give thanks, rejoice;
Stand in his presence, unafraid,
In praise lift up your voice.
All perfect gifts are from above,
And all our blessings show
The amplitude of God's dear love
Which every heart may know.

The Lord will hear before we call,
And every need supply;
Good things are freely given to all
Who on His word rely.
We come today to bring Him praise
Not for such gifts alone,
But for the higher, deeper ways
In which His love is shown.

For sin destroyed, for sorrow healed.
For health and peace restored;
For Life and Love by Truth revealed,
We thank and bless the Lord.
This is the day the Lord hath made,
In praise lift up your voice.
In shining robes of joy arrayed,
Be glad, give thanks, rejoice.

You May Also Like:
Happy Thanksgiving

Thanksgiving Blessings and Prayers

Happy Thanksgiving Quotes

Thank You Poems

Appreciation Quotes

We hope these Thanksgiving poems are ones that you will share with your family and friends. The Poets all have different verses but in the end, they are expressing there gratitude and appreciation for all that they have been blessed with!

Short Poems and Quotes | Poems | Quotes | About Us | Contact Us |