24 Edgar A. Guest Poems
Born in Birmingham, England on August 20, 1881 Edgar A. Guest relocated with his family when he was 10 years old to the United States. He died on August 5, 1959 in Detroit, Michigan. He held many different jobs over his lifetime, working for the Detroit Free Press for the majority of his career, but he also worked for NBC radio broadcasting "A Guest In Your Home". But what has made him famous is his ability to write poetry that has inspired millions of people.
His poems are ones that viewed life from a positive aspect. People could relate to his words as he was able to make day to day life experiences and express the challenges from an inspirational and positive perspective that people could relate to.
His work has been published in many books, starting in 1909 in the book, Home Rhymes and up until 1949 in his book, Living The Years. His poems still live on today due to people being able to see themselves in his poems. Below is a collection of his poems for you to enjoy and share with others.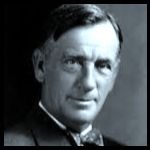 Edgar A. Guest
We hope you have been encouraged and inspired by the poems written by Edgar A. Guest. His wit and wisdom has inspired many over the years. Share these with others who need a positive thought added to their day.
More Famous Poems from Famous Poets to Encourage and Inspire
Short Poems
|
Poems
|
Quotes
|
About Us
|
Contact Us
|