4 Holiday Poems
Enjoy these holiday poems, share them with friends and family. The holidays are times for the enjoyment of family and friends. A time of memories and happiness. It is our hope that these poems give you encouragement to enjoy the holiday. No matter what the holiday stop and enjoy the moments, don't get so caught up in the busyness of the season that you miss the most important things. It is also a time to stop and give thanks for all that we have and to appreciate the people in our lives that make a difference.

Also, be encouraged by our collection of holiday quotes to give you food for thought about the holidays.

Short Poems   /   Poems About Life    /  Holiday Poems - related: Vacation Quotes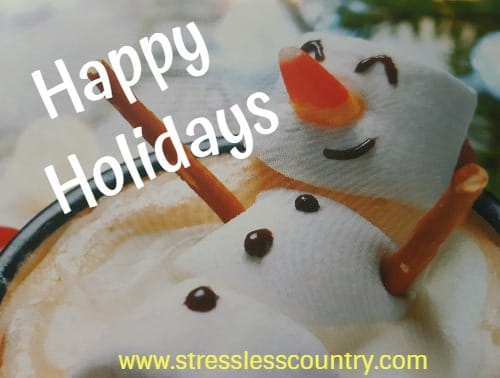 Holiday Joy
Poet: Julie Hebert, ©2015

Today is but a holiday,
The best one I do think.
Hang the decor and bake the food,
It's time to celebrate.

My favourite thing about this is,
All the family and friends.
Conversation feels like a vacation,
Get it all in before it ends.

Today is my favourite thing,
A holiday to enjoy.
Crafts and baking and decorating,
So many wonderful joys.

The best thing about this holiday,
Besides all those wonderful things.
I get to spend every minute with you,
While we talk, dance and even sing.




The Day of Days
Poet: Edgar A. Guest

A year is filled with glad events:
The best is Christmas day,
But every holiday presents
Its special round of play,
And looking back on boyhood now
And all the charms it knew,
One day, above the rest, somehow,
Seems brightest in review.
That day was finest, I believe;
Though many grown-ups scoff,
When mother said that we could leave
Our shoes and stockings off.

Through all the pleasant days of spring
We begged to know once more
The joy of barefoot wandering
And quit the shoes we wore;
But always mother shook her head
And answered with a smile:
"It is too soon, too soon," she said.
"Wait just a little while."
Then came that glorious day at last
When mother let us know
That fear of taking cold was past
And we could barefoot go.

Though Christmas day meant much to me,
And eagerly I'd try
The first boy on the street to be
The Fourth day of July,
I think: the summit of my joy
Was reached that happy day
Each year, when, as a barefoot boy,
I hastened out to play.
Could I return to childhood fair,
That day I think I'd choose
When mother said I needn't wear
My stockings and my shoes.




Holidays
Poet: Henry Wadsworth Longfellow

The holiest of all holidays are those
Kept by ourselves in silence and apart;
The secret anniversaries of the heart,
When the full river of feeling overflows;
The happy days unclouded to their close;
The sudden joys that out of darkness start
As flames from ashes; swift desires that dart
Like swallows singing down each wind that blows.
White as the gleam of a receding sail,
White as the cloud that floats and fades in air,
White as the whitest lily on a stream,
These tender memories are; a fairy tale
Of some enchanted land, we know not where.
But lovely as a landscape in a dream.




A Vacation Holiday
Poet: Catherine Pulsifer

A vacation is a holiday
One in which to relax
A break from routine of everyday
With no work setbacks.

Our holidays we look forward to
We count down to the day
Working all year, this vacation is due
We can't wait for work to go away.

So enjoy your holidays as they often go to fast
Make time to relax, recharge and have some fun
Leave thoughts of your work in the past
And don't get too much sun!
More Poems About Life to Encourage and Inspire
Related Short Poems & Quotes You May Also Like: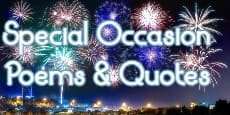 Special Occasion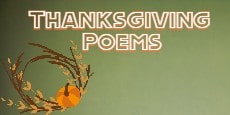 Thanksgiving Poems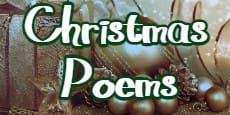 Christmas Poems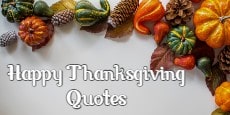 Happy Thanksgiving Quotes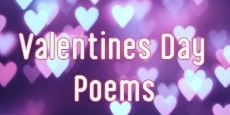 Valentines Day Poems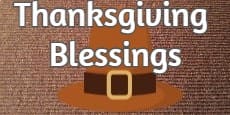 Thanksgiving Blessings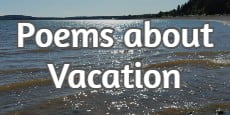 Poems About Vacation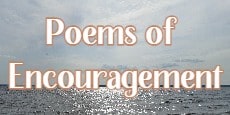 Poems of Encouragement


Short Poems    |     All Poems    |     Quotes     |     About Us    |     Contact Us    |