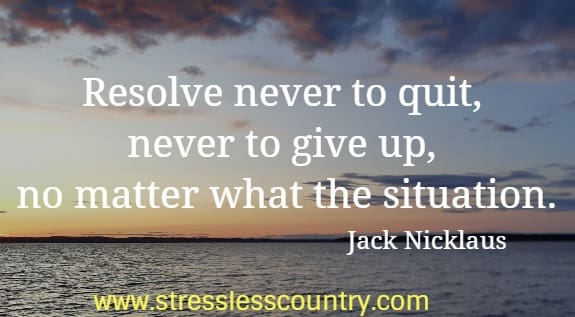 Don't Quit
Poem by Edgar A. Guest

When things go wrong, as they sometimes will,
when the road you're trudging seems all uphill,
when the funds are low and the debts are high,
and you want to smile but you have to sigh,
when care is pressing you down a bit - rest if you must,
but don't you quit.

Life is queer with its twists and turns.
As everyone of us sometimes learns.
And many a fellow turns about when he
might have won had he stuck it out.
Don't give up though the pace seems slow -
you may succeed with another blow.

Often the goal is nearer than it seems
to a faint and faltering man;
often the struggler has given up when he
might have captured the victor's cup;
and he learned too late when the night came down,
how close he was to the golden crown.

Success is failure turned inside out -
the silver tint of the clouds of doubt,
and when you never can tell how close you are,
it may be near when it seems afar;
so stick to the fight when you're hardest hit -
it's when things seem worst,
you must not quit.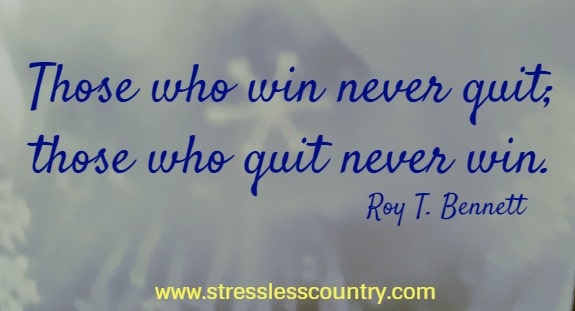 Keep Going
Poem by Samatha Lynch, © 2018

When you feeling like giving up
Don't quit
Look around and find blessings abound
Keep going.

When your problems seem overwhelming
Don't quit
Take one step at a time
Keep going.

When you don't have the answer
Don't quit
Talk to others find the support
Keep going

When you are discouraged
Don't quit.
Don't give up
Keep going!







What If
Poem by Catherine Pulsifer, © 2019

If you give up and quit
You will always wonder "what if"
Take a deep breath and start again
Let learning and failure be a friend.

Stick to the task be like a dog
Giving up keeps you in a fog.
Refocus your thinking
Start at the beginning.

Persistence pays off no matter what
Quitting just closes everything shut
If you are determined you'll find a way
And then you'll never wonder "what if" someday!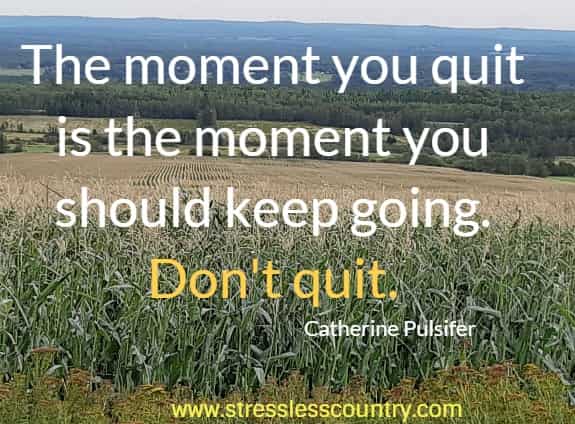 The Key To Wants
Poem by Catherine Pulsifer, © 2011

If you've ever been told in your life,
That there is something you can't do.
I hope you didn't quit, but instead showed wit,
And proved its not up to them, but to you.

You'll come across many people in life,
That believe they know it all.
It can be hard to construe if what's been said was true,
But overall, it's up to you to stand tall.

Anything you want to do, you can do,
If you only believe in you.
Don't let others change you, or try to bend you,
You're the only person who can change your point of view.

So if this is really what you want to do,
Get out there and take action.
Be all you can be, turn that key,
And don't allow for any distraction!


Quotes About Quitting

Before success comes in any man's life, he's sure to meet with much temporary defeat and, perhaps some failures. When defeat overtakes a man, the easiest and the most logical thing to do is to quit. That's exactly what the majority of men do.
Napoleon Hill


When you feel like quitting, think about why you started.
Author Unknown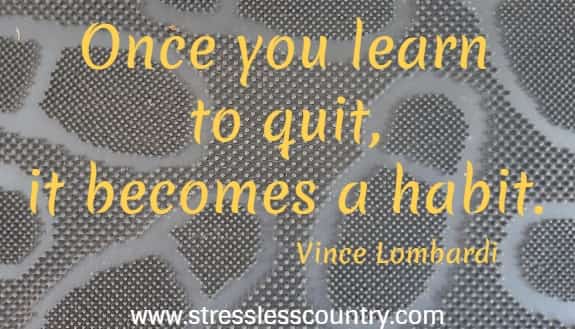 The difference in winning and losing is most often not quitting.
Walt Disney


Success never resides in the world of weak wishes, but in the palace of purposeful plans and prayerful persistence.
William Arthur Ward, Up Words


Don't give up, don't quit, no matter how slow the progress keep inching forward, as inches turn into feet and feet turn into miles.
Robert Rivers


I truly believe that there is a hidden champion inside all of us, and we must have the courage to bring it out.
David DeNotaris Feeling Your Way Through Life


Failure, like success, is the result of an attempt.
Greg Henry Quinn, 365 Meditations for Teachers