Never Give Up Poem
Inspiration to keep moving forward can be found in a "never give up poem". Verses to encourage and motivate you to keep moving forward. Words to reflect upon when you feel you have had enough and you just want to walk away.

By accepting defeat or by throwing in the towel when we are faced with a challenge or disappointment means that we will never achieve the feeling of success. Many times there is a solution but we just have to step outside the box to see it, or we may have to ask for help or we may just need a break. But the most critical thing is to never give up! As Flavia Weedn said, "If one dream should fall and break into a thousand pieces, never be afraid to pick one of those pieces up and begin again."


We hope these poems encourage you to never give up. Share them with others who need a few uplifting words to encourage them!


Poems Of Encouragement
   /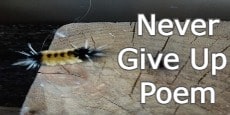 If You Give Up
Poet: Catherine Pulsifer, ©2020

If you give up what will that achieve?
Will you feel like you've met your needs?
Giving up can make you feel
Worse than losing a deal.

Do you give in when things get hard
Throw up your hands with no regard
Giving up on your dreams
No longer moving forward with any steam.

When things get difficult for you
Do you accept defeat too?
Throw in the towel and say
No more, I have had it for the day.

But when you never give up
You find solutions popping up
Yes you may have to walk away
But only for one day.

Sometimes taking a break
Is a good thing for your sake
When faced with a challenging task
Find others who can help, just ask

When you never give up you will find
A success that is like any other kind
If everything was easy and quick to do
There would be no satisfaction for you.

You see, in life, we all must face
Times when we feel we are in the wrong place
But we never give up and accept defeat
For you will find determination is sweet!



  
Don't Quit Poem



Where There's A Will There's A Way
Poet: David V. Bush

"Where there's a will, there is a way!"
Never give up the ship;
There's land ahead and "ivory bed"
To each stiff upper lip.

You may not see which way to turn,
But still there is a way.
Where's there's a will keep at it still
You'll reap success some day.

If you can't see, still there's a way;
A way with every will;
You may not know which way to go,
But you will climb the hill.

Don't waver, man, there is a way
If you but have the will;
So plug along, with heart and song,
Success comes but by drill.




Poems On Determination



Just Keep On
Poet: Clifton Abbott

Just keep on a-livin'
An' keep on a-givin',
An' keep on a-tryin' to smile;
Just keep on a-singin'
A-trustin' an' a-clingin'
To the promise of an afterwhile.
For the sun comes up
An' the sun goes down,
An' the morning follows night.
There's a place to rest
Like a mother's breast,
An' a time when things come right.

Just keep on believin'
An' a-hidin' all your grievin'.
An' keep on a-tryin' to cheer.
Just keep on a-prayin'
A-lovin' an' a-sayin'
The things that we love to hear.
For the tide comes in
An' the tide goes out.
An' the dark will all turn bright;
There's a rest from the load
An' an end to the road.
An' a place where things come right.




Keep Going Poems



Every Day and in this Moment
Poet: John F. Zurn

When your problems drag you down,
And you live in fear and doubt,
While you think the distant crowd
Has the whole thing figured out:

Though you're worried and upset,
Think of God and do your best.
If the world has passed you by
Even though you've really tried;

And you're sleepless late at night
Because nothing turns out right:
Know that God counts every sparrow
And He'll be here for tomorrow.

When you're tired and confused,
God's love will see you through,
And no matter what you do,
Know God's spirit lives in you:

Every day and in this moment,
You are loved; you are important.
When you're ready to give up,
Think of God and that's enough.




Christian Poems



Press On
Poet: Bernhart Paul Holst

My Child, press on! you cannot fail
To climb the crest of mountain high.
With faith the break of morning hail —
Unfurl your banner to the sky;
Who starts aright with zeal and zest.
With mind and heart in full control,
And always tries to do the best.
Will never fail to reach the goal.

My Youth, press on! surmount the steeps,
Though they be rocky all the way;
He fails who feebly crawls and creeps,
Who stands up bravely wins the day.
A star of hope gives aid and cheer
To those who look and press ahead,
And makes success seem very near
As on to fortune we are led.

My Friend, press on! with kind regard
For all the friends that wish you well.
And let the fruits of your reward
O'er all your life cast their sweet spell;
Sweet are the friends who give us cheer,
Who grasp our hand and speak kind words,
Their aid and comfort are more dear
Than music grand or songs of birds.

My Love, press on! and love thou me
With an affection staid and pure,
For I your truest love will be
As long as my life shall endure;
Since love is life and life is love
And bliss comes only to the true,
Let us declare, by heaven above,
You live for me, I live for you.

Old Age, press on! let courage now,
With steadfast stride and strengthened soul,
Give tone to life though head may bow,
And keep the faith that wins the goal;
Be true to self, be true to man,
Be true to God in joy and tears,
And if you do the best you can,
You'll win the goal in spite of fears.




Never Give Up Quotes



Keep Your Grit
Poet: Louis E. Thayer

Hang on! Cling on! No matter what they say,
Push on! Sing on! Things will come your way.
Sitting down and whining never help a bit -
Best way to get there is by keeping up your Grit.

Don't give up hoping when the ship goes down;
Grab a spar or something, just refuse to drown.
Don't think you're dying just because you're hit;
Smile in face of danger and hang on to your Grit.

Folks die too easy, they sort o' fade away;
Make a little error and give up in dismay;
Kind o' man that's needed is the man of ready wit
To laugh at pain and loss and keep fast hold his Grit.




Poems about Hope



Never Give Up!
Poet: Martin Farquhar Tupper

Never give up! It is wiser and better
Always to hope than once to despair;
Fling off the load of doubt's heavy fetter,
And break the dark spell of tyrannical care.
Never give up! or the burden may sink you—
Providence kindly has mingled the cup,
And in all trials or troubles, bethink you,
The watchword of life must be, Never give up!

Never give up! there are chances and changes
Helping the hopeful a hundred to one;
And through the chaos High Wisdom arranges
Ever success - if you'll only hope on:
Never give up! for the wisest is boldest,
Knowing that Providence mingles the cup,
And of all maxims the best is the oldest,
Is the true watchword of Never give up!

Never give up! - though the grape-shot may rattle,
Or the full thunder-cloud over you burst,
Stand like a rock - and the storm or the battle
Little shall harm you, though doing their worst.
Never give up! If adversity presses,
Providence wisely has mingled the cup,
And the best counsel in all your distresses
Is the stout watchword of - Never give up!




Bible Verses about Never Giving Up



Never Let Go
Poet: Folger McKinsey

Oh, do not let go and do not give up
And do not let down it is wrong!
There is always a chance of your winning the cup,
There is always the need of a song.
Never let go, but cling to the end,
And never let down - lift your eyes
To the hopes that still over us lovingly bend,
To the light that is filling the skies!

What odds that the struggle is bitter and black,
That the striving has seemed all in vain;
Never let go and go tumbling back,
There's a chance for us all once again.
No matter how weary, how troubled and worn,
How futile the struggle may seem,
There is always a bit of good luck in the morn,
There is always a light in the dream!

Oh, do not let go take another firm hold,
And never go down if you can:
Life's prizes are sweet, but there's far better gold
In the spirit of being a man.
So stick to the struggle, and trust, and dig on;
There's a chance for you yet, you will see:
The blackest of nights brings the glow of the dawn
And the luck that may set us all free.




Determination Quotes



Feel Like Giving Up
Poet: Catherine Pulsifer

Though I feel like giving up,
I know I must remain strong.
My heart and soul so weary,
All my hopes soon went wrong.

But stumbling is part of the journey,
Don't let it bring me down.
Taking time to assess and reflect,
What has come can be profound.

For the future brings opportunity,
And by persevering we can win.
Don't give in and never forget,
This strength lies deep within.




Poems About Defeat



Take Your Troubles
Poet: Edgar A. Guest

Take your troubles
Best you can.
Stand right up
And play the man.

Face 'em just
As though you knew
You were coming
Safely through.

Blows will hurt
And bruise you, maybe,
But don't whimper
Like a baby.

Stand right up
And be a man.
Meet your troubles
Best you can.
More Poems Of Encouragement to Inspire and Motivate
Related Poems & Quotes: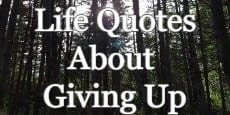 Life Quotes About Giving Up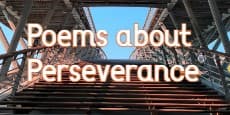 Poems About Perseverance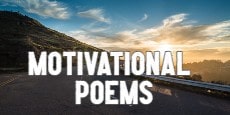 Motivational Poems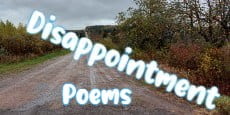 Disappointment Poems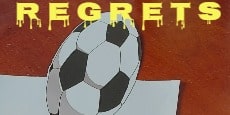 My Regrets To The Man Who Gives Up
Featured Famous Poets:

Catherine Pulsifer

David V. Bush

Edgar A. Guest
More Famous Poems
We hope these poems encourage you to keep moving forward to find solutions rather than giving up!
Short Poems & Quotes
    |  
About Us
    |  
Contact Us