My Regrets To The Man Who Gives Up
The title says it all, regrets to the man who gives up. The poet, David V. Bush expresses his feelings for those who don't stick to it, those who don't learn from a failure or a mistake and try again. To those who stop dreaming the poet expresses his regrets. But the poem also expresses encouragement that it is never to late too try again! Be encouraged by this poem.
Short Poems
   /  
Famous Poems
   /  
David V. Bush Poems
   /  My Regrets To The Man Who Gives Up -
in Poems of Encouragement
My Regrets To The Man Who Gives Up
Poet: David V. Bush

My regrets from a heart of compassion and pain,
If you've fled from the fray and will not try again.
For the road's just as broad, just as smooth, just as bright
In the beckoning future, if only you'll fight.
The men who have climbed to the uttermost peak
Are the men who have failed, but have scorned to be weak;
If you quit in the fight ere it draws to its end.
You've my deepest regrets — and the hope you'll amend!

My regrets to the man who has reached middle life.
And who ceases to dream or to plan for the strife;
Who thinks that for him there's no honor or fame,
And has lost his old zest for the combat and game.
Though once he had started to conquer or die,
He now gives it up and no longer will try;
I'm sorry for him, but I'm sorrier still
For the loved ones depending upon his dead will.

My regrets to the man who deserts in the fray
When there's heaviest danger of losing the day;
Perhaps when he quits, the worst fighting is done.
And a brief moment longer would show he had won.
More than one hapless fighter has pummeled his foe
Almost down to the mat, then too early let go;
He may have already come through the main round,
Yet he staggers off beaten — his wreath on the ground!

My regrets to the man without vision of youth,
Who has turned a deaf ear to the promptings of truth;
Who thinks it too late to strive on toward the goal
That once he had set with a vigorous soul;
Who quits on the turnpike of struggle and pain,
And ceases to win as he deems it all vain.
But in parting I mention a thing that is true —
It is never too late for a come-back — for YOU!

More David V. Bush Poems to Inspire
Related Short Poems & Quotes You May Also Like: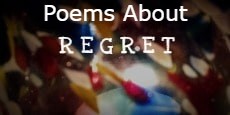 Poems About Regret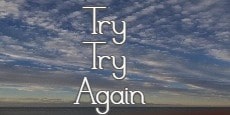 Try Try Again Poem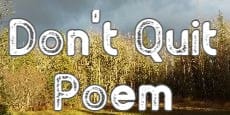 Don't Quit Poem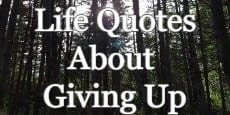 Life Quotes About Giving Up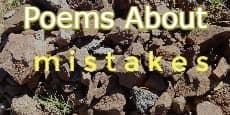 Poems About Mistakes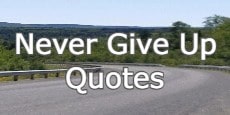 Never Give Up Quotes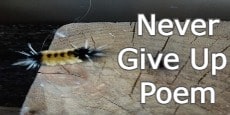 Never Give Up Poem
Sad Poems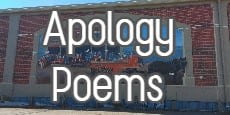 Apology Poems
Another poem by David V. Bush  that shows a determination not to quit:
By The Living God I'll Win
Poet: David V. Bush


I've gone thru fire and water;
I've smelt the fumes of hell;
I've seen the flames of terror
I know their ways too well.
My back has oft been broken;
Bruised many times my shin,
But by the living God, I swear,
That I am bound to win!

I've stood alone, deserted;
I've sweat great drops of blood;
I've seen the waves of failure
Roll o'er me in a flood.
I've felt the throbs of error;
Cried out, "I'll sink or swim!"
But by the living God, I swear,

I'll try again and win!
I've tramped the trails of sorrow;
I've waded streams of grief;
And from the tree Misfortune,
I've stripped its every leaf.
I've scaled the Mount Temptation;
I've drank the dregs of sin.
But by the living God, I swear,
I'll try this time and win!
Visit
All Poems
for more inspiring and encouraging poetry
Short Poems
    |    
Quotes
    |    
About Us
    |    
Contact Us
    |