10 David V. Bush Poems
David Van Bush was a poet and an author. His work has inspired many. We hope the poems we show are ones that will inspire and encourage you!
He published many poetry collections and authored many books on psychology. He also was a Reverend. He lived from 1882 to 1959.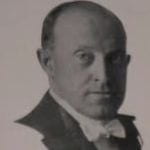 David V. Bush
May Mr. Bush's poems be ones that inspire you, they are great to share with others that need a positive thought for their day!!
More Famous Poems from Famous Poets to Encourage and Inspire
Short Poems
|
Poems
|
Quotes
|
About Us
|
Contact Us
|