Abundance Poem
Be inspired by this abundance poem. When you think of living a life full of abundance does that mean riches and wealth, or does that mean contentment and happiness? Read the verses in this poem for the thoughts of the poet as to what abundance means to him.

Also, be encouraged by the quotes about abundance which are full of wise words about living an abundant life. One of the secrets of living an abundant life is being content with what you have. This does not mean you strive to improve but it does mean being thankful for what you have.




The Common Road
Poet Silas H. Perkins


I want to travel the common road
With the great crowd surging by,
Where there's many a laugh and many a load,
And many a smile and sigh.

I want to be on the common way
With its endless tramping feet,
In the summer bright and winter gray,
In the noonday sun and heat.

In the cool of evening with shadows nigh,
At dawn, when the sun breaks clear,
I want the great crowd passing by,
To ken what they see and hear.

I want to be one of the common herd,
Not live in a sheltered way,
Want to be thrilled, want to be stirred
By the great crowd day by day;

To glimpse the restful valleys deep,
To toil up the rugged hill,
To see the brooks which shyly creep,
To have the torrents thrill.

I want to laugh with the common man
Wherever he chance to be,
I want to aid him when I can
Whenever there's need of me.

I want to lend a helping hand
Over the rough and steep
To a child too young to understand-
To comfort those who weep.

I want to live and work and plan
With the great crowd surging by,
To mingle with the common man,
No better or worse than I.



More Poems to Encourage and Inspire
Quotes about Abundance and Life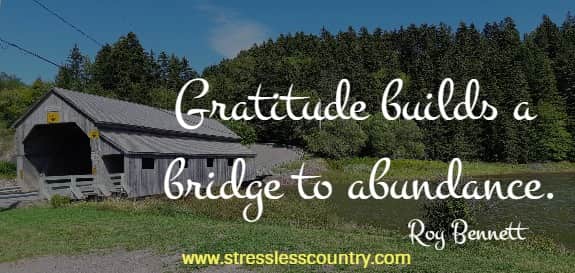 Abundant living is realizing that life is a privilege whether it's adhering to our scripts or not.

Craig D. Lounsbrough

Abundance Quotes


Life is so precious! Live with love, joy, happiness, and abundance.

Debasish Mridha

Life Quotes


Plant seeds of happiness, hope, success, and love; it will all come back to you in abundance. This is the law of nature.

Steve Maraboli, Unapologetically You

Happiness Quotes


An attitude of gratitude increases abundance and diminishes fear.

Jeffrey Fry

Thanksgiving Poems


The key to abundance is acceptance.
The more you expect,
the less you accept.

L J Vanier

Positive Messages


As our awareness of the world and who we are increases, we will grow to replace our needs with service, fear with love and scarcity with abundance.

Joseph Rain, The Unfinished Book About Who We Are

Motivational Poems


If you are not willing to serve God in the abundance that He has given you, then you will have to serve your enemy in hunger.

Sunday Adelaja

Christian Poems




More Abundance Quotes to Consider




You May Also Like

Poems About Life

Poems of Encouragement

Poems About Hope

Inspirational Poems

Simplicity Poem


Short Poems | Quotes | About Us | Contact Us |