To My Mother On Her Birthday
A poem for mother on her birthday wishing happiness and wishes for many more to come. Mom's are special people in our lives and we should recognize them not only on their birthday but the whole year through.
Short Poems
   /  
Famous Poems
   /  
Lillian E. Curtis Poems
   /   To My Mother On Her Birthday - in
Birthday Poems
To My Mother, On Her Birthday
by Lillian E. Curtis

Mayst them to day dull care put away,
And may happiness near thee hover,
May a bright ray near thee stay,
On this thy birthday, dear mother.

And as o'er vanished years, thro' a mist of tears,
Memory flies quick and fast,
Oh! dry thy tears, and all doubts and fears
Far from thee cast.

Do not sigh for the years gone by,
But, rather thank our Heavenly Father,
Who from on High, with loving eye,
Has spared and watched o'er thee, dear mother.

Now may He hear my prayer and kindly spare
Thee to see many birthdays more,
And when thro' with care, and this false world
Receive thee on that beautiful shore.

More Lillian E. Curtis Poems to Inspire
Related Short Poems & Quotes You May Also Enjoy:
Birthday Poems For Mom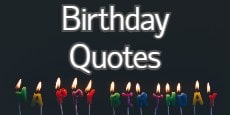 Birthday Quotes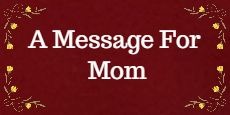 Mothers Day Messages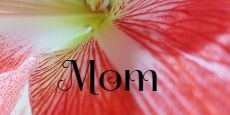 Mom Poems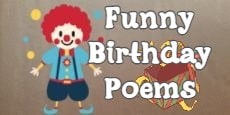 Funny Birthday Poems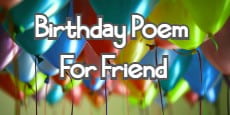 Birthday Poems For A Friend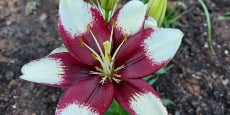 A Prayer For A Mother's Birthday
Two more poems that express how special Mothers are. While they are not specific birthday poems you could use them in a card and end with a Happy Birthday Mother! Or, you could always send Mom a poem just to let her know how much you love and appreciate her!
My Mother
Poet: David V. Bush


Who sacrificed her all for me?
My mother!
Who gave with spirit warm and free?
My mother!
Who guarded me from cradle days
Through life's peqolexing, troubled ways,
Indiff'rent to reward or praise?
My mother!

Who kissed the teardrops from my face?
My mother!
Who calmed my brow with gentle grace?
My mother!
Who soothed my childish soul to rest,
And rocked me close against her breast,
The while her arms were 'round me pressed?
My mother!

Who had no pleasure save in mine?
My mother!
Who helped me win with heart benign?
My mother!
Who worked for me through every gale,
In spirit firm, in body frail,
'Til rosy cheeks grew seamed and pale?
My mother!

Who freely gave the best she had?
My mother!
Who trained aright her little lad?
My mother!
And who today no longer fears,
But reaps rewards for all the tears
She shed through lean and anxious years?
My mother!




Why God Gave Us Mothers
Poet: Ida Sandage


There had to be someone to care
Someone to grieve when we're not there
Someone to offer up a prayer
When we are weak and sinning!
Someone just has to love us still
When all the world has used us ill.
And aid us with unflagging will
To start a new beginning!

Someone just has to think we're great
Proud lords and masters of our Fate,
And give us praise that will elate
So we can beat our brothers!
Somebody has to cheer us on
And aid us when all hope is gone
To bravely face another dawn,
And so God gave us - Mothers!



Find more poems to share at All Poems
Short Poems
    |    
Quotes
    |    
About Us
    |    
Contact Us
    |