75th Birthday Poems
A 75th birthday is a milestone, a time for celebration. Share one of our poems to recognize the occasion. Express your admiration and appreciation for the person's life journey and express birthday wishes with this poetry.
Birthday Poems
   /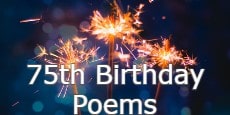 Happy 75th
Poet: Catherine Pulsifer

75 has been so good to you,
A bright flame burning in its view,
From decades of life experience true,
A journey that many never pursue.

Things hard and great have come your way,
Some graying here, some aches and pain,
Still, your spirit is strong and brave today.
Gracefully carry on with grace and wane!

Happy 75th to You!




Funny Birthday Poems About Old Age



Seventy-Five Years
Poet: Catherine Pulsifer

Time sure has flown by so fast,
On this momentous day at last.
Seventy-Five years, a long way,
Celebrate life and play!

Let us pop some bubbly wine,
Let us take the time to shine.
Surround yourself with loved ones near,
It's all about good cheer.

Cherish the things you've done so well,
For this milestone, we shall never tell.
The years may come and may go,
May they leave you glowing from head to toe.




Funny Birthday Poems



Happy Seventy-Five
Poet: Catherine Pulsifer

Seventy-five years have passed, and you've earned a blast
With wrinkles and creaks, but what a fortunate task
To have made it this far, in such robust health
It's a time to rejoice, your joyful year felt.

With music, drinks, and friends en masse
Your birthday smile is one to surpass
Rockets are shooting throughout the night sky
As cheers go up with each "Happy 75!"




Birthday Poems For Dad



An Amazing Milestone
Poet: Catherine Pulsifer

A life of joy and love, brought us here today.
Celebrate this special day, the seventy-fifth's array.
Friends with smiling faces, grandchildren all aglow.
Laughter fills the room, so grateful we can go.

Seventy-five years passed, a journey well explored.
Living ever onward, each kin is quite adored
Cheers to now and future days filled with the same kind of joy.
An amazing milestone reached; 75th birthday with nice employ!




Birthday Poems For Mom



Your 75th Year
Poet: Catherine Pulsifer

My heart is full of joy today,
To celebrate life in every way,
Your 75th year starts today strong,
To live and love whole-heartedly and long.

A time to pause, reflect and share,
Of memories and lessons we bear,
Rich with knowledge gathered through the years,
Onward to all life's joys and fears!




Birthday Poems For Grandma



A Joyful Day
Poet: Catherine Pulsifer

A joyful day arrives to see,
A grand-old seventy-five is thee.
From Sun to Moon and all between,
Time flies by so ever swift and keen.

For you this day I do rejoice,
Your 75th b'day we celebrate with poise!
Life's bits of mirth here we'll share,
Happy Birthday! Let's be glad all year!




Happy Birthday Poems To My Brother



A Joyful Day
Poet: Catherine Pulsifer

A vibrant life I've taken in,
A lifetime of memories I've re-lived in
So much has happened since the first breath I drew
Life has pushed me to be a fighter, throughout and through

I am turning 75 today,
A wondrous milestone comes my way
My faith and strength are never-ending,
Grows each day more than blending

Friends come by each year gone by,
Wishing me the luck that's nigh
Longing for this day have we all been,
Relishing joy in my life so green




Birthday Quotes



A Life Of Joy
Poet: Catherine Pulsifer

A life of joy and grace -
So many happy tales to tell,
Alive with countless memories so dear -
Your seventy-fifth birthday is special here.

Still young in heart and elder in years,
The spirit of life resides strong still;
Giving us a reason to smile and cheer,
Wishing you a wonderful time we will.
More Birthday Poems To Share
Related Poems & Quotes: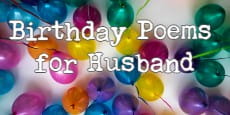 Birthday Poems For Husband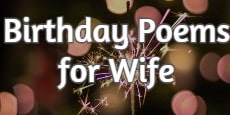 Birthday Poems For Wife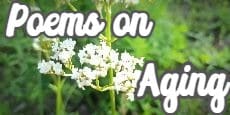 Poems On Aging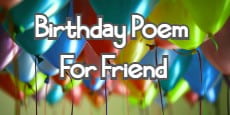 Birthday Poem For Friend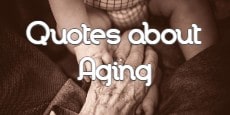 Quotes About Aging
Featured Famous Poets:

Catherine Pulsifer
More Famous Poems
As you recognize and honor someone's 75th birthday, we hope you have found a poem that expresses your best wishes and thoughts.
Short Poems & Quotes
    |  
About Us
    |  
Contact Us