50th Birthday Poems
Do you know someone who is turn 50 and they are experiencing stress because of their birthday? Share these 50th birthday poems with them.

They feel another birthday and turning fifty is stressful. Bring a smile to their face with these poems. Birthdays are not a time to feel stressed, they are a time of celebration!

Like everything in life you can find stress or you can find contentment. You can look at age as a blessing or you can moan about turning 50. One of the best ways to relieve stress is to count your blessings of which everyone has many, no matter what your age!!


And if you want to make sure they remember they are 50, these poems are also great to share to rub in the Big 50.

Birthday Poems    /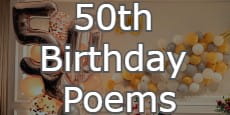 Magical Age, Fifty!
Poet: Julie Hebert, © 2012

To you we say, Happy 50th birthday
We can't believe you hit that magical age
We are happy that it is you, not us
Who is going through this new stage.

Don't be stressed about getting older,
We all have to age at some point.
It's nice to have someone to warn us,
And you are the one we appoint.

So tell us how turning 50 has affected you,
Are you wrinkled, exhausted or sore?
Aging can be very nasty,
So glad you are the one keeping score.

Try not to think about 50 and getting older,
Think of it as becoming wise.
Okay, that last statement is way too funny,
I should not be telling such lies.




more birthday quotes



Wishing Your Age Be Less
Poet: Catherine Pulsifer, © 2020

Your birthday may be causing you stress
You find yourself wishing your age could be less.
But just think of the 50 years experience you have
Those past years should make you glad.

And with experiences comes knowledge
That should cause you some optimism.
Oh, yes 50 brings wrinkles and gray hair
But, really, who cares.

Don't let your age stress you out
Let us sing and give you a shout:
Happy 50th Birthday to you
We love you that's true!




Funny Birthday Poems



Blessings One By One
Poet: Catherine Pulsifer, © 2021

On this birthday don't feel stress
Realize that you are blessed.
You reached another year
You are doing good that is clear.

Count your blessings one by one
From the morning rising sun
To the love of family and friends
May your happiness never end

Don't let 50 get you down
Don't cringe and frown
But instead, be thankful for
You had another year and now more!

Getting to 50 has been a climb
You are at your prime
With a positive mind
At any age, happiness, you will find!




Poems on Aging



50 Years Gone By
Poet: Catherine Pulsifer

Stress will kill you that is what they say
So don't let your birthday stress you in any way
No sense moaning about 50 years gone by
Set your goals and let them fly.

No one is guaranteed life tomorrow
Don't waste yours sitting in sorrow
Look forward, don't stay in the past
Life is too short to stay downcast.

Happy 50th Birthday we wish for you
We love you that is so true!




Life Is Too Short Poems



Turning Fifty
Poet: Catherine Pulsifer

Turning fifty, don't be blue
Think of it as a stage that is new
New wrinkles, new aches
A big birthday cake.

But really 50 is great
You have now made most mistakes
You have wisdom of the years
That is what makes 50 so dear.

Fifty may be a shock,
But you can't turn back the clock
So just enjoy your day
And don't worry about going gray!
More Birthday Poems to Share
Related Poems & Quotes: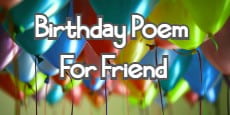 Birthday Poem For Friend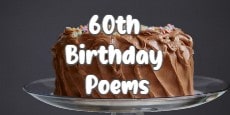 60th Birthday Poems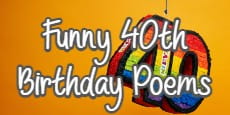 Funny 40th Birthday Poems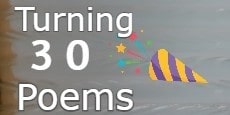 Turning 30 Poems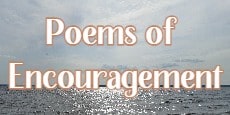 Poems of Encouragement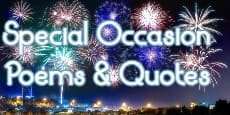 Special Occasion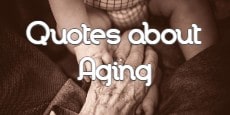 Quotes About Aging


Short Poems & Quotes    |     About Us    |     Contact Us