60th Birthday Poems
Share these birthday poems with someone who is turning 60. A milestone for some, but yet for others a time of freedom and happiness. We hope these poems are ones that encourage and bring a smile to the face of the 60 year old!



Birthday Poems
   /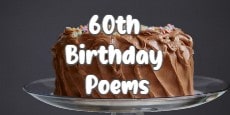 Sixty Seems Like....
Poet: Catherine Pulsifer

Sixty seems like such a big number
Almost like a time of slumber.
But looking at you that will not be
Turning 60 and so happy.

You say you don't feel your age
It is just another life stage.
You say you're wiser now
You won't act 60, you vow.

And then, there are those
Who start to decompose
At a younger age than you.
You act and look young, that is true!

Today they say the new sixty
Is forty, and we think that is nifty.
60 may be the years you have alive
But you continue to thrive.

So on this 60th birthday, we wish
For you nothing but happiness.
We celebrate and thank God above
For you, and for all your love.

Have a happy, happy birthday
Live each and every day.
We celebrate this special day
And we love you in every way!




Funny Birthday Poems about Old Age



Growing Wiser
Poet: Catherine Pulsifer

In sixty years, a lifetime's worth,
With challenges faced, since day of birth,
Through every trial, you've found our way,
Growing wiser with each passing day.

You've weathered storms, you've climbed steep hills,
Gathered wisdom, shared life's thrills,
In six decades, you've learned and grown,
A tapestry of moments you've sewn.

Now, on your 60th, let's celebrate,
A journey rich, an incredible fate,
With lessons learned, and battles won,
Six decades lived, and you've just begun.

May this birthday be the best one yet,
Filled with joy, no hint of regret,
For sixty years of strength and grace,
Look to the future with a smiling face.




On Her Sixth Birthday
Poet: Lillian E. Curtis

Six times the years have circled round,
And touched thy golden hair;
Six times thou hast heard the sound.
Of Spring birds in the air;
Six times Winter's breath has fanned
Thy brow of ivory white;
Six times thy little hands have planned
Summer's nosegays bright.
Six times the crimson Autumn bud
Thy rosy cheek hath shamed,
And her rich and beauteous flood,
'Fore thy violet eyes hath reigned.
And thou standest 'mid the gay,
Minus one grief or tear.
To welcome thy glad birthday,
And enter thy seventh year.
We wish thee joy, dear little one,
As we crown thy wavy hair,
May thy life, so beautifully begun.
Ne'er be less bright and fair.




A great quote to share with someone who is feeling old. More birthday quotes to encourage!



Not Doomsday
Poet: Catherine Pulsifer

I remember when sixty sounded so old,
But now I have learned sixty can be bold.
You have learned all the lessons,
And few things in life threatens.
You are older but wiser,
And maybe a bit wider.
So celebrate this birthday
Turning 60 is not doomsday!




The Child In You
Poet: Catherine Pulsifer

Don't let the child in you die
Turning 60 is not reason to cry.
Delight and celebrate the age you are
You have more years, you can go far.

Age is not a reason to stop
Enjoy the candy and lollipops.
Continue to find fun things to do
Age is not a reason to be blue.

Happy 60th birthday to you
The child in you, is certainly not through
Light up those candles on the cake
Another year to celebrate, another year to take!




Funny Poems about Aging



The Decades to 60
Poet: Catherine Pulsifer

The decades go by and how we grow
The things we learn and the things we know
.
The first decade of ten
Life is easy except when
School work we have to do
Otherwise, we will be a fool.

The second decade comes along
And at 20 we are going strong.
We have the energy and drive
We live life and continue to thrive.

Then the third decade suddenly appears
And at 30 we find ourselves in arrears.
The big 30 many will joke
We feel like we are going broke.

And before we know it 40 rolls around
How did those decades compound?
Forty years sounds so old
We don't realize we are on the threshold.

Five decades 50 does bring
We are not sure of the feeling.
We seem to slow down a bit
But 50, really, we have a fit.

And then the big 60 arrives
And we realize that we survived.
We have much more wisdom now
We can see and understand how
The years just roll on by
Our age we no longer deny.

So may this little poem express
Our joy and happiness
For you and your 60th birthday
Always make time for lots of play.
Age matters not you see,
Thoughts determine how happy you'll be.

A Happy Birthday we wish for you
Turning 60 is not an issue.
Enjoy your day, celebrate and be
Thankful 60 you will see!
More Birthday Poems
Related Poems & Quotes: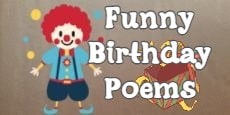 Funny Birthday Poems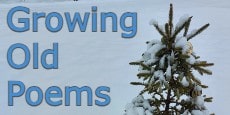 Growing Old Poems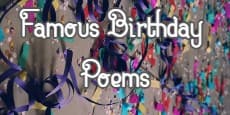 Famous Birthday Poems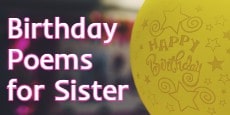 Birthday Poems for Sister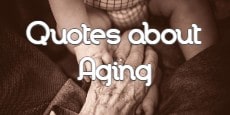 Quotes about Aging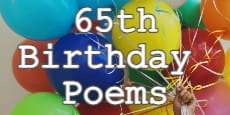 65th Birthday Poems
Featured Famous Poets:

Catherine Pulsifer

Lillian E. Curtis
We hope these 60th birthday poems are ones that you share. Turning 60 is truly a milestone!
Short Poems & Quotes
    |    
About Us
    |    
Contact Us