Growing Old
This poem could be considered one which describes how others see us as we age, or it could be as we grow older it is how we see ourselves! Written many years ago, the poet Walter Learned is expressing his thoughts in these verses.

Plus, share the growing old quotes and thoughts with others!



Growing Old
Poet: Walter Learned

Sweet sixteen is shy and cold,
Calls me "sir," and thinks me old;
Hears in an embarrassed way
All the compliments I pay;

Finds my homage quite a bore,
Will not smile on me, and more
To her taste she finds the noise
And the chat of callow boys.

Not the lines around my eye,
Deepening as the years go by;
Not white hairs that strew my head,
Nor my less elastic tread;

Cares I find, nor joys I miss,
Make me feel my years like this:
Sweet sixteen is shy and cold,
Calls me "sir," and thinks me old.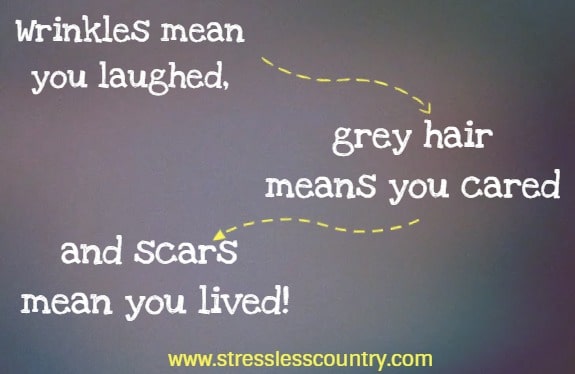 Let Me Grow Lovely
Poet: Karle Wilson Baker

Let me grow lovely, growing old,
So many fine things do:
Laces, and ivory, and gold,
And silks need not be new;
And there is healing in old trees,
Old streets a glamour hold;
Why may not I, as well as these,
Grow lovely, growing old?


Some Complain
Poet: Catherine Pulsifer

Some complain and some moan
As the years pass by you hear them groan
But age is all in your attitude
And by the things you say and do.

In life at every stage
We can focus on our age
But if age is put aside
We can take it all in stride.

Keep your attitude positive and bright
Take each day and look for the light
You see our attitude plays a big part
Of whether we are young or just an old fart.




Growing Old Quotes and Thoughts
Growing older is a precious commodity. Only a few can endure to achieve that distinguished distinction and quality.
Debasish Mridha
Poems About Life


You are the same today that you'll be five years from now except for two things: the people you meet and the books you read.
Mac McMillan
Book Quotes


Old beliefs do not lead you to new cheese.
Spencer Johnson, Who Moved My Cheese?
Cute Quotes


You make do with what you have. As you age you learn even to be happy with what you have. That's one of the few good points of growing older.
Haruki Murakami
Quotes To Live By


Employers ... value older employees because they have an ability to make quick decisions and solve problems based on their knowledge and overall life experience.
Kerry E. Hannon, Great Jobs for Everyone 50 +
Experience Quotes


Life holds so many treasures but we want to say
Being a grandparent is the best of all days.
Catherine Pulsifer, Being A Grandparent
Grandparents Poems


Old is old at any age.
Old is when you quit asking questions about this, that, and everything.
Old is when you forget how to love-or worse, don't care.
Old is when you don't want to dance anymore.
Old is when you don't want to learn anything new except how to be old.
Old is when people tell you that you are old-and you believe them.
Carew Papritz, The Legacy Letters
Thought Provoking Quotes


I think people understand things different when they get older. It's not a question of getting soft, or seeing things in the gray areas instead of black and white. I really believe I'm just understanding things different. Better.
Jeff Lindsay, Darkly Dreaming Dexter
Positive Quotes


Related:
Birthday Quotes

Funny Birthday Poems

Midlife Quotes

Funny Birthday Poem On Aging


More Birthday Poems


Short Poems and Quotes | Poems | Quotes | About Us | Contact Us |