Funny 40th Birthday
Share these funny 40th birthday poems and quotes with someone who is turning the big 40. Turning forty is a milestone for some people. Use these funny poems about turning forty to lighten the day and bring a smile to the new 40-year-old.
Time To Fess Up
Poet: Catherine Pulsifer, ©2012


Today is your birthday,
And there is something I must say,
It's time to confess your age,
As we all can see, you've gone grey.

You can no long continue to say,
You're in your twenties, they have definitely peaked.
It's time to fess up to the truth,
You're Forty, let's hear the shriek!!

Forty isn't so bad,
Well that's what I have heard.
I'd like to say I understand,
But unlike you, I'm still a young bird.

One day it will be my turn,
And I'm sure you'll be right there!
But I'll always have one thing on you,
I'm younger and that I swear!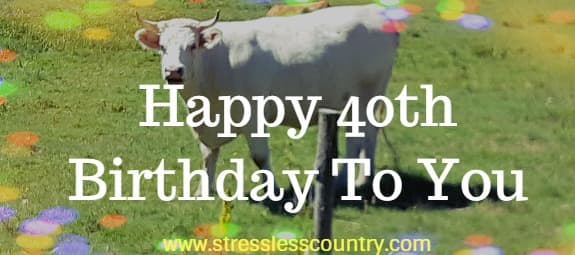 Over The Hill
Poet: Catherine Pulsifer, ©2019


Over the hill
With lots of bills
Forty comes quickly
It can make you feel sickly.

The years ticked by
Time how it flys
But the day has arrived
And you'll survive.

Happy Birthday to you
Don't get the forty blues
Be happy, be merry
The next forty are the cherry!



Fabulous At 40
Poet: Sam Fickinsen, ©2020


Look at you, fabulous at 40
Life is still pretty ordinary
But tomorrow over the hill
Some say you will

But hey forty's not so bad
In fact, you should be glad
You can celebrate yesterdays
Even if your memory changes the ways

You can anticipate tomorrow
Even if from your dreams you borrow
Don't let your age get to you
Otherwise, you'll just be blue

The Big Four O
You may be a bit slow
But don't despair
We can get you a chair

Keep on going
And keep on growin'
Look forward to the next 10 years
When you will turn 50 my dear!



More Funny Birthday Poems
40th Birthday Sayings & Quotes
Life really does begin at forty. Up until then, you are just doing research.
Carl G. Jung
Poems About Life



I'm not 40, I'm 18 with 22 years of experience.
Author Unknown
Experience Quotes



Life begins at forty.
W.B. Pitkin
Life Journey Quotes



The second half is always better, at forty you are entering the second half
Catherine Pulsifer
Birthday Poems



Forty has long been considered a special milestone in life.
William K. Klingaman
Special Occasion



Forty is the real awkward age; you are old enough to realize that you would look silly doing things you are still young enough to wish you could do.
Robert M. Yoder
Funny Poems About Life



Have a Happy 40th birthday
Don't dismiss, just go out and play
Kate Summers
Cute Quotes



Turning 40 is not so bad,
Be happy not sad.
Theodore Higgingsworth
Happiness Quotes



When things are 40 years old
You can start to see the mold
But this does not apply to you
But at 40, you look like your brand new.
Byron Pulsifer
Funny Birthday Poems For Friends
Related:
Funny Birthday Poem On Aging
Poems of Encouragement
Positive Messages
Action Quotes
More Funny Birthday Poems
Short Poems
|
Poems
|
Quotes
|
About Us
|
Contact Us
|