70th Birthday Poems
Use one of our 70th birthday poems to send congratulations and love. Seventy is a milestone occasion that deserves to be celebrated with joy and appreciation. It is a time to reflect on the journey of life so far, cherish memories, and look forward to new beginnings.
Birthday Poems
   /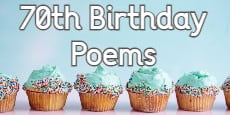 Seventy Years Of Life
Poet: Catherine Pulsifer

Seventy years of life,
What a delight to see!
A birthday unlike any other,
Filled with joy and glee.

Your heart shines with love and grace
No one can compare it.
The wisdom that you possess,
Inspires us more than a bit.

Here's to your 70th special day,
We are here to see you celebrated!
We express thanks to you,
Let our love for you be demonstrated.




The World Is Blessed
Poet: Catherine Pulsifer

As wrinkles form, embracing years of age,
A spirited soul that has long-held the stage
At seventy years old a wise sage is made
A lifetime of success a resounding parade.

For stories told and lessons held in hearts of gold
Pioneering minds know no limits or boundaries so bold
Life's chapters may change as time marches by
But the world is blessed as we celebrate you at seventy.




Birthday Poem For Friend



The Clock Strikes Seventy
Poet: Catherine Pulsifer

On a special day when the clock strikes seventy
Birthday wishes here come, not quite ready!
Time can't slow down so refrain from any melancholy
Fill the joy with a bright smile and bubbly.

A lifetime of memories shared and created
Not too wrinkled yet but proud to have made it!
A joyous occasion that shouldn't be debated
Now marking your seventieth, you are celebrated!




Funny Birthday Poems



Age Is Just A Number
Poet: Catherine Pulsifer

Age is just a number no matter what they say
70 years have come and gone it's the start of a brand new day
The wisdom that life has gained is something to admire
You've earned the right to celebrate, lighting up sparklers higher.

Throughout your journey in life, you have always been true
Your intelligence, courage, and grace show in all that you do
The adventure continues, a magical ride ahead
We raise our glasses with smiles, for a wonderful 70th!




Poems On Aging



Wishing You
Poet: Catherine Pulsifer

Seventieth your celebrations marks
We come with bouquets of birthday sparks
A time for reminiscing about past years
Over stories, laughter, and sometimes tears.

Take time to cherish every moment
Reflection and thankfulness are sent
On this day we wish you good health and joyfulness
Envisioning the blessedness seventy brings us.




Birthday Quotes



Cheers To 70 Years
Poet: Catherine Pulsifer

Your dress is bright and new,
Your hair is in a do.
And you're ready to dance the night away
On your seventy-year-old birthday day!

Good friends and loved ones around,
Making laughter and good cheer sounds.
Today we celebrate your joyous age,
It's a blessing that cannot be replaced!

Cheers to seven decades of happiness,
May your heart shines with pure bliss.
And may you thank God for the gift of life,
So cheers to 70 years on this night!




Birthday Poems For Grandma



Congratulations On This Milestone
Poet: Catherine Pulsifer

Seventy years have come to pass,
It's time to celebrate at last!
Let our family gather around and cheer,
Gather all who hold you dear.

A special occasion for joy and cheer,
Your birthday marks another year!
We all have memories with you to share,
Your seventy years bring us such joy and flair.

Congratulations on this milestone, grand;
Have a 70th birthday filled with love and glad!




Birthday Poems For Grandpa



Happy 70th
Poet: Catherine Pulsifer

As the years pile high like cordwood,
Reflect on your life, anew;
Each turn in the road of your past,
Find laughter and moments of grandeur to last.

Today marks a milestone for you,
A remarkable feat so bold;
You are now seventy years old and wise,
Honor that youthfulness shining inside.

Your life and accomplishments are remembered,
In hearts from here far away;
Now celebrate as always with glee,
Happy 70th birthday to thee!




Birthday Poems For Dad



Years Have Come And Gone
Poet: Catherine Pulsifer

As years have come and gone,
Your life up to now has been strong,
Today marks a milestone so grand,
A 70th birthday you now stand.

Having lived with courage, laughter, and love,
Your spirit is something all can approve.
So on this day of mirth and cheer,
We are here to honor you with great reverie.

Here's to many more years as your journey moves on,
Happy 70th - hope it proves to be quite a lot of fun!
More Birthday Poems To Share
Related Poems & Quotes: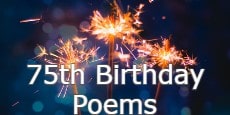 75th Birthday Poems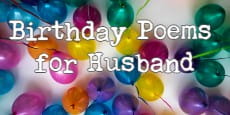 Birthday Poems For Husband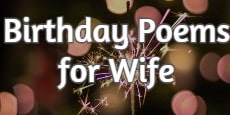 Birthday Poems For Wife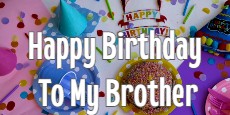 Happy Birthday To My Brother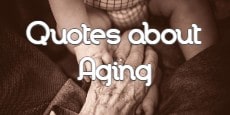 Quotes About Aging
Featured Famous Poets:

Catherine Pulsifer
More Famous Poems
A 70th birthday poem can be a touching and memorable gift that will bring tears to their eyes and fill their heart with love and happiness. Whether you are looking for a poem for a parent, grandparent, friend, or colleague, we hope you have found one that expresses your best wishes.
Short Poems & Quotes
    |  
About Us
    |  
Contact Us