Happy Birthday Baby Girl or Boy
Wishes for a happy birthday to our baby girl or baby boy. It is amazing to watch your baby grow and celebrate each year that passes with them.

These poems and wishes can be shared with anyone of any age that you feel has grown before your eyes. Even as children get older they are always our "baby".


Happy Birthday Baby Girl
Poet: Catherine Pulsifer

Happy Birthday Baby Girl
You are so special, you'll never know
The joy that you bring to us
You in our life is sure a plus.

You are growing up that is true
Today is a special day for you
The candles on your cake you blow
The smile on your face just glows.

A happy day we wish for you
And may the coming year be a good one too
Always we remember we love you
A Happy Birthday we do say!


Happy Birthday Baby Boy
Poet: Catherine Pulsifer

Just look at all those great new toys
Another year has come and gone
In our books your number one.

Blow out the candles eat the cake
A joyful noise we will all make
When we sing Happy Birthday to you
And watch all that you will do!


Turning Two
Poet: Catherine Pulsifer, ©2011

On your birthday
as you turn two
It almost made me
feel a bit blue

Only yesterday
you were born
And as you grow
I feel a bit torn

The days fly by
And you're no longer a baby
I think with a sigh
You're still a cutie

Watching you grow
has been a delight
With each passing day
you are a blessing in our sight

More Baby Poems or Birthday Poems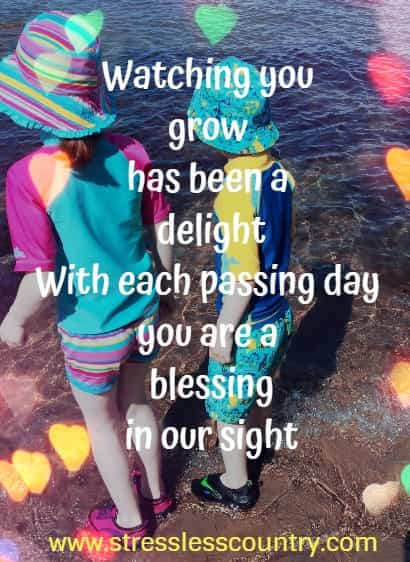 More Birthday Verses & Quotes for A Girl or Boy:
Another birthday my child
I remember the day you were born
All day I just smiled
A day I often reflect upon.
Kate Summers
Birthday Poems


You baby girl are sweeter than the icing on the cake. Happy Birthday
Cute Quotes


Yes, we know you are a big boy but you will always be our baby. Happy Birthday
Funny Birthday Poems


Birthdays may come and go
But my precious little one I love thee so!
Birthday Quotes


A birthday wish is sent to you
For happiness in all you do
Poems of Encouragement


Many happy birthdays is our wish
We love you and send you a hug and a kiss!
Baby Steps


Funny how age changes you -
As a child you are excited about your birthday
As an adult, another year gone, you say!
Theodore Higgingsworth
Time


Baby, baby you have grown so fast
We want to make these day forever last
But we are happy that we can celebrate
Your birthday on this special date!
Children Quotes


May God's blessing shine upon you, and we give thanks to Him for the birth of you!
Christian Poems


You May Also Like:

Poems About Change

Thankful For My Child

Special Occasion


We hope you will share our poems and verses with the baby girl or baby boy in your life who is celebrating their birthday. The years pass to quickly, so celebrate today with the baby girl or boy in your life!

More Baby Poems or Birthday Poems to Share

Short Poems and Quotes | Poems | Quotes | About Us | Contact Us |