Love Poems For Husband
Love poems written to express thanks to and for your husband. In the verses find expressions of love for the man you married and love. A loving husband is a treasure!



Thanks for My Husband
Poet: Julie Hebert, © 2011

This is a simple poem to express what I feel,
To have someone so sweet in my life.
It's not one thing you did or a matter to gifts,
It's a matter of being man and wife.

On the day that we met, my suspicions were there,
That one day you would make me your wife.
I did not perceive how happy we'd be,
And that we'd have the time of our life.

I'm here to say thanks for being you,
I never want you to be another.
As the man, I married had all the same faults,
If I was unhappy I'd have married some other.

So with this, I must say I love all of you,
All the good and even the bad.
I don't care what happens as long as we're laughing,
Together means we're never sad.







Thank God For You
Poet: Catherine Pulsifer, © 2019

How blessed I am to have a man like you
Your love is felt in all you do.
I love you more than you know
I hope you feel it and it shows.

Each day I awake I love to see
Your smilin face lookin at me
Our days together are full of happiness
Oh, how God has blessed.

Each night before I go to sleep
I thank God for you and ask him to keep
You safe and well
I give thanks to God that life is so swell.

We have the blessing of a great marriage
Being your wife is such a privilege
We share our life and a love that is blessed
I thank God for you, you're the best.



Quotes About Husbands and Marriage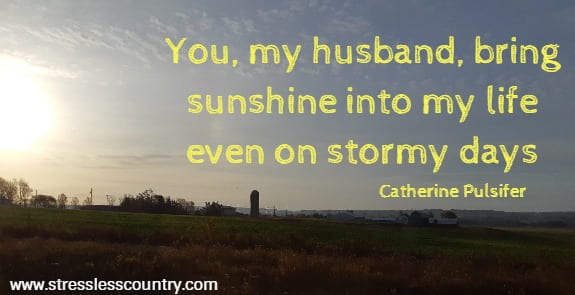 Love is the thing that enables a woman to sing while she mops up the floor after her husband has walked across it in his barn boots. Hoosier Farmer
Cute Quotes


It is the act of a loving son, daughter and husband or father that brings the warmth that only a personal expression of love can bring. Catherine Pulsifer
Short Love Quotes


Happy is that family where husband and wife, parents and children, master and servants fear the Lord. In such a kingdom, church, and family, everyone will submit themselves to the mutual good one of another. William Gouge, Building a Godly Home
Short Family Quotes


Some women have no interest in sports until they meet their husbands, but it becomes something that brings them together. E'yen A. Gardner, Husband Rules
Sports Quotes


The success of marriages and all other close relationships depends upon slowing down enough and opening up enough to create a space that welcomes simple, kind words. Edward M. Hallowell Md, Married to Distraction
Kindness Poem


Yet, there are couples who have healthy marriages in which each encourages the other and they watch their dreams come true. Dr. Gary Chapman, Now You're Speaking My Language
Poems of Encouragement


My husband has quite simply been my strength and stay all these years, And I owe him a debt greater than he would ever claim. Queen Elizabeth II
Strong Quotes


Marriages survive when partners prioritize their marital relationship over other interpersonal relationships. This doesn't mean to suggest that other relationships are ignored, or don't matter. What prioritization means is that the marriage is important enough to take primacy, even at times over children. Julie Smith, 13 Secrets to Turn Around Conflict and Rebuild Trust, Connection and Intimacy In Your Relationship
Poems About Winning


You May Also Like

Positive Poems

Best Friend Poems

Soulmate Poems

Friendship Poems


More Love Poems to Express Your Feelings


Short Poems and Quotes | Poems | Quotes | About Us | Contact Us |