12 Best Love Poems
There are many great love poems, the ones here are what we consider some of the best love poems. We hope you enjoy them and share them with the one you love.

These poems are great to use on Valentine's Day and other special occasions.


Short Love Poems    /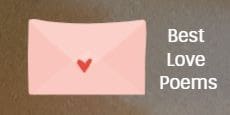 Love
Poet: Roy Croft

I love you,
Not only for what you are,
But for what I am
When I am with you.

I love you,
Not only for what
You have made of yourself,
But for what you are making of me.

I love you
For the part of me that you bring out;
I love you
For putting your hand into my heaped-up heart
And passing over all the foolish, weak things
That you can't help dimly seeing there,
And for drawing out into the light
All the beautiful belongings that no one else had looked
Quite far enough to find.

I love you because you
Are helping me to make
Of the lumber of my life
Not a tavern but a temple;
Out of the works of my every day
Not a reproach but a song.

I love you
Because you have done
More than any creed could have done
To make me good, and more than any fate
To make me happy.

You have done it
Without a touch, without a word,
Without a sign. You have done it by being yourself.




love and friendship poems



If You But Knew
Poet Unknown

If you but knew
How all my days seemed filled with dreams of you,
How sometimes in the silent night
Your eyes thrill through me with their tender light,
How oft I hear your voice when others speak,
How you 'mid other forms I seek-
Oh, love more real than though such dreams were true
If you but knew.

Could you but guess
How you alone make all my happiness,
How I am more than willing for your sake
To stand alone, give all and nothing take,
Nor chafe to think you bound while I am free,
Quite free, till death, to love you silently,
Could you but guess.

Could you but learn
How when you doubt my truth I sadly yearn
To tell you all, to stand for one brief space
Unfettered, soul to soul, as face to face,
To crown you king, my king, till life shall end,
My lover and likewise my truest friend,
Would you love me, dearest, as fondly in return?
Could you but learn?




poems about life and love



Love Much
Poet: Ella Wheeler Wilcox

Love much. Earth has enough of bitter in it;
Cast sweets into its cup whene'er you can.
No heart so hard, but love at last may win it;
Love is the grand primeval cause of man;
All hate is foreign to the first great plan.

Love much. Your heart will be led out to slaughter,
On altars built of envy and deceit.
Love on, love on! 'tis bread upon the water;
It shall be cast in loaves yet at your feet,
Unleavened manna, most divinely sweet.

Love much. Your faith will be dethroned and shaken,
Your trust betrayed by many a fair, false lure.
Remount your faith, and let new trusts awaken.
Though clouds obscure them, yet the stars are pure;
Love is a vital force and must endure.

Love much. Men's souls contract with cold suspicion,
Shine on them with warm love, and they expand.
"Tis love, not creeds, that from a low condition
Lead mankind up to heights supreme and grand.
Oh, that the world could see and understand!

Love much. There is no waste in freely giving;
More blessed is it, even, than to receive.
He who loves much, alone finds life worth living;
Love on, through doubt and darkness; and believe
There is no thing which Love may not achieve.



Ella Wheeler Wilcox was a very famous poet who wrote on many topics, love being one of them. Find more famous love poems to share with the ones you love.



more short love quotes



My Heart Is A Lute
Poet: Lady Anne Bernard

Alas, that my heart is a lute,
Whereon you have learned to play!
For a many years it was mute,
Until one summer's day
You took it, and touched it, and made it thrill,
And it thrills and throbs, and quivers still!

I had known you, dear, so long!
Yet my heart did not tell me why
It should burst one morn into song,
And wake to new life with a cry,
Like a babe that sees the light of the sun,
And for whom this great world has just begun.

Your lute is enshrined, cased in,
Kept close with love's magic key,
So no hand but yours can win
And wake it to minstrelsy;
Yet leave it not silent too long, nor alone,
Lest the strings should break, and the music be done.




romantic poems



Shall I Compare Thee To A Summer's Day?
(Sonnet 18)
Poet: William Shakespeare

Shall I compare thee to a summer's day?
Thou art more lovely and more temperate.
Rough winds do shake the darling buds of May,
And summer's lease hath all too short a date.
Sometime too hot the eye of heaven shines,
And often is his gold complexion dimmed;
And every fair from fair sometime declines,
By chance, or nature's changing course, untrimmed;
But thy eternal summer shall not fade,
Nor lose possession of that fair thou ow'st,
Nor shall death brag thou wand'rest in his shade,
When in eternal lines to Time thou grow'st.
So long as men can breathe, or eyes can see,
So long lives this, and this gives life to thee.




I Am Not Yours
Poet: Sara Teasdale

I am not yours, not lost in you,
Not lost, although I long to be
Lost as a candle lit at noon,
Lost as a snowflake in the sea.

You love me, and I find you still
A spirit beautiful and bright,
Yet I am I, who long to be
Lost as a light is lost in light.

Oh plunge me deep in love -put out
My senses, leave me deaf and blind,
Swept by the tempest of your love,
A taper in a rushing wind.




love poems for him



I Loved You First
Poet: Christina Rossetti

I loved you first: but afterwards your love
Outsoaring mine, sang such a loftier song
As drowned the friendly cooings of my dove.
Which owes the other most? my love was long,
And yours one moment seemed to wax more strong;
I loved and guessed at you, you construed me
And loved me for what might or might not be –
Nay, weights and measures do us both a wrong.
For verily love knows not 'mine' or 'thine;'
With separate 'I' and 'thou' free love has done,
For one is both and both are one in love:
Rich love knows nought of 'thine that is not mine;'
Both have the strength and both the length thereof,
Both of us, of the love which makes us one.




true love poems



Love Comes Quietly
Poet: Robert Creeley

Love comes quietly,
finally, drops
about me, on me,
in the old ways.

What did I know
thinking myself
able to go
alone all the way.




When You Are Old
Poet: William Butler Yeats

When you are old and grey and full of sleep,
And nodding by the fire, take down this book,
And slowly read, and dream of the soft look
Your eyes had once, and of their shadows deep;

How many loved your moments of glad grace,
And loved your beauty with love false or true,
But one man loved the pilgrim soul in you,
And loved the sorrows of your changing face;

And bending down beside the glowing bars,
Murmur, a little sadly, how Love fled
And paced upon the mountains overhead
And hid his face amid a crowd of stars.




I Wanna Grow Old With You Poems



Come, And Be My Baby
Poet: Maya Angelou

The highway is full of big cars going nowhere fast
And folks is smoking anything that'll burn
Some people wrap their lives around a cocktail glass
And you sit wondering
where you're going to turn.
I got it.
Come. And be my baby.

Some prophets say the world is gonna end tomorrow
But others say we've got a week or two
The paper is full of every kind of blooming horror
And you sit wondering
what you're gonna do.
I got it.
Come. And be my baby.




Encouraged
Poet: Paul Laurence Dunbar

Because you love me I have much achieved,
Had you despised me then I must have failed,
But since I knew you trusted and believed,
I could not disappoint you and so prevailed.




poems on life lessons



Love For Love's Sake
Poet: Mary Lowe Dickinson

Why cling to the past at such terrible cost
In weakness and doubt?
Pray God to forget! Leave the days that are lost.
Blot the yesterdays out!
Not the Judge but the Father shines out in His face.
Are you glad? He is more.
One more outlet for love, one more claimant for grace,
And His heart, that before
Could not bless with a love which a wandering soul
Could not answer or take.
Gives the love long restrained in a jubilant whole.
And loves for love's sake.
More Short Love Poems to Express Your Feelings
Related Poems & Quotes: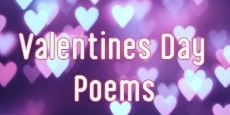 Valentines Day Poems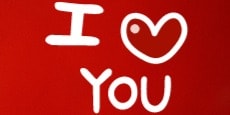 I Love You Poems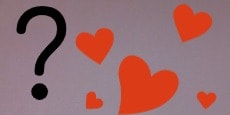 Do You Love Me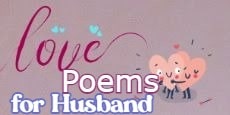 Love Poems For Husband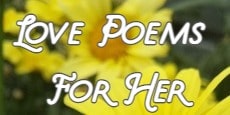 Love Poems For Her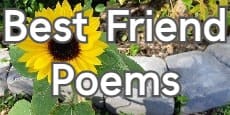 Best Friend Poems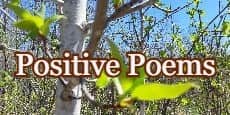 Positive Poems
Featured Famous Poets:

Ella Wheeler Wilcox

Sara Teasdale

Christina Rossetti


Paul Laurence Dunbar




Short Poems & Quotes    |     About Us    |     Contact Us