Memories Quotes
Our collection of memories quotes are remembrances of days gone by, they remind you that the memories we make with family and friends are truly a treasure of life, they stay with us forever, no one can take them away.

Our memories can never be taken away from us, they are to be cherished and appreciated as life continues to change year after year. We should strive to make good memories not only for ourselves but for others.

Our lives are full of experiences and events, we hope that the memories you are making are positive ones.


Short Poems
/
Quotes
/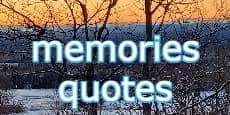 - related Poems About Memories































































































































































































































































































May you recall the positive thoughts of times past. While we all have challenges in life, stay focused on the good and keep your focus on good thoughts for a happier life. And, keep making good memories!
More Quotes To Encourage and Inspire
Short Poems
|
All Poems
|
About Us
|
Contact Us
|