14 Althea Randolph Poems
Enjoy these Althea Randolph poems. Althea Randolph was born in the 1800s. She published her first and only book, A Shower of Verses, in 1914. The poetry book was primarily written for children, however, there are poems that adults will also enjoy. At the beginning of the book she writes:
'Tis thus, my little Darlings,
These rhymes were sown for you.
Within your Nursery-gardens
Will you plant my poems, too?
The book description states the book contains, Mother's Treasure Book, Fancies, Fairies, and Frolics, Twilight Poems. She ends the book with the following rhyme:
My dearest children big and smalls
Whene'er you read these rhymes recall
The one who wrote them loves you all!
Short Poems
   /  
Famous Poems
   /   Althea Randolph Poems -
related: Famous Poets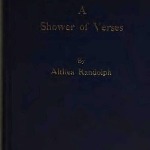 Popular Althea Randolph Short Poems:








































More Famous Poems to Encourage and Inspire
Short Poems
    |    
All Poems
    |    
Quotes
    |    
About Us
    |    
Contact Us
    |