Forget Me Not Poem
Be encouraged to stay in touch with a forget me not poem. With the communication tools available to us today there is absolutely no excuse for not staying in touch with anyone whether that is a friend or a distant relative. The real issue rests within you - that is, do you value a friendship enough to take but a few minutes out of your day to send communication of concern, greetings, congratulations, or of hope and encouragement?
Sometimes, those friends who have moved away start to send messages about where they are living, what their job is like or what it is like to live and work in a different city. But, as time goes by, the messages become fewer and fewer until at last, they stop. This may be the case of someone finding a host of new acquaintances or simply becoming too involved in a variety of other activities. Whatever the reason, a sense of loss creeps in. But, if this person was a true and lasting friend, don't give up communicating with them. And, don't forget that if you are the friend saying goodbye, all of these concerns may be on the minds of those friends you have left behind.
Saying goodbye is always hard but the thought of keeping in touch does make it easier to say goodbye; goodbye is not forever. But when you feel that you have been forgotten by what was viewed as a good friend, it hurts just a little bit more. We hope these poems remind you to keep in touch!
Goodbye Poems
   /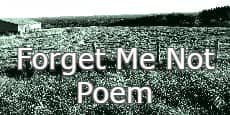 The poem, Forget-Me-Not, by Arthur Franklin Fuller, even though short, expresses what it means through sadness when they have been forgotten by another friend. When our friends move away we always hope that we can keep in contact with them. What is unique about this poem is that it was written in the late 1800s when mail was the main source of communication. The written word had to be sent by mail through a mail system that was not as refined as it is today with our modern mail sorting facilities and with both airmail and modern trucks and a large dedicated mail-carrying service. Thus, mail took a long time to arrive at its destination assuming, of course, that it arrived at all. Today, with technology there are many other ways to stay in contact with friends. You can send friendly communication through email, Facebook, or through text messages. And, these types of messages to a friend have no boundaries from town to town, state to state, or even country to country.


Forget-Me-Not
Poet: Arthur Franklin Fuller

No letter comes from you my dear —
So soon have you forgot?
In these sad eyes there shines a tear —
Sweet friend, forget-me-not!

Oh! would that I within your heart,
Had gained so warm a spot,
To treat me so, such pain would start,
You would forget-me-not.

May Time twine roses in your hair,
A thornless path allot —
Of all that's good a bounteous share,
And Faith — forget-me-not!

Thy "fare-thee-well" was sweet and kind,
With hope these lines I jot —
Again to come before your mind
And say — "Forget-me-not!"




Goodbye Poems For A Friend



Never Forget
Poet: Catherine Pulsifer

As I pack my bags and say goodbye,
A heavy heart makes me want to cry.
I leave with memories, laughter, and tears,
But I fear that distance will soon hold us from each other dear.

Promise me you'll keep me in your thoughts
And never forget the friendship we've wrought.
Our time together has been great
And I would hate to see our friendship break.




Friendship Poems



Remember Me
Poet: Catherine Pulsifer

As I say goodbye, remember me,
Memories we will both hold dear,
After years of laughter and of tears,
Moments etched in our hearts so clear.

My friend, you are always gracious and kind,
A friend like you is hard to find,
So hold tight to the memories we share,
And keep them close, forever in mind.




Poems About Memories



Parting Ways
Poet: Catherine Pulsifer

In the depths of our shared memories, dear friend,
As we part ways, our paths diverging, it seems,
Let not time's relentless hand sever our bond,
For in my heart, your presence forever gleams.

Forget me not, when the twilight's hue descends,
When whispers of laughter dance upon the breeze,
In those moments, let our friendship transcend,
And grant solace to a soul yearning for ease.

Through fields of life, we ventured hand in hand,
In joys and sorrows, we found solace and cheer,
Our hearts entwined, a tapestry so grand,
Moments cherished, forever held dear.

Though miles may stretch and oceans may divide,
Know that our connection shall never fade,
For friendship's flame, it shall forever abide,
A beacon of love, a bond never swayed.

So as we bid farewell, with eyes filled with tears,
Know that you're etched in the depths of my soul,
In the tapestry of life, we shared precious years,
A symphony of memories, forever to behold.

Forget me not, as we embark on new ways,
For our friendship, like a flower, shall endure,
In the garden of time, where fondness stays,
Blooming eternal, pure and ever secure.

And when nostalgia beckons, gentle and soft,
To the memories we wove, thread by thread,
Remember the laughter, the tears, and aloft,
The bond we shared, where two spirits were wed.

So, farewell, dear friend, with a bittersweet ache,
Yet with gratitude for the moments we've sought,
May destiny guide us, each path that we take,
But never forget me, as I'll cherish your thought.
More Goodbye Poems to Share
Related Poems & Quotes: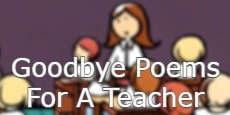 Goodbye Poems For A Teacher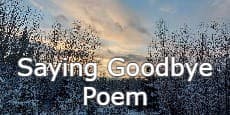 Saying Goodbye Poem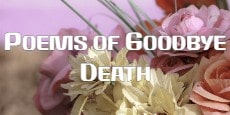 Poems Of Goodbye Death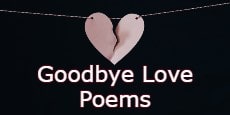 Goodbye Love Poems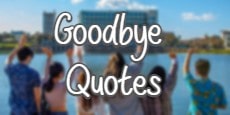 Goodbye Quotes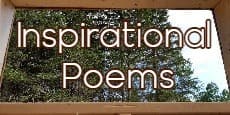 Inspirational Poems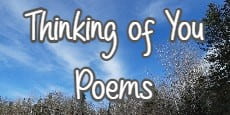 Thinking Of You Poems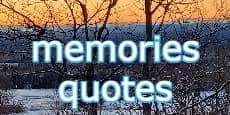 Memories Quotes
Featured Famous Poets:

Catherine Pulsifer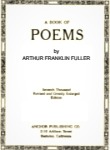 Arthur Franklin Fuller
More Famous Poems
Short Poems & Quotes
    |  
About Us
    |  
Contact Us