26 Arthur Franklin Fuller Poems
Short Poems
   /  
Famous Poems
   /   Arthur Franklin Fuller Poems
Be inspired by these Arthur Franklin Fuller poems. Born in the USA in 1880, Arthur Franklin Fuller was an author and poet. One of his published books, A Book of Few Poems, was published in 1913 and contains the poetry of Mr. Fuller.
You will find he wrote a variety of poems including poems of encouragement, Christian poems, and more. Enjoy this collection of poems written many years ago but ones that still have relevance for today. We hope these poems by Arthur Franklin Fuller give you hope and have inspired and encouraged you.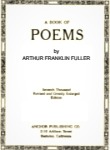 Arthur Franklin Fuller
Favorite Poems by Arthur Franklin Fuller
Popular Arthur Franklin Fuller Short Poems:
Disappointment
Poet: Arthur Franklin Fuller

They said that years would bring me joy —
And years indeed have quickly flown;
But where's the bliss without alloy —
The treasures I should call mine own?
And where's the silver to the clouds —
The harvest for the labor wrought?
And where's the comfort that I deemed
Would sure be mine if bravely sought?

I'm hungry for a little love —
I thirst for that I deem my right;
My grief-worn heart its sigh exhales,
And yeameth for you day and night.
The ocean in majestic turn
Sends foam-capp'd waves from shore to shore —
As ceaseless in my lonely heart
Arise Hope's ghosts forevermore.
Ah, sad the smile that hides the wrecks —
The clinging clasp would fain retain —
For God in heaven only knows
If even dreams may come again!




Dear Little Hand
Poet: Arthur Franklin Fuller

Dear little hand and wise little heart,
Words cannot measure the sweet you impart;
Blessed am I since you understand,
And I know that you love me by this little hand.

Dear little hand — it is a cold world —
Into a wreck are one's hopes sometimes hurled;
There stands no soul so brave or so grand,
But needs such a comfort as this little hand.

Dear little hand, I ever will prize
Your gentle touch and the news it implies;
Care flies away when this magic wand,
Creeps softly to me — Oh, this dear little hand.

Dear little hand — why, what would I do,
Without my heavenly Father and you?
Mercy He showed toward me when He planned.
Unselfish devotion from this little hand.




The Gospel Train
Poet: Arthur Franklin Fuller

Where are you going, trav'ler?
The night is wild and dark -
The road has many pitfalls,
And woe each step will mark;
O Stranger, go no farther
Without a trusty Guide,
Calamities await you,
Without Him by your side.

"All aboard — all aboard!"
The warning words sound clear,
"All aboard — all aboard!"
The leaving time is here;
No more trains — this the last!
Get your ticket, quick decide —
Arguing time now is past,
In heav'n or hell abide!

There is one name under heaven
Whereby you can be saved,
'Tis certain Transportation
To where streets with gold are paved:
Its owner gives you solace
For every earthly woe,
With trust and peace surrounds you,
Wherever you may go.

Then come and know the Savior
Before it is too late,
Come now and claim Salvation
While there's an open gate;
Come quick! the bell is ringing,
The Gospel train may go,
O do not wait, my brother,
Eternal death to know.

"All aboard — all aboard!"
The warning words sound clear,
"All aboard — all aboard!"
The leaving time is here;
No more trains — this the last!
Get your ticket, quick decide —
Arguing time now is past,
In heav'n or hell abide!





The Joys Of Summer
Poet: Arthur Franklin Fuller

The season Queen of all the year,
When all things at their best appear,
When airs are soft and skies are clear,
O the joys of summer!

Then sports and pastimes multiply,
Then leisure hours go hastening by,
Then work is tackled with a sigh,
O the joys of summer!

The fishing seems all-fired good.
The birds are calling from the wood,
You'd hasten out there if you could,
O the joys of summer!

But since you're bound to stay at home,
While those more lucky shirk and roam,
You'll get the hose and soak the loam,
O the joys of summer!

The purse, indulgence still denies -
Since action always mollifies,
You'll vent your spite by swatting flies;
O the joys of summer!

That fellow had his trunk all packed,
And ticket bought - no speed he lacked,
But left, just as he was attacked -
O the joys of summer!

A fly is sure a mighty pest —
He's there to tease when you would rest-
He thinks your pawing but a jest:
O the joys of summer!

Some epidemic we should start,
To give Sir Fly a failing heart,
Or Meningitis' mighty dart —
Augment the joys of summer!

Whoever read of "Flies Sun-struck!"
"Appendicitis has 'em stuck!"
What human had that much good luck?
O the joys of summer!

Now one of summer's greatest joys,
Is getting up a crowd of boys,
And camping — far from city noise;
O the joys of summer!




A Rose
Poet: Arthur Franklin Fuller

She gave me a rose — she gave me a smile —
The heart of me glowed with pleasure the while;
A symbol of thought — how shall I express
The blessing that came from her pure caress?

She gave me a rose — her womanly hands
Just lingered a while — the mem'ry still stands;
A smile born of God was that flower's grace —
A beam of His love shone in her sweet face.




A Heart's Request
Poet: Arthur Franklin Fuller

O turn me not away,
The quest has been so long —
Life's way has been so hard.
The tempest strong.

Receive my aching heart,
And let my spirit rest;
Of all earth's roses fair
Thou art the dearest, best.

Take thou my loving hand,
Hear my despairing cry;
Life's bitter turn to sweet.
And be thou ever nigh.

O do thou understand,
My humble, ardent call;
Open thy heart, thine arms,
And love me "Best of all.




Twilight
Poet: Arthur Franklin Fuller

At last the tedious day is at an end
The long cool shadows hush the world to calm;
The grateful quietude of twilight hours,
Distills o'er tired earth its restful balm.

From out the clovered meadows' misty depths,
The lowing kine come slowly into sight;
The circling swallows chirp their vesper hymn,
And hoof and feather seem to welcome night.

Anon the frogs in lusty chorus make
Response to creeky solos from the trees;
The risen moon his calm approval smiles
To star-lamps all in place, and earth at ease.




Dependence
Poet: Arthur Franklin Fuller

O what is life but labor'd breath,
And ceaseless strife from birth 'til death?
And what am I, that I should dare
Expect to find a welcome there?

Yet dark indeed would be the way.
Did Hope not whisper every day:
"Strive on — and you shall surely find
Your Counterpart among mankind!"

O what is life? A tear, a sigh,
A swift caress, and then — "Good-bye".
Deny me not — our time is short —
Earth's joys are of a sorry sort;

And only Love is worth the while
Of care-worn mortals, pure or vile;
All know their pain in every day,
And need Love's sun to bright the way.




Self-Will
Poet: Arthur Franklin Fuller

How oft we hear the stubborn say,
In everything, "I'll have my way";
How blind are some to simple Truth —
Experience must teach these youth.

As little children we should be,
None but the meek his God will see;
Toward least resistance have respect.
For then has force compound effect.

The happiest folk are self-possessed;
They say, "I want the way that's best!'
Thus restful calm replaces strife.
From a better attitude toward life.

There's nothing quite so easy, friend,
As to be mistaken — don't contend
Too fiercely for your present view —
The horizon soon may change for you.

'Tis base in him who thus requires
Defeat of another's fair desires;
But he who triumphs o'er self, indeed,
Achieves man's first and greatest need.




Gray Ballad
Poet: Arthur Franklin Fuller

Still hold thy lamp dear friend,
Before mine eyes —
A wealth of comfort
In its glimmer lies;
How soon the selfish friendship
Fades and dies!
Would I might ever keep
These holier ties —
Still hold thy lamp.

In youth and prime, both road
And sky are clear —
No dearth to hinder —
Plenty far and near;
When all is changed and age stands
Stark and sere,
One gropes about and counts
A welcome dear.
Still hold thy lamp.

The light of friendship cheers
The darkest way —
When constantly it sheds
Its blessed ray;
The noblest acts are those
Not done for pay —
I've nought to give but yet
I humbly pray:
Still hold thy lamp!




Dark Hours
Poet: Arthur Franklin Fuller

Each soul through unknown mazes goes —
Must take his stripes and share of woes;
Deep wisdom moves God's plans along —
Our problems met but make us strong.

Stand fast — unmoved whate'er the view —
Jehovah-God will see you through;
He changeth not — so rest secure —
His Word the seeker will assure.

Dark hours must come — who can escape?
Yet tears the future oft mis-shape;
For every woe there stands a pledge —
God's grace is all our present hedge.

Dark hours will come when none can see,
Yet God knows our extremity;
The souls that gain the mountain's crest.
Look back and see, God's way is best!




Cradle Song
Poet: Arthur Franklin Fuller

The deepening twilight bids thee hush,
The stars light up the milky- way,
Lie still and listen to the thrush
As he thrills this soothing lay:
Hush, sweet baby, hush!
The oriole's babes are sleeping now.
No fears distress them in their nest,
Cozily swinging from the bough
Close to their mother's breast:
Hush, sweet baby, hush!

As close, dear babe, I am holding thee.
Trust like the birds — to trust is well,
For thou art dear to God — and me;
And this the Saviour came to tell:
Hush, sweet baby, hush!




Contemplation
Poet: Arthur Franklin Fuller

Truth, precious and eternal treasure,
O let me see;
Life, love and all enduring pleasure
Spring forth from Thee.

Let me unfold through apprehension
Of boundless Good;
Let nothing else hold my attention,
Since naught else should.

No failure comes to him in concord
With his true Source;
This comfort now I firmly hold. Lord,
And love Thy course.

My God, my All — my loving Father —
Thy Truth makes free!
O let that mind which dwells in Jesus
Abound in me.




By The Fire-place
Poet: Arthur Franklin Fuller

When the days are getting shorter,
When the nights are long and chill,
With my cares and work forgotten,
And the whole world hushed and still-
Then I love to make a fire.
Watch the flamelets dance and race.
For things are mighty cozy,
By the fire-place.

I love to have a friend or two
To make the deal complete —
Shoes off, cocked on an extry chair.
We toast our weary feet;
A bowl of pop-corn sittin' near,
While time slips by apace,
Why folks, it's awful cozy,
By the fire-place.

Pretty soon some nice quotation,
Comes a-singin' through his head-
A clean and sweet quotation,
Whose charm is quickly spread;
I'll bound I'll give an answer,
A match for his in grace —
Dad Time's a grand romancer.
By the fire-place.

Then my friend may tell a story,
Course I'll try to do as well —
We'll both be in our glory,
Just a-weavin' fiction's spell;
I'll read some book of poems —
Prose animates his face —
A man gets stout but younger,
By the fire-place.

We may tell the joys and sorrows
That have figured in the past,
Speculate on our Tomorrows —
But tears may start at last —
In those glowing, ruddy embers,
Fancy paints an absent face —
There's a comfort one remembers,
By the fire-place.

Bye 'n' bye it comes to bed-time.
And I wind the clock and say,
"Nine more hours an' we'll be facin'
Another little day;
But b'gosh, 'twill soon be over.
Back again our steps we'll trace —
Spend another pleasant evenin' —
By the fire-place."
More Famous Poems to Encourage and Inspire
Short Poems
    |    
Poems
    |    
Quotes
    |    
About Us
    |    
Contact Us
    |