Poems About Jesus
Much has been written about Jesus Christ. Let thee poems about Jesus give you words to consider.

There are many names which refer to Jesus: Gods only begotten Son, The Prince of Peace, Immanuel, Light of The World, Messiah, Son of Man, Wonderful Counselor, Mighty God, Everlasting Father, Prince of Peace to name only a few.

Jesus can change your life if you all Him to. The choice is always yours!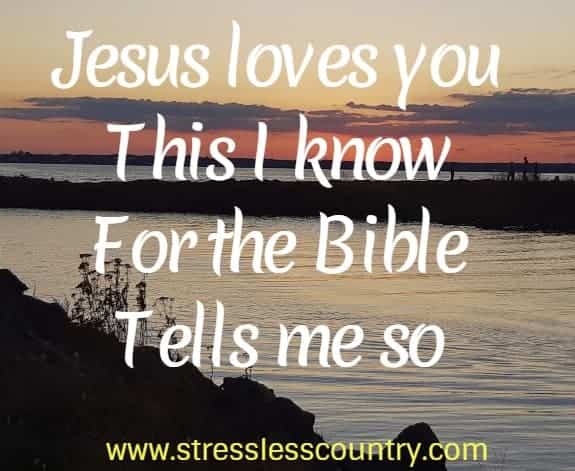 How Big Is The Basket?
Greta Zwaan, © 2018

"Mommy, can you tell me how big the basket is?
Daddy said to ask you, that you could answer this."
"I don't quite understand dear, which basket do you mean?
There are big and little baskets and others in between."

"No, no, the basket Jesus carries that holds our family's prayers.
Where we put all our problems, the ones that Jesus shares.
He said we shouldn't worry, but tell Him how we feel;
And then He tells His daddy, Mommy, is that real?

He needs to have a basket 'cause we all pray a lot.
Remember? Daddy read that the Bible says we ought.
He calls it heavy burdens, but can He take them all?
And carry them to heaven? Our prayers are never small!

So what size is His basket, does He have more than one?
Do angels help to carry the prayers that we get done?

Tomorrow we'll have new ones, for gramps and Uncle Jack.
You know Mommy, he's so lonely, he really wants him back.
Grandpa says God knows that so why won't he come home?
Did God not get his basket, is that why he's alone?

And poor old Mrs. Smithers can barely get around,
Did angels lose her baskets and her prayers can't be found?
Poor Jesus, He's so busy, so many prayers all day,
Can we buy Him a basket to carry prayers away?
And what size of a basket would hold the prayers we make?
We can't make it too heavy; too much for Him to take.
Mommy, I want to help Him, He's busy as can be;
I'd like Him to have free time and have fun just like me.

So Mommy, just one basket that angels could help lift.
I think it would help Jesus; could we buy Him that gift?
I think 'twould make Him happy; He should be happy too,
Because He's terribly busy, that's something we could do."






Jesus, A Friend
Greta Zwaan, © 2018

In the darkness of the night when your soul can find no rest,
When you're overcome with worry and despair,
When the trials seem too great and you've nowhere you can turn,
Jesus opens up the avenue of prayer.

He's the friend who knows your pain and your heavy-burdened life,
He's aware of all the fears that come your way.
In His arms you'll find relief when you share your troubled soul,
And the peace returns when you kneel down to pray.

Far too often we forget as we travel down the road,
But the promise is still there - "Come unto Me."
Jesus' offer stands through time and will never be annulled,
It's the only place you can be truly free.



Quotes About Jesus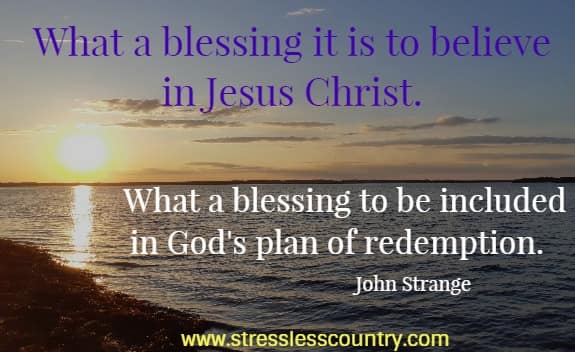 The moment we trust in Jesus and receive His free gift of salvation, we are included into His family, given His name and blessed with a brand new identity.
John Strange, Your Identity in Christ


For God did not appoint us to suffer wrath but to receive salvation through our Lord Jesus Christ.
1 Thessalonians 5:9 (NIV)


To a generation suspicious of truth claims and unconvinced by moral assertions, beauty has a surprising allure. And everything about Jesus Christ is beautiful! His life, his miracles, his grace, his teaching - even his death and certainly his resurrection - are all inimitably beautiful.
Brian Zahnd, Beauty Will Save the World


In scene after scene - in the womb in Nazareth, in the manger in Bethlehem, in the Temple in Jerusalem – the spotlight consistently shines on Jesus. He is, after all, what the story is all about. He is what the waiting of Advent and the celebration at Christmas are all about. He is, as they say, "the reason for the season."
Darrell W. Johnson, The Most Wonderful Time of All Years


Let us fix our eyes on Jesus, the author and perfecter of our faith, who for the joy set before him endured the cross, scorning its shame, and sat down at the right hand of the throne of God. Consider him who endured such opposition from sinful men, so that you will not grow weary and lose heart.
Hebrews 12:2-3 (NIV)