J.J. Thorne Poems
Short Poems
   /  
Famous Poets
   /   J. J. Thorne
J.J. Thorne (John Julius Thorne) was born on February 11th, 1871. His book of poetry, Humble Hours of Solitude was published in 1904. He has inspired many by his uplifting poems and more than 100 years since they have been written they are still be shared today.
The following is an excerpt, A Sketch Of My Life, from his book, Humble Hours Of Solitude:
"My parents were not wealthy but were able to have the necessaries of life. I feel thankful that they endeavored to feed my mind and faculties all the days of my youth to reverence our heavenly father, to he obedient and honest in all my dealings, and in fact, all that they felt to be the duties of parents through the bonds of love that parents have for a child. They delayed not in trying to cultivate my youth to the best of their ability. They often told me to always do unto others as I would have others do to by me, and to always show courtesy and respect to the aged people. These two morals they seemed to especially endeavor to impress upon the mind of their wandering boy. Alas, if I could have seen in my youth as I hope that maturity and experience have revealed unto me. How hard it seems that I would have tried to have pruned the rose of honor by taking their valuable advice. But I was as most all lads, pervert in nature's darkness and prone to wander....

Among the many impressions of my life, one of them is the subject of composing poetry. On the 13th day of January, 1898, these few words came forcibly to my mind and heart as follows:

This a lesson we should heed
Through our Maker to obey.
To oblige the poor in case of need,
And help them on their way.

The group of sentences were as distinct in my memory as anything that I ever had committed to memory. In all my days from that very moment to the present day, it has among my many ups and down of life been a poetic burden...

If I were to say that I did not desire wealth I would tell a falsehood, for it is a part of human nature, but my poetic desire has been so deeply impressed upon me that I have finally decided to place the work before the public, trusting that they will be pleased with the writings of an humble and unworthy poor sinner, hoping that my work is worthy of being placed before the public and hanging by the fireside of all that should desire a copy....

I feel like I have already written more in this sketch than I am worthy of writing, or endeaver to place before the public, and in conclusion wish to say that if my friends, known and unknown, give me their patronage as to the purchase of my poems, sufficiently enabling me to accomplish my objects in verse, I hope not very far in the future to compose many more speeches, than I have already written. I know that if my pen should be directed as it has in the past that I can compose, but the number of course is unknown, it lies entirely in Providence as to whether or what I write in the future. I hope I can say, may the good Lord bless his creation and save all he will."
We have picked some of our favorite poems by J.J. Thorne, we hope you find inspiration and encouragement in them.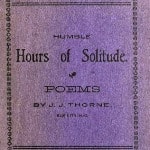 J.J. Thorne
Popular Short  Famous Poems by J. J. Thorne:
God's Love For All Man's Unthankfulness
Poet: J. J. Thorne

Knowledge is power, conscience is truth,
It was given us the way to live by;
He that takes advantage of a weaker knowledge,
Where does his honor lie?

He that is able to give a penny,
To the poor and needy, the orphans that cry;
And will not share a penny to the lot of his Savior,
Where does his honor lie?

Duty on earth makes rich blessings,
It rewards us when we die;
He that ignores and shrinks from duty.
Where does his honor lie?

God made all races and colors,
A fact we cannot deny;
He that disdains owing to color;
Where does his honor lie?

The man that possesses so much esteem.
And feels so grand and high;
Is vain, scornful and extreme,
Where does his honor lie?

The man that pretends to love a lady,
To learn her affection and seeks to try.
And wins her love with no admiration,
Where does his honor lie?

The man that oppresses, cheats and steals,
And harks to satan's plea in reply;
When conscience condemns, pleads and appeal-,
Where does his honor lie?

Honesty, love, justice and charity,
We might call piety's pie;
He that defiles with sour fruit,
Where does his honor lie?

God gives all blessings on earth,
He joins our hearts with a tender tie,
He that tattles and breaks friendship,
Where does his honor lie?

God's love for humanity created the world,
His mercy is vision before our eye;
He that oppresses his brotherly flesh,
Where does his honor lie?



More Christian Poems by other Poets



Caution, Labor, Honor and Security
Poet: J. J. Thorne

Caution is the parent of safety,
It gives a lesson to obey;
While you are out of trouble.
Work to keep it away.

Ask your conscience for security,
Of pleasure in the future day;
While you are out of trouble,
Work to keep it away.

Bad society often wins.
And leads the mind astray;
While you are out of trouble,
Work to keep it away.

Execution of evil measures,
Causes pleasure to decay;
While you are out of trouble,
Work to keep it away.

Imprudent words, revenge and grudge,
Often ends in a fray,
While you are out of trouble,
Work to keep it away.

Virtue is a wreath of honor.
It's beauty, brilliant and gay;
While you are out of trouble.
Work to keep it away.

When you see necessity and duty.
Execute, do not delay;
While you are out of trouble.
Work to keep it away.

Reason and think the best you can.
The surest plans to lay;
While you are out of trouble.
Work to keep it away.

All wrongs at some period,
Will bring on sorrow and dismay;
While you are out of trouble.
Work to keep it away.

If you take that you can not give.
Grief and sorrow cannot pay;
While you are out of trouble,
Work to keep it away.

The happiness of life is here explained.
In a short sentence to say:
While you are out of trouble,
Work to keep it away.



More Poems Of Encouragement by other Poets



Conscience The True Pilot
Poet: J. J. Thorne

When we have wandered vile and corrupt.
And have violated the laws;
Ask of conscience the reason why,
It will give the cause.

If we decline from truth and honor,
When duty commands a clause;
Ask of conscience the reason why,
It will give the cause.

Life and some duties seem hard and short,
Through weakness we often pause;
Ask of conscience the reason why,
It will give the cause.



More Poems About Life by other Poets



Do Not Scorn The Poor
Poet: J. J. Thorne

Do not scorn the poor, dear friends,
Why should this ever be done;
After toiling all their life.
And their task they have won.

What does the poor class inherit.
Toil and trouble all their days;
And strive manfully onward,
Until their weary life decays.

I to-day know poor people,
Whose best days are past and gone;
And are striving in worn out garments,
That are scarcely hanging on.

Why not sympathize with them,
If they have done thir part,
For beneath their tattered garments
There may be an honest heart.

Strive manfully, old friends,
Surely you will be blessed,
For accumulations in this world
Have never sent a soul to rest.

The rich may dream of their treasures,
And through bondage may not see;
But halt a moment and think that industry,
Is the thing for you and me.

And do not forget my friends,
That we all are as one with God.
And all will occupy.
The same space of sod.

And remember that in heaven.
There is no division there;
And the poor as well as the rich,
Shall take an equal share.



More Inspirational Poems by other Poets



Love And Harmony
Poet: J. J. Thorne

We should live in morality,
And diabolical pursuits abstain;
When on earth our lives are over,
That we may go and leave no stain.

If we rightly consider the blessing of wisdom.
Revenge and malice we will disdain:
And place our thought in search of safety,
That we may go and leave no stain.

Let our days be of honor,
And our deeds will not be pain,
When our time expires on earth,
That we may go and leave no stain.

Benevolence is a fountain of love,
Good will and hope it will gain;
Let's live with a filial heart.
That we may go and leave no stain.



More Poems About Life and Love by other Poets
Favorite Poems by J. J. Thorne
More Famous Poets to Encourage and Inspire
Short Poems
    |    
All Poems
    |    
Quotes
    |    
About Us
    |    
Contact Us
    |