10 Poems about Following Jesus
One decision that could change your life is to follow Jesus. Read the thoughts of others in these poems about following Jesus and be encouraged and inspired. You may also be uplifted and inspired by our full collectioin of Christian poems.


Poems About Jesus   /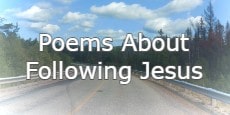 Take Up Thy Cross
Poet: Charles William Everest

Take up thy cross, the Saviour said,
If thou wouldst My disciple be;
Deny thyself, the world forsake,
And humbly follow after Me.

Take up thy cross; let not its weight
Fill thy weak soul with vain alarm;
His strength shall bear thy spirit up,
And brace thy heart, and nerve thine arm.

Take up thy cross, nor heed the shame,
Nor let thy foolish pride rebel;
The Lord for thee the cross endured
To save thy soul from death and hell.

Take up thy cross, then, in His strength,
And calmly every danger brave;
Twill guide thee to a better home,
And lead to victory o'er the grave.

Take up thy cross, and follow Christ,
Nor think till death to lay it down;
For only he who bears the cross
May hope to wear the glorious crown.




Journey With Jesus Poems



How To Know Joy
Poet: Greta Zwaan, ©2010

I want a life of joy, reflecting who I am;
I want the world to know where I belong.
My heart's desire is that Christ should be revealed,
That faith would be real sure and love real strong.

That others through my life would recognize my Lord,
Confirming how my walk is greatly changed.
For I now have new life, for I've been born again,
My life through Christ is fully rearranged.

All that I was before is banished to the past,
My slate is clean, my sins are washed away.
No efforts of my own can claim this as reward,
It's through salvation on this glorious day.

It's Christ's great sacrifice, His death upon the cross,
All done in love and of His own accord.

Through Him is my joy, I've righteousness in Christ,
A grace bestowed on me while yet in sin.
The honor goes to Him, the privileges are mine,
The power to live my life complete within.

His suffering set me free, His death has made me whole,
His resurrection opened up the door.
I now claim heaven's peace, I have no cause for fear,
I'll live and reign with Christ forever more.




How Sweet It Is
Poet: Mary C. Ryan

How sweet it is, at eveningtide,
To feel that God our steps will guide,
And lead us gently through the day,
If we only trust His way.
And sweet it is, when night comes on,
And this vain world to sleep has gone.
To know that then, on Jesus' breast
Sheltered from sin, we sink to rest.

But sweeter still, in early life,
When we first enter earth's fierce strife.
To feel that Jesus is our friend,
"Who'll guide us safely to the end;
To feel He knows each want and grief,
And in good time will send relief;
To feel in Him we fully trust,
And are redeemed with blood of Christ




Poems About God



What Would Jesus Do
Poet: Frances Ridley Havergal

If washed in Jesus' blood,
Then bear his likeness too,
And as you onward press
Ask, What would Jesus do?
Be brave to do the right,
And scorn to be untrue;
When fear would whisper, Yield,
Ask, What would Jesus do?




The Arm That Never Tires
Poet: Unknown

There is an arm that never tires, so gentle, yet so strong;
The arm on which our igrief expires, and sighing turns to song.
There is a well that never fails; when earthly springs are low,
The weary heart in Baca's vales hears the soft overflow.

There is a light that never fails; clear shining through the years;
For cangeless love lights up our
skies, the rainbow gilds our tears.
There is a song our souls may sing, when lying in the dust,
A stricken bird with broken wing, it is the song of trust.

There is a joy that does not depart, whatever seeming ill;
May throw its shadow on the heart, the joy lof his blest will.
There is a rest, a sabbath rest, beyond all sin and care;
But he who leans on Jesus' breast finds heaven is every where.




Heaven Poems



The Call Of Jesus
Poet: Cecil Frances Alexander

Jesus calls us; o'er the tumult
Of our life's wild, restless sea,
Day by day his sweet voice soundeth,
Saying, Christian, follow me!

Jesus calls us from the worship
Of the vain world's golden store;
From each idol that would keep us;
Saying, Christian, love me more!

In our joys and in our sorrows,
Days of toil and hours of ease,
Still he calls, in cares and pleasures,
Christian, love me more than these!

Jesus calls us! by thy mercies,
Saviour, may we hear thy call;
Give our hearts to thy obedience,
Serve and love thee best of all.




Jesus Quotes about Love



Like Jesus
Poet: W. Meynell Whittemore

I want to be like Jesus,
So lowly and so meek;
For no one marked an angry word,
Whoever heard him speak.

I want to be like Jesus,
So frequently in prayer;
Alone upon the mountain top,
He met his Father there.

I want to be like Jesus:
I never, never find,
That he, though persecuted, was
To any one unkind.

I want to be like Jesus,
Engaged in doing good;
So that of me it may be said,
I have done what I could.




Morning Prayer Devotion



Nothing To Wish Or Fear
Poet: John Newton

His name yields the richest perfume,
And sweeter than music his voice;
His presence disperses my gloom,
And makes all within me rejoice;
I should, were he always thus nigh,
Have nothing to wish or to fear;
No mortal so happy as I,
My summer would last all the year.

Content with beholding his face,
My all to his pleasure resigned,
No changes of season or place
Would make any change in my mind;
While blest with a sense of his love
A palace a toy would appear;
And prisons would palaces prove
If Jesus would dwell with me there.




more quotes about Jesus



Follow Jesus
by William C. Gannett

We follow Jesus in and out of homes;
children cluster about his feet;
a dozen men leave net
and plough to bind to his their fortunes,
and others go forth by twos, not ones, to imitate him.

Across the centuries we love and trust him
all the more because he was a man of many friends.




Trust In God Poems



The Same Hand
by Max Lucado, from He Chose the Nails

The same hand that stilled the seas stills your guilt.
The same hand that cleansed the Temple cleanses your heart.
The hand is the hand of God.
The nail is the nail of God.
And as the hands of Jesus opened for the nail,
The doors of heaven opened for you.
More Poems About Jesus to Encourage and Inspire
Related Poems & Quotes: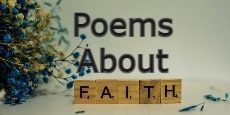 Poems About Faith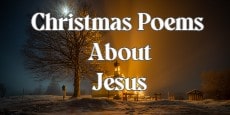 Christmas Poems About Jesus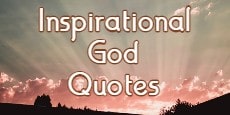 Inspirational God Quotes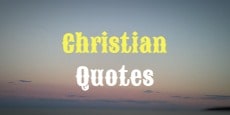 Christian Quotes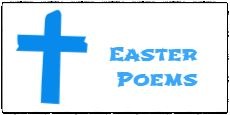 Easter Poems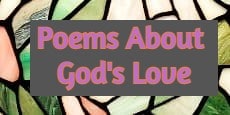 Poems About God's Love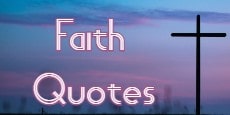 Faith Quotes



Short Poems & Quotes    |   About Us    |   Contact Us