Legend of the Dogwood Tree Poem
The legend of the dogwood tree poem was written many years ago by an unknown poet. The poem reflects the cross that Christ hung on was made of dogwood, however, this type of tree was not natural to the Holy Land. Regardless, the point of the poem is one that no matter what the wood that was used for the cross, Christ suffered upon that cross.
Truly a legend that has been passed down - When you look at the petal of a dogwood they are in the shape of a cross. And the middle of the flower resembles a crown of thorns. The tips of the flowers look like a nail was put through them. And some see the colors as a representation of drops of blood of the crucifixion. It should be noted that the Bible does not give us information on the type of wood nor does it give any reference to the dogwood tree. The legend just represents a reminder of the crucifixion - the use of a dogwood tree it is not an actual fact.
Easter Poems
   /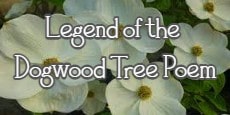 The Legend of the Dogwood Tree
Poet: Unknown
When Christ was on earth, the dogwood grew
To a towering size with a lovely hue.
Its branches were strong and interwoven
And for Christ's cross its timbers were chosen
Being distressed at the use of the wood
Christ made a promise which still holds good:
"Not ever again shall the dogwood grow
To be large enough for a tree", and so
Slender and twisted it shall always be
With cross-shaped blossoms for all to see.
The petals shall have bloodstains marked brown
And in the blossom's center a thorny crown.
"All who see it will think of Me,
Nailed to a cross from a dogwood tree.
Protected and cherished this tree shall be
A reflection to all of My agony."
More Easter Poems to Inspire
Related Poems & Quotes: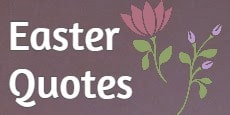 Easter Quotes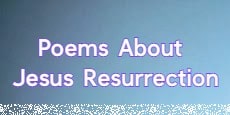 Poems About Jesus Resurrection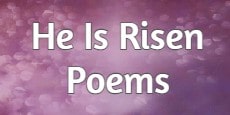 He Is Risen Poems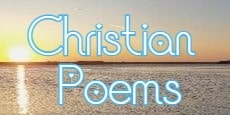 Christian Poems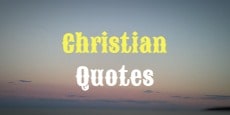 Christian Quotes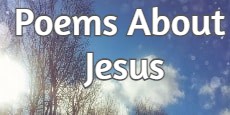 Poems About Jesus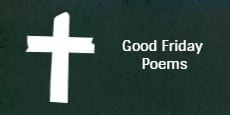 Good Friday Poem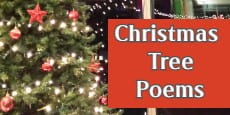 Christmas Tree Poems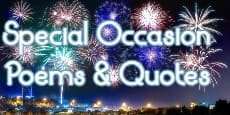 Special Occasion
More poems about the cross and the resurrection:
The World Itself Keeps Easter Day
Poet: John Mason Neale


The world itself keeps Easter Day,
And Easter larks are singing;
And Easter flow'rs are blooming gay,
And Easter buds are springing.
The Lord of all things lives anew,
And all His works are living too.
Alleluia! Alleluia!

There stood three Marys by the tomb,
On Easter morning early -
When day had scarcely chased the gloom.
And dew was white and pearly.
With loving, but with erring, mind
They came the Prince of Life to find;
Alleluia! Alleluia!

But earlier stiil the angel sped,
His news of comfort giving;
And "Why," he said, "among the dead
Thus seek ye for the living?"
"Go tell them all, and make them blest,
Tell Peter first, and then the rest."
Alleluia! Alleluia!

But one, and one alone, remained,
With love that could not vary;
And thus a higher joy she gained,
That sometime sinner, Mary.
The first the dear, dear form to see
Of Him that hung upon the tree.
Alleluia! Alleluia!

The world itself keeps Easter Day,
And Easter larks are singing;
And Easter flowers are blooming gay,
And Easter buds are springing.
The Lord of all things lives anew,
And all His works are living too.
Alleluia! Alleluia!



In The Bonds Of Death
Poet: Martin Luther


In the bonds of Death He lay,
Who for our offence was slain;
But the Lord is risen to-day,
Christ hath brought us life again.
Wherefore let us all rejoice,
Singing loud with cheerful voice, -
Hallelujah!

Of the sons of men was none
Who could break the bonds of Death;
Sin this mischief dire had done;
Innocent was none on earth:
Wherefore Death grew strong and bold;
Death would all men captive hold.
Hallelujah!

Jesus Christ, God's only Son,
Came at last our woe to smite,
All our sins away hath done,
Done away Death's power and right.
But the form of Death is left:
Of his sting he is bereft.
Hallelujah!

'Twas a wondrous war, I trow,
When Life and Death together fought;
Life hath triumphed o'er his foe,
Death is mocked and set at nought;
Yea, 'tis as the Scripture saith,
Christ through death has conquered Death.
Hallelujah!

Now our Paschal Lamb is He,
And by Him alone we live,
Who, to death upon the tree,
For our sakes Himself did give.
Faith His blood strikes on our door:
Death dares never harm us more.
Hallelujah!

On this day, most blest of days,
Let us keep high festival;
For our God hath showed His grace,
And our Sun hath risen on all;
And our hearts rejoice to see
Sin and night before Him flee.
Hallelujah!

To the supper of the Lord
Gladly will we come to-day;
The word of peace is now restored,
The old leaven is put away.
Christ will be our food alone,
Faith no life but His doth own.
Hallelujah!



Hope of A Tree
Job 14:7-15 (KJV)


For there is hope of a tree, if it be cut down, that it will sprout again,
And that the tender branch thereof will not cease.
Though the root thereof wax old in the earth, and the stock thereof die in the ground;
Yet through the scent of water it will bud, and bring forth boughs like a plant.
But man dieth, and wasteth away: yea, man giveth up the ghost, and where is he?
As the waters fail from the sea, and the flood decayeth and drieth up:
So man lieth down, and riseth not: till the heavens be no more, they shall not awake,
Nor be raised out of their sleep.
O that thou wouldest hide me in the grave, that thou wouldest keep me secret,
Until thy wrath be past, that thou wouldest appoint me a set time, and remember me!
If a man die, shall he live again? all the days of my appointed time will I wait, till my change come.
Thou shalt call, and I will answer thee: thou wilt have a desire to the work of thine hands.
Visit
Poems
sorted by topic
Short Poems & Quotes
    |  
About Us
    |  
Contact Us