9 Berton Braley Poems
Be encouraged by these Berton Braley poems. Berton Braley was born in Madison, Wisconsin, in 1882. He sold his first verse when about seventeen years old. He won a good many prizes and was editor of the University of Wisconsin Sphinx and the Literary Magazine.
In 1915 he went to Butte, Montana, and became a cub reporter on the Inter-Mountain. He afterwards joined the editorial staff of the Evening News of Butte, remaining there for about three years. Came to New York in 1909 and free lanced until he became associate editor of Puck. In the vacations during his college career he has done numerous and sundry jobs such as selling books, clerking, passing coal on the Great Lakes, digging ditches, acting as attendant at an insane asylum, guard in a prison, farm hand, ditch digger, miner, and various other "situations round the world." These positions gave him an insight into working conditions and working men's viewpoints that has a good deal to do with the success he has achieved in singing of men who do the world's rough jobs.
He died on the 23rd of January 1966 but left the world a collection of encouragement and motivation with his poems.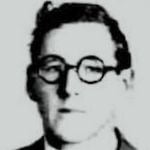 Berton Braley
We hope the verses in these poems have motivated and encouraged you to be all that you can be!
More Famous Poems from Famous Poets to Encourage and Inspire
Short Poems
|
Poems
|
Quotes
|
About Us
|
Contact Us
|