9 Poems About Change
Be inspired by these poems about change; may they encourage you to embrace change rather than fight it. Change affects us all and over a lifetime we see many transformations of not only ourselves and those around us but of things, policies, and practices.

Let these verses remind you that adjustments and modifications are necessary for progress to be made and even though at times we may not like it, we have to learn to embrace things as they evolve. Imagine no internet today. The internet has transformed the communication and knowledge base of the world.

Let change be your friend. Be inspired by these poems.

Short Poems / Poems Of Encouragement / Poems About Change - related: Positive Quotes About Change


For Everything There Is A Season
Poet: Catherine Pulsifer, © 2019

Life is full of change
If it wasn't it would be so strange
Everything would remain the same
It would be like playing a boring game.

For everything, there is a season
And always a good reason
We may not see it now
But all progress it does allow

Imagine if no progress was made
If change just made us all afraid.
Alter your attitude and look for the good
Let things evolve as they should.




Change In Plans
Poet: Julie Hebert, © 2012

I sit here not sure,
Of what to say.
But I wonder why,
You're not on your way.

What changed your mind,
What swayed you away?
What is your reason,
You want to stay?

You had such plans,
Such wonderful plans.
I thought in time,
You'd have many fans.

Whatever made you
Doubt your view.
I hope you know,
I believe in you.




The Change
Poet: Catherine Pulsifer, ©2015

There comes a time in each of our lives,
That change is bound to happen.
It's what we do with that change,
That will judge if we get flattened.

Change can come in many ways,
And this we've all seen.
Change can be good in every case,
Sometimes it takes finding that in between.

Don't allow yourself to see only bad,
As every situation has its good.
Change can be a wonderful thing,
It's sometimes misunderstood.

So from this moment on we will all move forward,
To a change that will be imitating but fun.
It's up to us to make our life as we see it,
So look forward to what you have won.




The Struggle
Poet: Edgar A Guest

Life is a struggle for peace,
A longing for rest,
A hope for the battles to cease,
A dream for the best;
And he is not living who stays
Contented with things,
Unconcerned with the work of the days
And all that it brings.

He is dead who sees nothing to change,
No wrong to make right;
Who travels no new way or strange
In search of the light;
Who never sets out for a goal
That he sees from afar
But contents his indifferent soul
With things as they are.

Life isn't rest --- it is toil;
It is building a dream;
It is tilling a parcel of soil
Or bridging a stream;
It's pursuing the light of a star
That but dimly we see,
And in wresting from things as they are
The joy that should be.




Riches And Power
Poet: Charles Mackay

Cleon has a million acres,
Ne'er a one have I;
Cleon dwelleth in a palace,
In a cottage I.
Cleon hath a dozen fortunes,
Not a penny I;
Yet the poorer of the twain is
Cleon, and not I.

Cleon, true, possesseth acres,
But the landscape I;
Half the charms to me it yieldeth,
Money cannot buy.
Cleon harbors sloth and dullness,
Freshening vigor I;
He in velvet, I in fustian,
Richer man am I.

Cleon is a slave to grandeur,
Free as thought am I;
Cleon fees a score of doctors,
Need of none have I.
Wealth-surrounded, care-environed,
Cleon fears to die.
Death may come, he'll find me ready.
Happier man am I.

Cleon sees no charm in nature,
In a daisy I;
Cleon hears no anthem ringing
In the sea and sky;
Nature sings to me forever,
Earnest listener I!
State for state, with all attendants,
Who would change? Not I.



Everything changes in life, nothing remains the same forever. Change is constant. The same is true with love, it changes as time marches on. The poem below reflects the Poet's thoughts on love changing.

Love's Change
Poet: Robert Bridges

So sweet love seemed that April morn.
When first we kissed beside the thorn,
So strangely sweet, it was not strange
We thought that love could never change.

But I can tell — let truth be told —
That love will change in growing old;
Though day by day is naught to see,
So delicate his motions be.

And in the end 'twill come to pass
Quite to forget what once he was,
Nor even in fancy to recall
The pleasure that was all in all.

His little spring, that sweet we found.
So deep in summer floods is drowned,
I wonder, bathed in joy complete.
How love so young could be so sweet.




Full Of Change
Poet: Catherine Pulsifer

Life is full of change
Some of it feels strange.
But from the moment you are born
From the blooming rose to a thorn.

We can accept it and look for the good
Or we can fight it like no other would
But without change what a boring place
Change is good if you do embrace.




Life Changes
A collection of poems about life changes to encourage and inspire you.
Life changes can happen overnight or they can happen over time.
Read our collection, Poems About Life Changes




Change My Life
There are many times when we say, just change my life.
Be encouraged by these short poems about changing you!
Read our collection of poems on Change My Life
More Poems Of Encouragement to Inspire and Motivate
Related Short Poems & Quotes You May Also Like: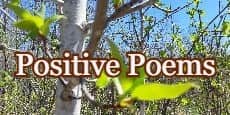 Positive Poems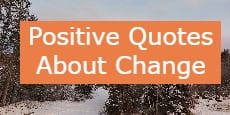 Positive Quotes About Change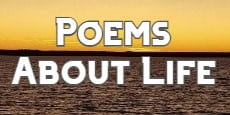 Poems About Life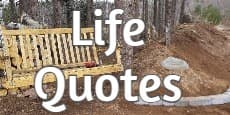 Life Quotes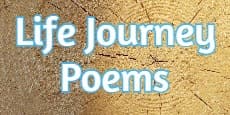 Life Journey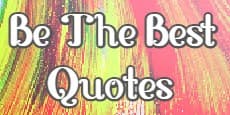 Be The Best Quotes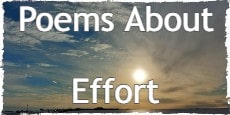 Poems About Effort
Share these poems with someone who may be struggling with change. Help them adjust their attitude to accept the way things have evolved or have been transformed. Imagine what our world would be like if we saw no change, if everything and everyone saw no change - how boring!
Famous Poets Featured in These Poems About Change:


Edgar A Guest Poems





Short Poems | Quotes | All Poems | About Us | Contact Us |