Autumn Poems
Be inspired by these autumn poems to enjoy the fall season. The beauty of the season can be inspiring and motivating.

Autumn is the time of year when the air is cooler but the days are usually filled with sunshine and warmth. The colors of the trees can be breathtaking, to say the least.

We hope these autumn poems are ones that will help you appreciate the season.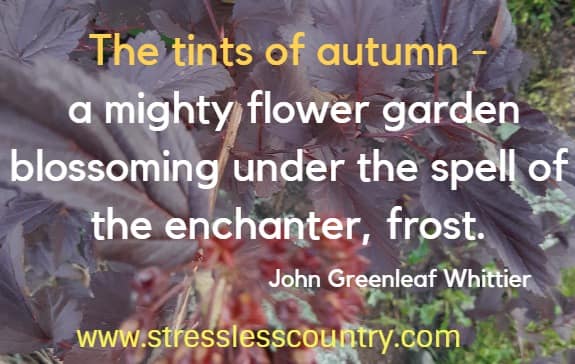 Autumn
Zivan Vujcic, ©2005

Yellow leaves are falling
covering the ground in gold,
through the forest I'm strolling
watching a circle that the nature has just made,
but why do I feel old
when the summer colours start to fade?

Every leaf that has fallen
reminds me of grey in my hair
that passing time has stolen
which once used to be long and fair,
every bird that has flown to south
like another breath taken from my mouth

While days are getting shorter
and flies are dancing their last,
life enters into its final quarter
how the time is passing so fast, I realize
yesterday is already today's past
before tomorrow brings a new surprise

I wish I was here and there in my life
but to many places I've never been
while the thick fog is still rolling
that could almost be cut with a knife
through this autumn morning
and the sun behind dark clouds can't be seen

Listening to this tapping sound
of the rain pouring to the ground
and the wind playing with the last leaves at will
in whisps they will be scattered
butterflies are dead, their dust shattered
but the colours of their wings remain, still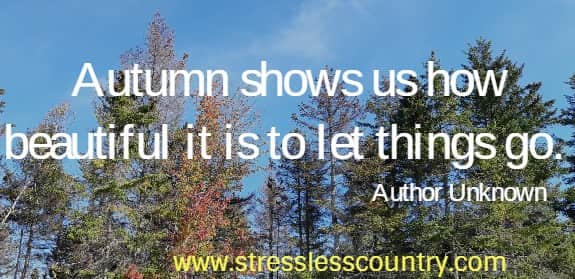 Unharvested
Poet - Robert Frost

A scent of ripeness from over a wall.
And come to leave the routine road
And look for what had made me stall,
There, sure enough was an apple tree
That had eased itself of its summer load.

And of all but its trivial foliage free,
Now breathed as light as a lady's fan.
For there had been an apple fall
As complete as the apple had given man.
The ground was one circle of solid red.

May something always go unharvested!
May much stay out of our stated plan,
Apples or something forgotten and left,
So smelling their sweetness would be no theft.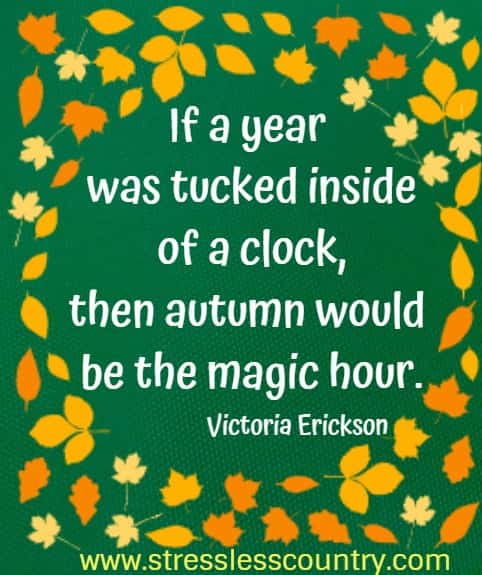 An October Garden
Poet: Christina Rossetti, 1830 - 1894

In my Autumn garden I was fain
To mourn among my scattered roses;
Alas for that last rosebud which uncloses
To Autumn's languid sun and rain
When all the world is on the wane!
Which has not felt the sweet constraint of June,
Nor heard the nightingale in tune.

Broad-faced asters by my garden walk,
You are but coarse compared with roses:
More choice, more dear that rosebud which uncloses,
Faint-scented, pinched, upon its stalk,
That least and last which cold winds balk;
A rose it is though least and last of all,
A rose to me though at the fall.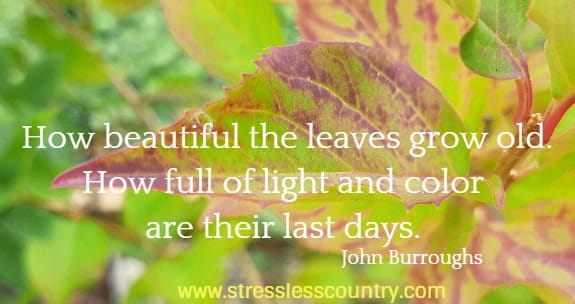 Autumn Oracle
Poet - Laura Lee Randall

A sunset sky, and the west wind sighing,
A threat of winter . . . The wild gulls crying;
Swift flocks of birds to the southland winging;
Bare brown boughs in a frenzy flinging
Dying leaves that for long were holden,
Now driting, dropping, crimson and golden.

The fallen leaves, in uncounted number,
Are warmly quilting the wildflowers' slumber;
There are buds on the bough...a springtime presage…
The birds will return with a lyric message:
The wild gull's cry holds a hint of mating,
To conquer cold is the hearth fire waiting.

The west wind's sighs are of love, not sorrow,
And the sunset sky is the sign for tomorrow.







Loneliness
Poet: Trumbull Stickney, 1874 - 1904

These autumn gardens, russet, gray and brown,
The sward with shriveled foliage strown,
The shrubs and trees
By weary wings of sunshine overflown
And timid silences, -

Since first you, darling, called my spirit yours,
Seem happy, and the gladness pours
From day to day,
And yester-year across this year endures
Unto next year away.

Now in these places where I used to rove
And give the dropping leaves my love
And weep to them,
They seem to fall divinely from above,
Like to a diadem

Closing in one with the disheartened flowers.
High up the migrant birds in showers
Shine in the sky,
And all the movement of the natural hours
Turns into melody.



Quotes and Thoughts About Autumn
I love the start of autumn when the trees in my garden change the colour of their leaves in one last dazzling display." Michael Caine, The Elephant to Hollywood
Tree Poems


In autumn, don't go to jewelers to see gold; go to the parks! Mehmet Murat ildan
Poems of Encouragement


I'm so glad I live in a world where there are Octobers. L.M. Montgomery
Fall Quotes


Is not this a true autumn day? Just the still melancholy that I love - that makes life and nature harmonize. George Eliot
Life Quotes


I cannot endure to waste anything so precious as autumnal sunshine by staying in the house. Nathaniel Hawthorne
Life Is Too Short Quotes


October, the extravagant sister, has ordered an immense amount of the most gorgeous forest tapestry for her grand reception. Oliver Wendell Holmes
Forest Quotes


Of all the seasons, autumn offers the most to man and requires the least of him. Hal Borland
Motivational Poems